ICE Ordered to Release Father of Two Arrested While Delivering Pizza to U.S. Army Base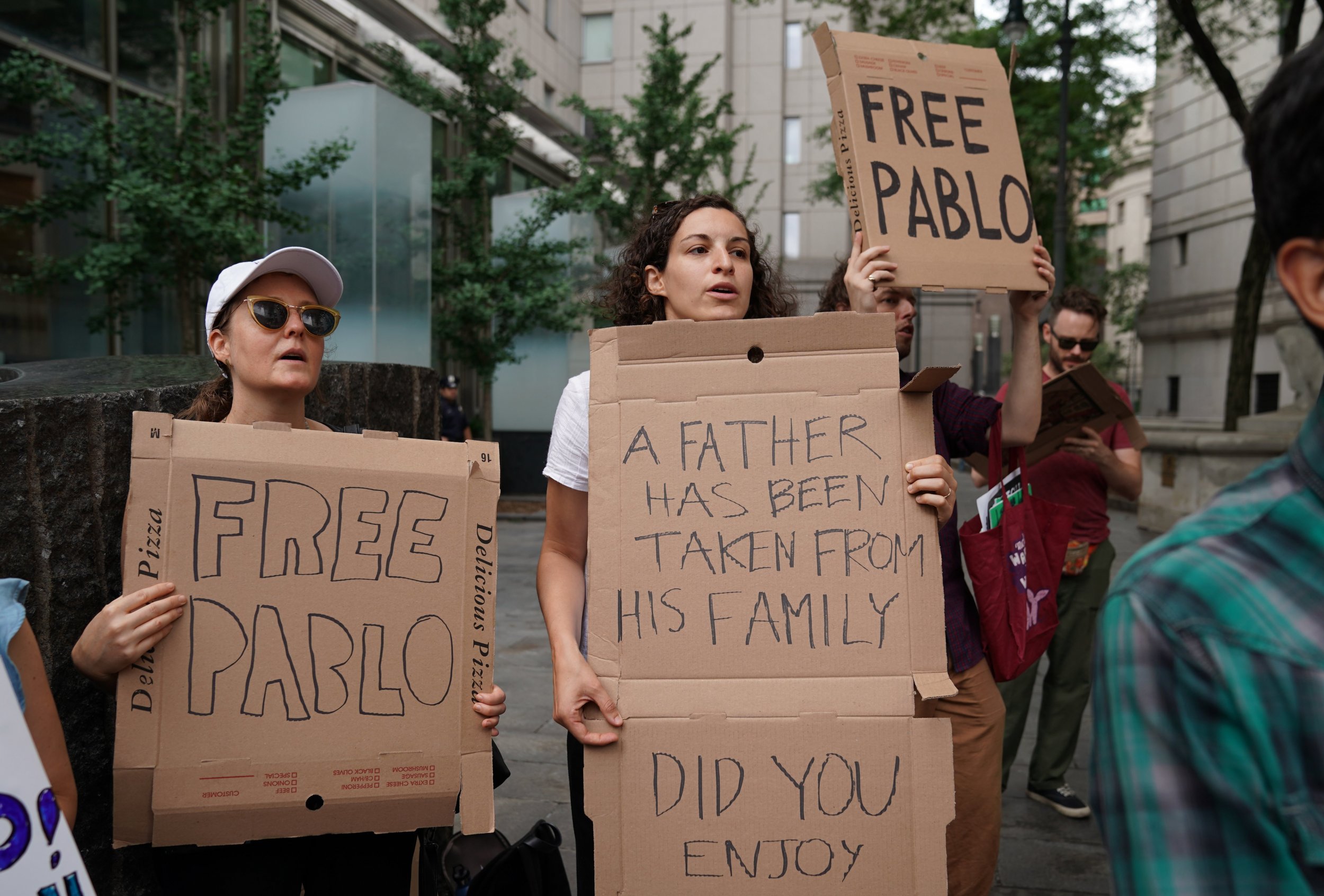 A federal judge has ordered the U.S. Immigration and Customs Enforcement (ICE) agency to release an Ecuadorian immigrant who was held for deportation after he delivered pizza to a U.S. Army base in Brooklyn, New York.
Pablo Villavicencio, 35, was reportedly released from an ICE detention center in Hudson County just before 9 p.m. on Tuesday after spending nearly two months under arrest.
Video of Villavicencio's emotional reunion with his family, captured by New York Post reporter Joe Marino, shows the father of two crying as he hugged his wife, children and other family members.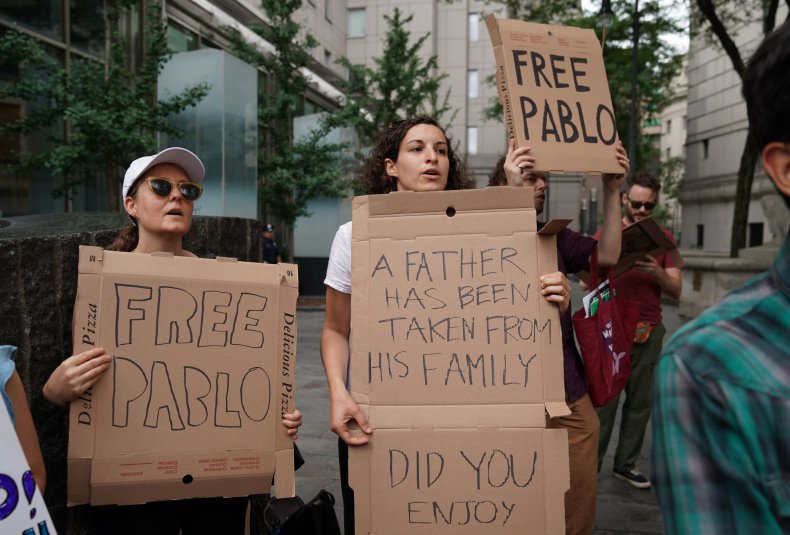 "I'm so happy," Villavicencio told NBC New York as he was released.
U.S. District Judge Paul Crotty said in his decision that although Villavicencio "stayed in the United States unlawfully and is currently subject to a final order of removal, he has otherwise been a model citizen," according to the broadcaster.
"He has no criminal history," the judge wrote in his decision, adding: "He has paid his taxes and he has worked diligently to provide for his family."
The judge ruled that the Villavicencio should be able to remain in the U.S. until he has exhausted his right to try to gain legal status.
ICE spokesperson Rachael Yong Yow confirmed that Villavicencio was released from ICE custody and placed on an order of supervision following the U.S. District Court order.
She said it "allows him to pursue an immediate relative petition and applications for waivers of inadmissibility with U.S. Citizenship and Immigration Services (USCIS)."
However, the ICE spokesperson said the agency "maintains that lawful removal orders from federal immigration judges must be enforced," adding that Villavicencio is "still subject to a 2010 final order of removal."
"It should be noted that Mr. Villavicencio chose to enter the United States illegally, which is a crime," she said. "After receiving due process at taxpayer expense, he became an ICE fugitive because he chose to ignore a judge's order to depart the U.S. in 2010 in violation of law."
Villavicencio had applied to remain in the U.S. after marrying his wife, Sandra Chica, a U.S. citizen with whom he has two daughters, ages 2 and 4. He was slated to have an immigration interview in August, according to NPR.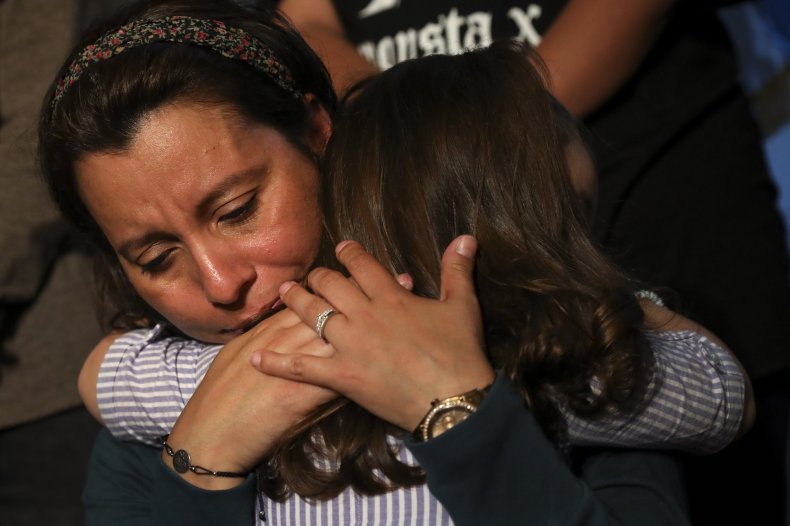 He was arrested on June 1 while making a delivery to the garrison in Fort Hamilton.
Guards requested identification from the 35-year-old when he arrived with their pizza. A background check on his details showed he had been ordered to leave the U.S. in 2010, but he had remained in the country.
Cathy SantoPietro, the base's chief of public affairs, had previously told Newsweek that Villavicencio had entered the base to make the delivery and agreed to sign a waiver permitting a background check to get access to the site.
SantoPietro said the background check was standard procedure and that in Villavicencio's case, it turned up an ICE detainer.
The base accepted the pizza, but it reported Villavicencio to ICE, condemning him to nearly two months in detention, awaiting his deportation.
The father's arrest prompted widespread outrage and protests in New York, including by restaurant workers who refused to deliver food to the Fort Hamilton base.
Describing her family's harrowing experience, Chica had told New York City Spanish language newspaper El Diario that there were "no words that can define the drama" she and her daughters were living through after Villavicencio's arrest.
She said all she hoped was that ICE would not deport her husband and "give him an opportunity."
It appears that the agency will have to do just that after Crotty's ruling.
This story has been updated with a statement from the U.S. Immigration and Customs Enforcement agency.
ICE Ordered to Release Father of Two Arrested While Delivering Pizza to U.S. Army Base | U.S.