ICE Accused of Raiding Farm Without Warrant, Violently Arresting Legal Immigrant, Sparking Senator Call for Investigation
New York Senator Kirsten Gillibrand has called for an investigation into the story of a farmer who claims that ICE agents raided his farm without a warrant.
John Collins, a farmer from Rome, New York, which is located upstate, told Syracuse.com that armed ICE agents pinned his employee Marcial de Leon Aguilar, a Guatemalan farmworker, against a window, before arresting him in front of his children. No documentation was offered before they entered his property to arrest Aguilar, Collins said.
Gillibrand responded to the story and wrote on Twitter that Collins's claims warranted an investigation. ICE officers are legally required to present a warrant before entering private property.
"Deeply troubled by this report from Rome, NY," Gillibrand wrote. "ICE officers should not be allowed to raid private property without a warrant. There must be an immediate investigation into what happened here."
A spokesperson for Gillibrand confirmed to Newsweek that the senator was indeed lobbying the Office of the Inspector General of the Department of Homeland Security to look deeper into what exactly happened on Collins's farm.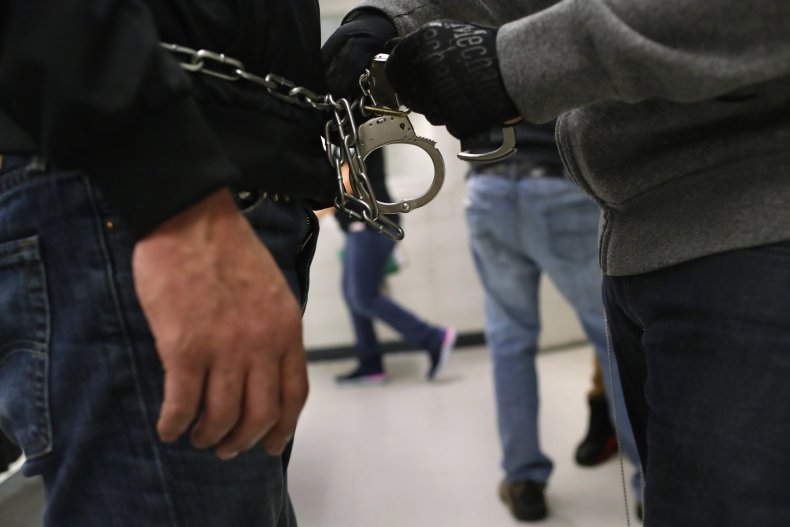 Democrat-led criticisms of ICE have grown louder over the last few months as a number of congressional candidates have adopted a campaign calling for the outright abolishment of the 15-year-old enforcement agency.
Gillibrand is not among that group, but she is interested in seeing it reformed, the spokesperson said.
The number of deportations led by ICE has spiked under Trump's watch, NPR reported in January. That increase is despite his predecessor, Barack Obama, breaking records for deporting immigrants, earning him the nickname among immigration rights activists of "the deporter in chief."
Aguilar had proper documentation to work on the farm, Collins said. His wife was caught crossing the border illegally with his four children, but Aguilar said he had met regularly with ICE officials to seek asylum because of violence in Guatemala. Collins told the local publication that when he attempted to film the arrest, officers snatched away his phone and tossed it into the road. They handcuffed him and threatened to arrest him for hindering their investigation.
"This was something you see on TV," Collins told the local publication. "You don't expect it to be here."
ICE did not immediately respond with a comment.