ICE To Face Protests After Raiding Chicago Pizza Shop And Arresting Workers: They 'Took Hard-Working People'
The U.S. Immigration and Customs Enforcement agency has sparked outrage in a Chicago neighborhood after agents raided a popular pizza shop and arrested five of its workers on Monday.
Residents of the East Side, Chicago neighborhood were initially puzzled when they noticed "a lot of police cars" stationed outside the much-loved Route 66 Pizza shop on Indianapolis Ave.
Once they realized what the commotion was all about, however, that confusion quickly turned into anger, with ICE accused of yet another "raid" targeting "hard-working people" and forcing the pizza shop to close.
By Tuesday morning, the small restaurant remained closed with a sign in the window saying it would remain shut down until further notice.
"ICE raided my favorite pizza place Route 66 on the East Side neighborhood of Chicago," Anthony Martinez, the "state commander" of community activist group Los Brown Berets of Chicago wrote on Facebook. "Took hardworking people and now they are closed," he said.
According to Los Brown Berets Chicago Captain Claudia Sandoval, Route 66 has "been a staple of the community for years."
With a staff of about eight people, the small shop has long been known across the East Side "for its really good pizza."
"I've lived in the area for like 15 years and since I've been here, it's been there," Sandoval said.
At least one of the workers who was arrested on Monday, who she said was believed to be of Mexican nationality, had been working at the restaurant for as long as she can remember.
"These are hardworking people. It's not like they're trying to do anything bad. They're just making their money and trying to save money for their families," Sandoval said.
The Chicago Los Brown Berets captain said she had not received any updates on the workers who were arrested on Monday. Meanwhile, ICE has not immediately responded to a request for information from Newsweek.
Hoping to garner support for the arrested workers and raise awareness around immigrants' rights in Chicago, Sandoval said that dozens of protesters were expected to take to the street on Tuesday to rally against ICE.
The numbers could be even greater, however, given that "there is literally not one person who doesn't know that this has happened," in the neighborhood.
The chart below, from Statista, shows where ICE detains the most migrants.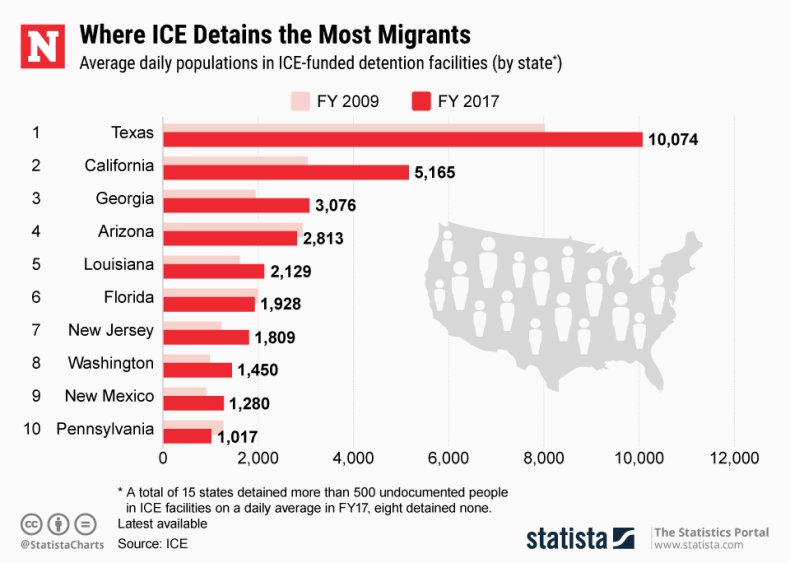 In a statement on Twitter, Chicago's Mayor Lori Lightfoot also appeared to show support for the workers, writing that her office would be working to provide "assistance to the affected families" and "actively monitoring the situation."
The Chicago mayor also urged the city's residents to make sure their "friends and neighbors know their rights," sharing an information sheet telling residents not to open their doors to ICE if they come knocking.
"Chicago is and always will be a welcoming city, and we stand firmly with our immigrant residents," she asserted.
This article has been updated with a statement from Los Brown Berets Chicago Captain Claudia Sandoval.