ICE Resumes Dropping Migrants Off at Greyhound Terminal Instead of Welcome Center
Advocates are questioning why Immigration and Customs Enforcement (ICE) has resumed the practice of dropping off migrants at a Phoenix, Arizona Greyhound station instead of a nearby purpose-built Welcome Center.
ICE spokesperson Yasmeen Pitts-O'Keefesaid in a statement obtained by Newsweek that families are not being dropped off at the bus station but are instead being released to specialized shelter facilities or nonprofits. She said that the single adults who are being dropped off at the station, by ICE's Enforcement Removal Operations (ERO) division, were given clearance in advance and an opportunity to plan their travel. Those released are also provided with "a list of legal, medical, and social services that are available in the release community"
"ERO officers ask all individuals being released to the bus station whether they have coordinated travel arrangements prior to departure from the facility, whether a bus ticket is being or has been purchased on their behalf, or whether they have made arrangements for pick up from a friend or family member," Pitts-O'Keefe said. "These inquiries take place prior to the individual's transportation to the bus station."
The Welcome Center is only 2 miles away from the Greyhound station. It is operated by humanitarian aid group International Rescue Committee (IRC) and opened in Phoenix in the summer of 2019. ICE dropped off so many migrants at the Phoenix Greyhound station that year that the company began blocking them from entering the terminal without a ticket.
Stanford Prescott, IRC's community engagement coordinator, told the The Arizona Republic that migrants being dropped off at Greyhound station in 2021 made little sense while there is ample capacity at the Welcome Center.
"There's no reason why individuals cannot be taken to services that are explicitly there to serve them, when there's available capacity," Prescott said.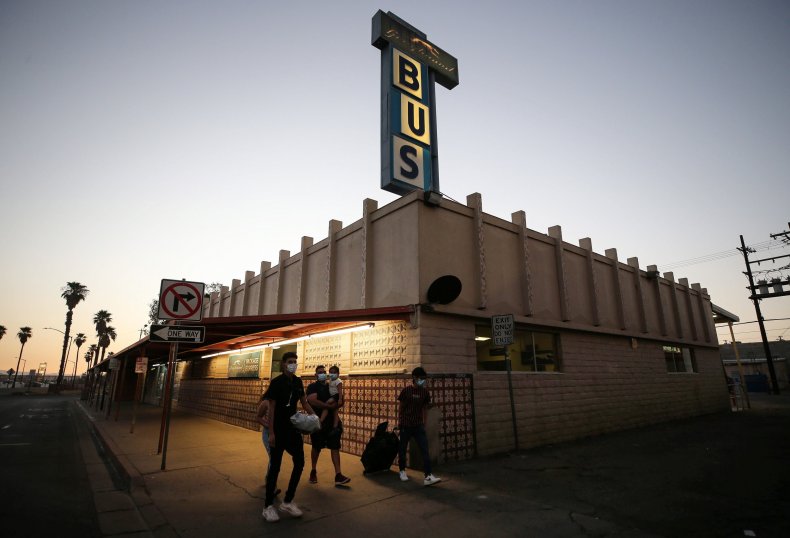 Prescott said that ICE told Phoenix-area leaders that it would resume dropping the migrants off at the Greyhound station on April 19. IRC said that 100 to 200 individuals had been dropped off at a Phoenix bus station days later, according to KJZZ-FM. Advocates and local lawmakers have expressed concerns that the migrants may be vulnerable to fraud in an unfamiliar country or unprepared to deal with the harsh Phoenix weather, where temperatures often exceed 100 degrees.
"I think the Welcome Center is the humane source, and the current system of dropping off outside of Greyhound does feel a little bit inhumane," Phoenix Mayor Kate Gallego told the Republic. "Councilwoman (Laura) Pastor and I have reached out to the administration to ask that they take a look at this and go back to the original policy."
Concerns have also been raised about the potential public health consequences of the policy. Pitts-O'Keefe said that migrants are given "necessary" personal protective equipment before being released but noted that ICE is not authorized to prevent those who have tested positive for COVID-19 from being released, raising the possibility that those dropped off at the Greyhound station could be unwittingly spreading infection.
ICE has dropped off migrants at Greyhound bus stations beyond Phoenix. In March, Greyhound pleaded with Homeland Security Secretary Alejandro Mayorkas to ensure that ICE provide proof that the migrants being dropped off are free from COVID-19.
"We need assurance that any detainees released by ICE have proof of a negative COVID-19 test, similar to the proof required for international airline passengers who arrive at US ports of entry," Greyhound President and CEO David Leach wrote Mayorkas in a letter obtained by Border Report.
"Greyhound already asks our customers to stay home and NOT travel if they are not feeling well or have been diagnosed with COVID," he added. "However, migrants simply do not have that choice unless the government or their sponsors house them while they quarantine."
Leach also requested federal funds to help meet the demands being placed on the company by ICE, saying that Greyhound does "not have buses and drivers ready to meet surges in demand without emergency funding."
While many have noted a recent influx of migrants, particularly unaccompanied minors, that have arrived at the U.S.-Mexico border since President Joe Biden took office, ICE detentions are at historic lows. Detentions recently averaged fewer than 15,000 per day, down from a 2019 peak of more than 56,000.
In addition, deportations have dipped to record lows, with ICE deporting 2,962 people during the month of April—the lowest monthly count of deportations ever seen and a roughly 20 percent drop from the 3,716 deportations recorded in March.
Update 5/7, 10:28 p.m.: This article has been updated to incorporate a statement obtained by Newsweek from ICE spokesperson Yasmeen Pitts-O'Keefe.