ICE Sending 1,600 Immigration Detainees to Federal Prisons, Marking Surge in Arrests
The Trump administration has reportedly started to transfer as many as 1,600 undocumented immigrant detainees to federal prisons for the first time.
U.S. Immigration and Customs Enforcement (ICE) said the agency required more space for detainees amid a "zero tolerance" crackdown that has seen anyone caught crossing the border illegally criminally charged by federal prosecutors, Reuters reported.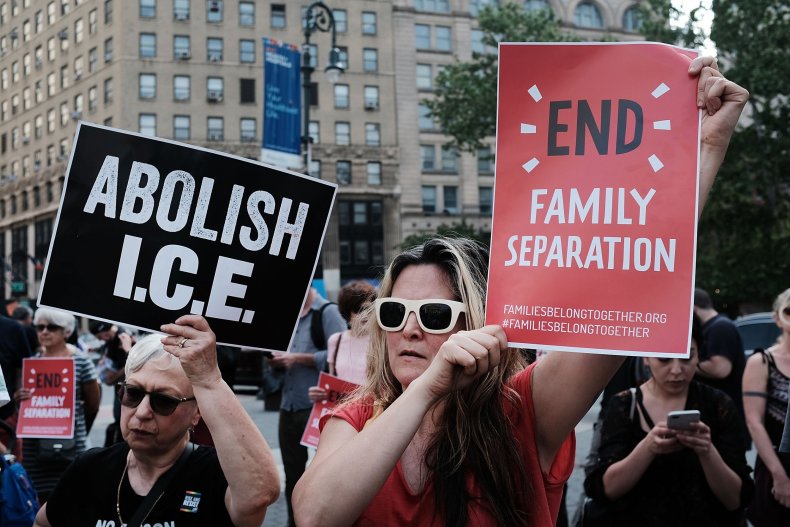 As many as 1,000 detainees will be taken to a prison in Victorville, California, according to the news agency.
ICE said the prison placements would serve as a "temporary" solution as the agency looks to find more space to detain the growing number of people arrested.
The move highlights the surge in detentions under the Trump administration's strict new policy, which has also seen the controversial practice of families being separated at the border, with detained parents being taken to jail and their children being taken into the department of Health and Human Services' custody.
Prison union leaders in California, Washington state and Texas told Reuters they were given little notice to prepare for the incoming detainees.
They voiced concerns over staffing, as well as safety for workers and detainees.
The Trump administration's hardline immigration policies represent a significant departure from previous administrations.
Historically, first-time border crossers have undergone civil deportation proceedings, rather than facing criminal charges. Those detained are meant to be housed in ICE detention facilities or local jails.
Now, detainees will be held in prisons, where they are expected to remain for at least 120 days as ICE looks to create more space with new detention facilities, ICE spokeswoman Danielle Bennett told The Hill.
Executive Director of the National Immigration Forum Ali Noorani told Reuters the decision to house detainees in prisons is concerning.
"Our federal prisons are set up to detain the worst of the worst. They should not be used for immigration purposes," Noorani said.
"Federal prisons are for hardened criminals. They are not physically set up for immigrant landscapers looking for a job or fleeing violence," she added.
Youth-led immigrant rights organization United We Dream said the decision is a "new attack on immigrants" from the Trump administration, calling the move "sickening," on Twitter.
The Trump administration has faced widespread criticism over its recent policy shift, with the United Nations condemning the government's policy of separating families as a violation of children's rights.