A multiple-car collision involving over 50 vehicles shut down portions of Chicago's Kennedy Expressway on Wednesday morning, resulting in 14 hospital transfers and 45 additional injuries.
The crash took place around 5:45 a.m. CDT, according to the city's fire department, which shared details about the accident and those involved in several tweets that were posted over the course of two hours. In its final update, the department confirmed that only minor injuries were sustained by all civilians requiring ambulance transport except for one, who appeared to be in "good condition." All those who suffered lesser injuries were evaluated on-site.
The fire department's earlier tweets cited "low traction" on the roads as cause for the pileup and warned Chicago residents to be wary of similar driving conditions present on highways and surface streets in other parts of the city. In light of that, it noted that "numerous accidents" will likely be reported throughout Wednesday.
Icy weather was apparent in photos from the collision, which pictured blustery gray skies and snow-coated automobiles scattered across the expressway. Throughout the morning, the National Weather Service (NWS) issued several advisories for the Chicago area in response to reports of statewide road closures due to "extremely hazardous" conditions, particularly impacting bridges and roadways.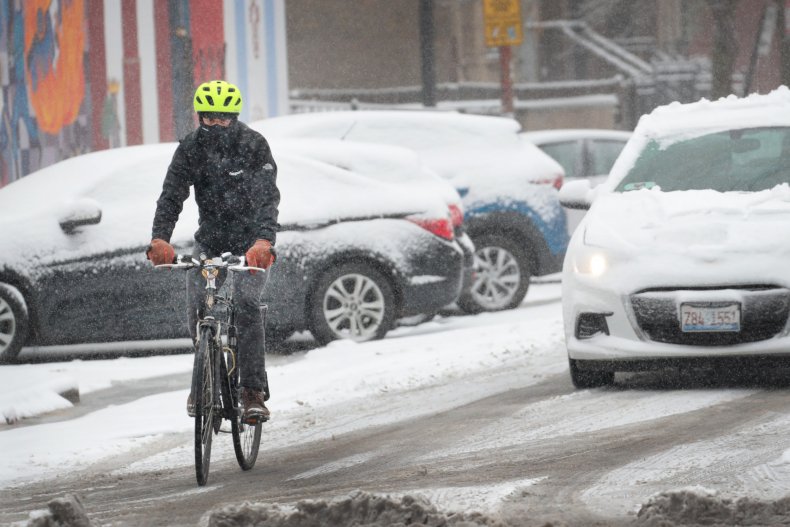 On Twitter, the agency asked anyone without a necessary motive to refrain from traveling and advised residents who must to proceed with caution, estimating that snowfall allowed for visibility of less than one mile.
"Multiple Interstates are closed across northeast Illinois," NWS Chicago tweeted before 7 a.m. CDT. "Illinois State Police are advising people to STAY OFF THE ROADS early this morning. If you don't have to travel, stay home! If you do travel, there are major accidents all over the place, do not plan to get anywhere quickly."
The weather service said dangerous roadway conditions would persist until mid- and late-morning in different parts of Chicago and its surrounding areas. It anticipated that "conditions should improve quickly" by the afternoon, when temperatures were due to rise above freezing. Hours after the Kennedy Expressway pileup, NWS reported that snow was "tapering off," but cautioned that overpasses remained "very slick."
A local news organization northwest of Chicago reported an additional multi-vehicle crash early Wednesday morning, which resulted in multiple injuries, as well as several additional crashes throughout Lake and McHenry Counties that followed. Indiana's Department of Transportation reported vehicle collisions and resulting road closures around the same time, encouraging residents to be aware of poor visibility on major highways.