Ice Storm Wreaks Havoc in Southwest U.S.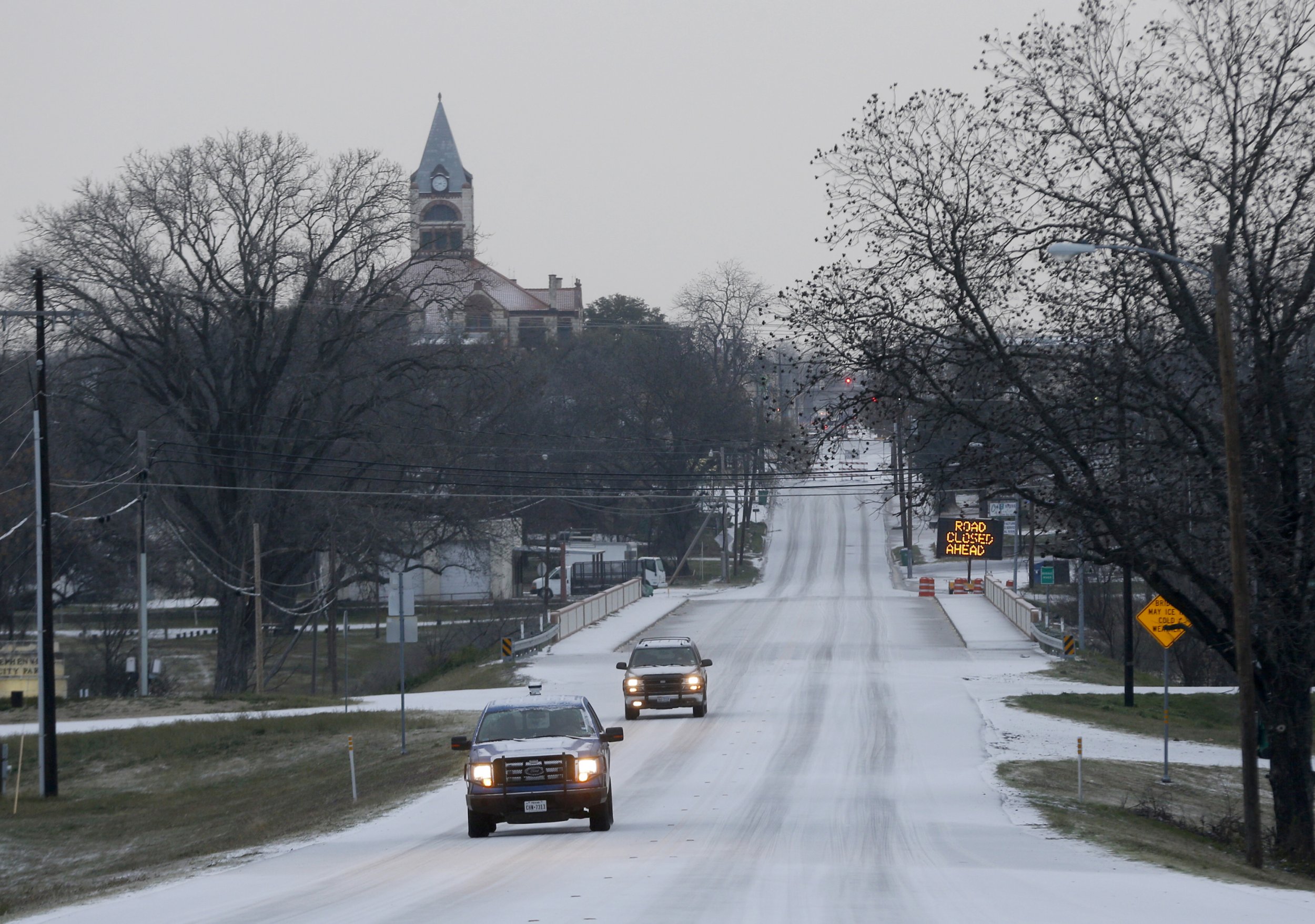 DALLAS (Reuters) - An ice storm that hit wide parts of Texas and neighboring states on Monday knocked out power to thousands of people, led to hundreds of traffic accidents and caused nearly 1,400 flight cancellations nationwide.
The National Weather Service issued a winter storm warning for northern Texas, includingDallas, southern Oklahoma and western Arkansas. The storm that packed high winds and dumped freezing rain has covered highways in the area with sheets of ice, and authorities advised commuters to stay off the roads.
At Dallas/Fort Worth International Airport, one of the busiest in the United States and a hub for American Airlines, more than 1,050 flights were canceled as of 10 a.m. CST, according to tracking service FlightAware.com. At Love Field in Dallas, a major airport for Southwest Airlines, more than 100 flights were canceled, it said.
In Tennessee, at least 22 people have been killed in the past few days due to icy, winter conditions, the state's Emergency Management Agency said.
Eleven people have died in Kentucky due to the snow and ice that began pummeling the state on Feb. 16, officials said.
Texas schools were closed on Monday around Dallas and Fort Worth, one of the largest U.S. metropolitan areas, while traffic on highways was sparse. Iced-over trees knocked down power lines, leaving thousands without electricity, officials said.
BreeAnna Moore, 27, skipped driving to work in Fort Worth after watching live traffic camera footage.
"I really can't afford to miss a day, but then again I don't think it's worth my life or my car trying to make it in," she said.
The trial of the man accused of killing Chris Kyle, the former U.S. Navy SEAL who was the inspiration for the movie "American Sniper," was called off on Monday due to ice that coated the Texas city of Stephenville.
In Arkansas, Governor Asa Hutchinson allowed most state employees in affected areas to report to work two hours later than usual.
Louisiana Governor Bobby Jindal issued a state of emergency late Sunday due to the storm. Schools and state offices in 23 Louisiana parishes were closed, his office said.
Salt trucks were deployed in Oklahoma, where about an inch of ice and snow coated roads.
Along the East Coast and in northern states, millions of people were also in store for another bone-chilling blast of arctic air on Monday following a weekend snow storm, the Weather Service said.