ICE Used Taxpayer Money to Pay Private Prisons $800 Million to Detain Migrants in 2018: Report
U.S. Immigration and Customs Enforcement paid more than $800 million in taxpayer money to 19 private detention centers to hold migrants and asylum seekers this year, a new report has found.
An investigation by The Daily Beast found the 19 private prisons were being paid to house around 18,000 migrants, or about 41 percent of the 44,000 total migrants being held by ICE.
While ICE would not reveal the names of the detention centers they did business with, large private prison groups like CoreCivic and GEO Group have been known to work with the organization. Together, the two prison companies brought in revenue of more than $4 billion in fiscal year 2017. The companies also spend millions each year on campaign contributions and lobbying towards legislation that profits their business.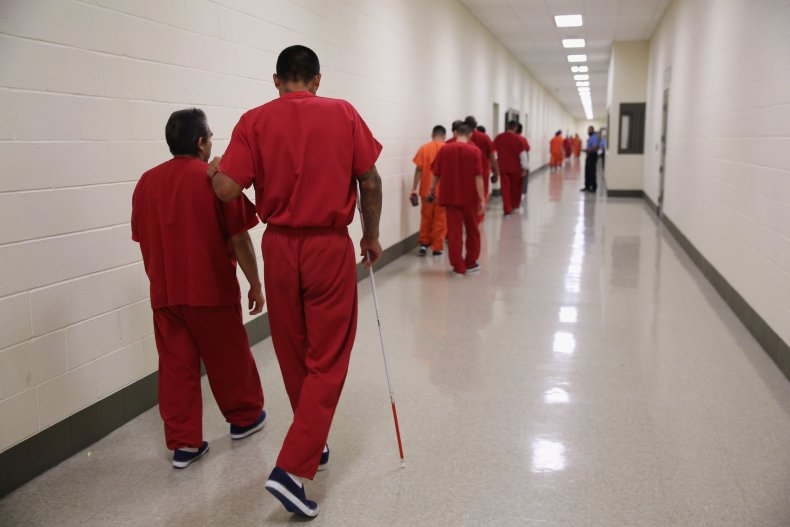 Private prison companies gave over $1.6 million mostly to GOP candidates during the November midterm elections.
In 2016, the Justice Department announced that the federal Bureau of Prisons could no longer work with private prisons, citing their histories of abuse and troubling inmate safety records. President Donald Trump reversed the order when he came into office.
A recent analysis by the American Immigration Council found that the detention length for migrants is significantly higher in private prisons and that the number of grievances expressed by migrants was 175 percent higher in privately-operated prisons than in ICE-run facilities.
"Ensuring there are sufficient beds available to meet the current demand for detention space is crucial to the success of ICE's overall mission," ICE spokesperson Danielle Benett told The Daily Beast. "Accordingly, the agency is continually reviewing its detention requirements and exploring options that will afford ICE the operational flexibility needed to house the full range of detainees in the agency's custody."
Migrants complain that legal help is harder to come by at private facilities and that their remote locations make it difficult for family members to visit. The prices of phone calls and pantry items are also much higher in private prisons than in ICE-operated detention centers.
After conducting a five-year investigation into conditions at private prisons, the American Civil Liberties Union concluded that migrants withstood "shocking abuse" including overcrowding, unclean living conditions and increased use of isolation cells.
Both CoreCivic, Inc. and GEO Group, Inc. deny these allegations. A GEO spokesperson said all facilities are run to comply with federal regulations and that the prisons have no say on the length of migrant detentions. CoreCivic said it also meets or exceeds all federal guidelines.