Calls of UFO Sightings Highlight 'Absurdity' of Trump's Immigration Hotline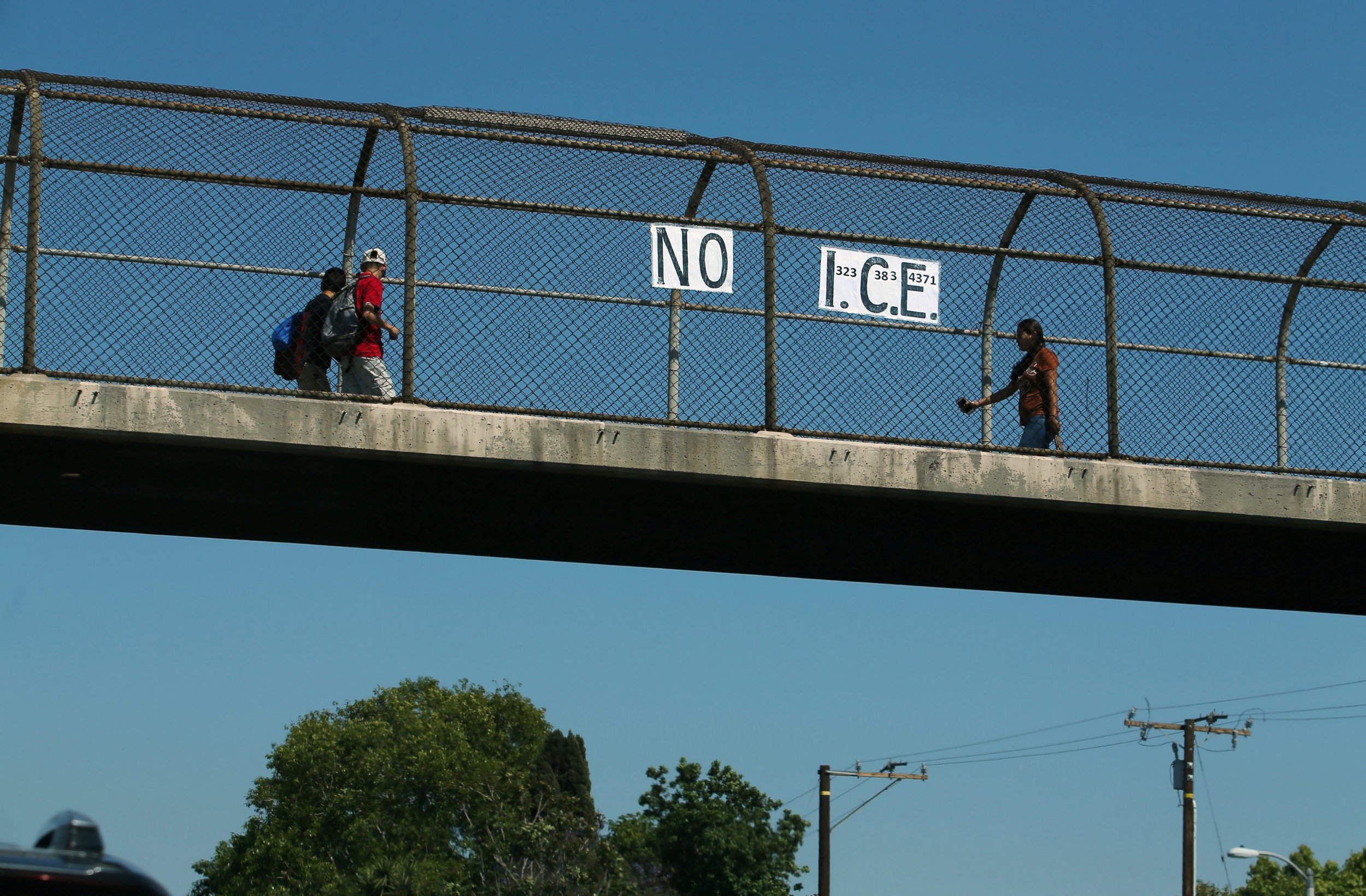 It's fair to assume that these were not the types of alien encounters President Donald Trump had in mind when his Victims of Immigration Crime Engagement Office (VOICE) launched Wednesday. Rather than calls from victims of crimes committed by undocumented immigrants, the new hotline at the centerpiece of the office has been deluged with reports of the kind of alien encounters more commonly found in Steven Spielberg movies.
Related: Unsafe Sanctuaries? Undocumented Immigrants Often Swept Up in ICE's California Stings
As the campaign to disrupt the functioning of the hotline gained momentum on Twitter over the past 24 hours, there was plenty of humor to be found. But, says the man who came up with the idea, there also is a far more serious point at the heart of it.
"This was an opportunity to send a message that the only real aliens are the ones in outer space," Alexander McCoy, a Marine Corps veteran who now works for the activist organization Common Defense, told Newsweek. "The existence of this office is as absurd as calling in to report UFO sightings.
"I hope that by members of the public joining me and continuing to call this tip line to point out the absurdity and the un-American message that it sends, that we will get him to shut down the voice office and stop this discriminatory campaign."
Inspired by the fact that "Alien Day" just so happened to be trending on Twitter in promotion for the upcoming Alien movie, McCoy's original tweet sent Wednesday afternoon received almost 2,000 retweets and 3,000 likes within the first 24 hours.
According to McCoy, when he made the call himself a couple of hours after he sent the message out, there was already a wait time of 20 minutes to get to speak to a representative. When he did get through, he recalled that there was initial enthusiasm concerning the story he was offering up.
"I said that I was abducted and they seemed excited by this," he recalled. "They were like 'oh tell us more, when did this happen?' And I said 'yesterday' and they said 'tell us more.' I said 'they took me on their UFO.' There was a long pause, the operator on the other end sighed and they said 'well we'll have to wait for the Department of Homeland Security to do their investigation, thank you very much' and they hung up."
On Thursday afternoon, the service was down due to the "high volume" of calls according to a message on the hotline. Responding to a request for comment, a U.S. Immigration and Customs Enforcement official who said he did not want to dignify the campaign with an official response claimed that the line remained in operation.
The official added: "This group's cheap publicity stunt is beyond the pale of legitimate public discourse. Their actions seek to obstruct and do harm to crime victims; that's objectively despicable regardless of one's views on immigration policy."
Part of Trump's fierce crackdown on illegal immigration, the Voice hotline offers victims of crimes committed by undocumented immigrants information on the alleged criminal's immigration history. ICE claims the information given out will be that which is already publicly available.
But immigration activists, including youth-led organization United We Dream, view it as part of a very deliberate campaign
"It's definitely a PR strategy of how do you vilify immigrants, undocumented immigrants," United We Stand Campaigns Director Julieta Garibay told Newsweek. "How do you create the hatred that he has been spreading in order to then say 'and this is why we need to detain, deport, racially profile anyone that doesn't look like him and make it OK.'"
Members of Garibay's organization were out Thursday at the Texas State Capitol protesting the passing of a strict bill banning "sanctuary cities." The group's chosen method for making their voice heard was "cacerolazo," or banging pots and pans. And while neither striking cookware nor inventing alien encounters may be traditional forms of protest, Garibay says it all has the same motivation and goal.
"I think people are expressing their anger at all this racism in different way," she said. "If people are feeling that way, what matters is that people are actually speaking out.
"It may not be the usual way but it's the way of people sharing their frustration, their anger and also their sadness. It's a sad moment I think for the whole nation to be at a point where such strategies from a president and Congress are being used."