'ICE: We Make Kids Disappear' Sign Appears After Activists Vandalize Billboard in California
A group of activists vandalized a billboard in California criticizing Immigration and Customs Enforcement in protest at the Trump administration's separation policy at the U.S. border.
The sign, located beside a stretch of road in Emeryville, California, originally advertised a garbage disposal company and had the slogan "We make junk disappear."
But overnight, the sign was changed to "We make Kids disappear—I.C.E." The billboard still showed a picture of a young boy next to the slogan from the original advertisement.
The vandalism was claimed by activist group Indecline, who posted a video of them defacing the sign with the protest slogan online.
"Obviously it's a hot topic right now, and something we feel very strongly about," one of the group's members told The Mercury News.
The activists said the controversial policy of separating families at the border who attempt to enter the U.S. from Mexico "extends beyond immigration and into a humanitarian issue, so we wanted to draw attention to that, empower the public and raise awareness on the topic itself."
A spokesperson for Clear Channel, the company that owns the billboards, said plans were already underway to replace or remove the vandalized sign.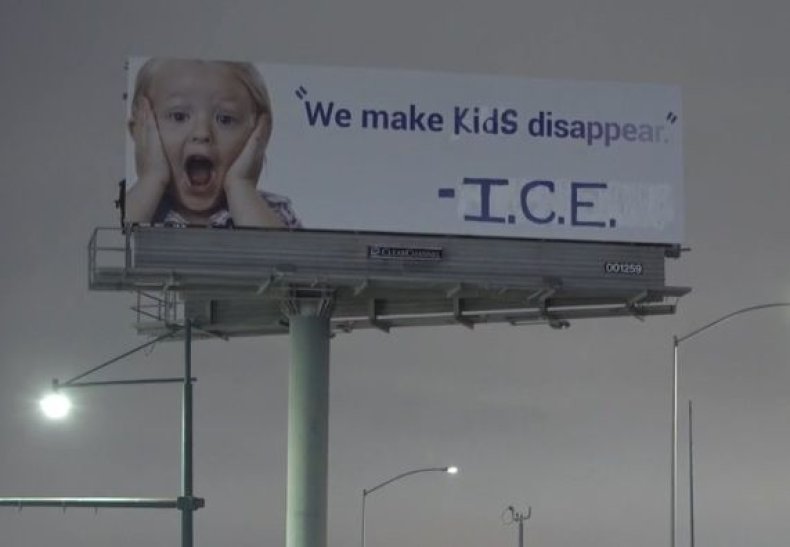 "I think it's a pretty powerful political statement," Heran Medhin told CBS News. "I think ultimately we have to be concerned with children first before we are concerned about a lot of other external issues, regardless of what country they came from.
"They're children, they didn't do anything to deserve to be separated from their parents."
More than 2,000 children have been separated from their families and held in detention centers in South Texas since the "zero tolerance" immigration practice went into effect.
President Trump signed an executive order to end the separation of migrant families. It is unclear when the children who have already been placed in the centers will be reunited with their parents.
"We're going to have strong, very strong borders, but we're going to keep the families together," Trump said while signing the order. "I didn't like the sight or the feeling of families being separated."
The Indecline group described themselves as a collection of writers, filmmakers, photographers and full-time rebels and activists who focus on "social, ecological and economical injustices carried out by American and international governments, corporations and law enforcement agencies." Indecline's website states that it is not an anarchist group.
Indecline was responsible for a stunt in 2016 which saw statues of a naked Donald Trump placed across a number of major U.S. cities.