Iceland, U.S. Facebook Groups See Outpouring of Humanity for Syrian Refugees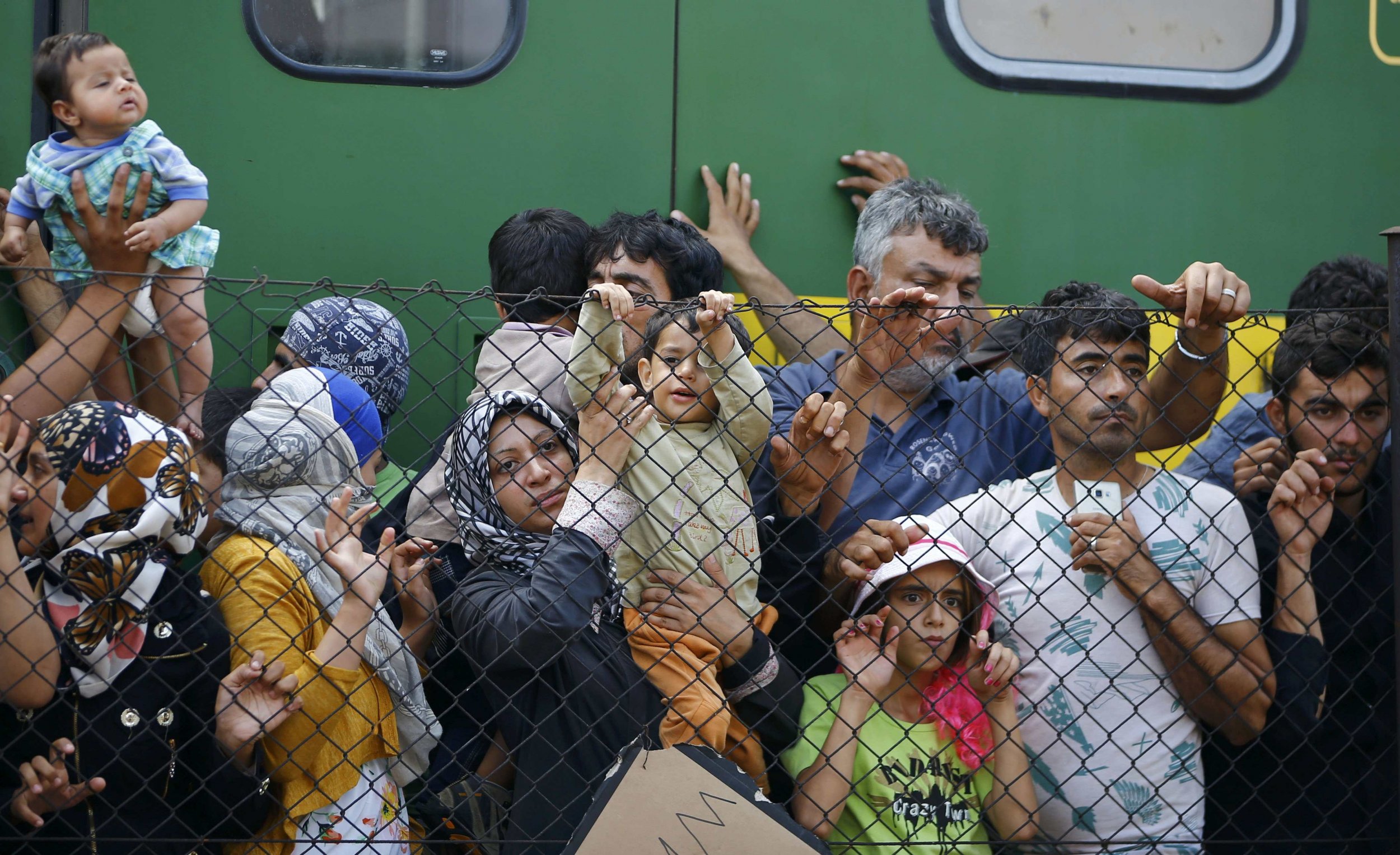 Adrian Tierney and her mother were speaking on the phone earlier this week when they both had a eureka moment.
Both women have followed closely the myriad humanitarian crises in the Middle East that have resulted in more than 340,000 refugees from war-torn countries like Syria, Iraq and Afghanistan entering Europe this year, and they decided they needed to help. During their conversation, Tierney's mom mentioned an Icelandic initiative, Dear Eygló Harðar - Syria Is Calling, which was started late last month by Icelandic author Bryndis Bjorgvinsdottir. Its Facebook page has 17,000 likes so far and hundreds of messages from people all over the world offering help to Syrian refugees through donations or in the form of spare rooms.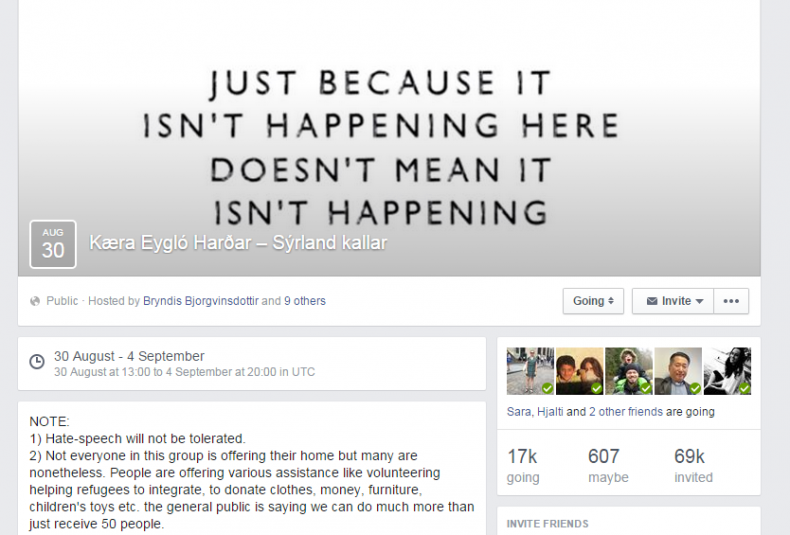 "She heard something about this initiative in Iceland and how wonderful she thought it was that people were opening their homes," said Tierney, 23, a biology student at New York University living in Hampton, Virginia.
"We both paused and I knew we were both thinking the same thing. I said, 'You're thinking that we have space for people, arent you?' And she said, 'Yeah, yeah I am.'"
After an unsuccessful try at perusing Facebook to find U.S.-based groups coordinating help for Syrian refugees, Tierney posted in the Icelandic group and got an "overwhelming response" from Americans who also wanted to assist in some way. Inspired by the Icelandic group, mother and daughter quickly set up the Facebook page for Open Homes, Open Hearts, an initiative aiming to raise awareness about the refugee crisis and ultimately lobby the U.S. government to take more people in.
Since the Syrian civil war broke out in 2011, more than four million refugees have fled the country. The majority live in neighboring Turkey and Lebanon, according to the United Nations refugee agency (UNHCR). The U.S. since 2011 has resettled around 1,500 Syrian refugees, which is less than a quarter of one percent of the 650,000 living in Jordan. The International Rescue Committee criticized the recent pledge by the U.S. to take between 5,000 and 8,000 refugees, suggesting the number be raised to 65,000. A petition posted on the White House website calling on the U.S. government to pledge to resettle 65,000 Syrians by 2016 has been signed by 12,738 people since August 31.
"It needs to be a pretty large statement from the people that we want this, we're eager to help," said Tierney, adding that she's "aiming high" and hopes Open Homes, Open Hearts, which currently has 2,727 likes, will gain the support of 10 million Americans, or 3 percent of the population.
The Icelandic Facebook group and its outpouring of human compassion captured the attention of international media amid the backdrop of the European refugee crisis, starkly symbolized by photos of Aylan Kurdi, the 3-year-old Kurdish Syrian boy whose lifeless body was found washed up on a Turkish beach on Wednesday.
The page started on August 30, when Bjorgvinsdottir posted an open letter to Eygló Harðardóttir, Iceland's minister of social affairs and housing, after the country's welfare minister said the public should prepare because the government should not have to bear the sole responsibility of helping the 50 Syrian refugees Iceland has agreed to take. One of Bjorgvinsdottir's friends posted on his own Facebook page that he could house and feed five Syrians—Bjorgvinsdottir said she would cover their airfare—so the government should make room for five more people and let 55 refugees in.
"Iceland does not have a stellar record when it comes to receiving refugees and asylum seekers," said Silja Bára Ómarsdóttir, a political science lecturer at the University of Iceland and one of the group's coordinators. Since 1956, Iceland, with its population of 323,000, has taken in just 511 refugees, and until the 2008 financial crisis resettled between 25 and 30 refugees a year, said Ómarsdóttir; 29 refugees have been resettled in Iceland over the last five years.
"This initiative is simply regular people trying to influence the government, persuading it to accept more than the 50 people it intends to allow in," said Ómarsdóttir.
The page has quickly become something much bigger than a forum for Icelanders to offer and coordinate help. Syrians in Turkey, Syria and Egypt have posted their stories, photos of their children and questions about how to travel to Iceland, Germany or the U.K., while people in South America, Mexico and Europe have offered up their homes.
"Please I need to know how can I help. I'm from Argentina," said one post.
"I have only room for one person, if that person can get here to Lima, Perú, I will be glad to show them the language and help him or her finding work and a new life," said another. "My home is open."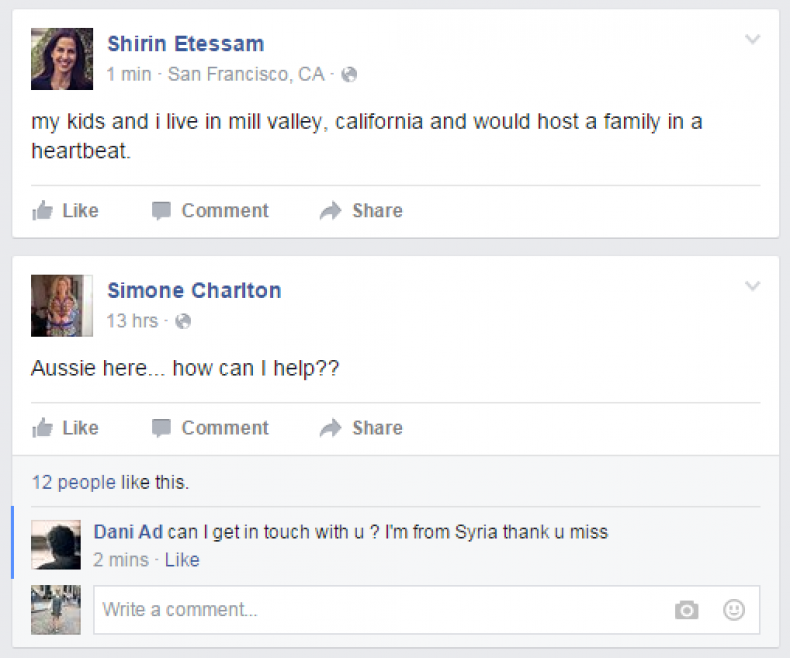 One Icelander willing to open her home is Dagbjört Hákonardóttir, a lawyer for the city of Reykjavik. Hákonardóttir has an extra room and said Icelandic communities would benefit from the diversity of resettled refugees. She added that Iceland should to step up and take responsibility for people in need, particularly because the country's asylum seekers and refugees aren't treated all that well.
"We want to send out the message to the world that we are a liberal country," said Hákonardóttir. "Historically, we have not really taken up our part. During World War II, we were not granting the Jewish people asylum. We have been creating a very homogenous, isolated community."
"We want to own up, now is the time to make amends," she said.
While Ómarsdóttir acknowledges that "support on Facebook doesn't amount to much," it has resulted in record numbers of people signing up to volunteer with the Icelandic Red Cross, the group said in a statement on Tuesday. Within 48 hours, 900 people volunteered to help, the equivalent of nearly a third of its 2,800 active volunteers.
Earlier this week, the prime minister of Iceland, Sigmundur Davíð Gunnlaugsson, announced the formation of a ministerial committee to discuss the country's response to refugees. On Thursday, the small municipality of Súðavík, in northwestern Iceland, said it hopes to lobby the welfare minister to resettle refugees in the area, Icelandic newspaper DV reports.
Asked what she thought of Open Homes, Open Hearts, the U.S. group Iceland helped inspire, Ómarsdóttir said she's glad people in other parts of the world are realizing just how much help is needed. But she's frustrated that posts from Syrians, the very people both initiatives are trying to help, cannot be answered with concrete action.
"Sadly, many are calling on us to bring them over here. That is not in our power," she said. "But hopefully, the governments will listen."