Iceland Is About to Hold a Memorial for Its First Glacier Lost to Climate Change
Iceland is preparing to unveil a monument to its first glacier lost to global warming. The Okjökull glacier in Borgarfjörður lost its title in 2014 after scientists determined it was no longer thick enough to sink and move under its own weight. The lost glacier went on to become the subject of 2018 documentary Not Ok. Okjökull is now just known as Ok, the shield volcano the glacier once sat on top of.
Following the film, a group of scientists and members of the public decided to memorialize the glacier with a plaque. This monument will be unveiled during a ceremony that is due to be held on August 18.
"The fact that Okjökull had ceased to be a glacier was something I learned during my initial research on the impact of glacial loss in Icelandic society," Cymene Howe, from Rice University, Texas, told Newsweek. "That fact, which had gotten almost no media attention, inspired the premise of the film."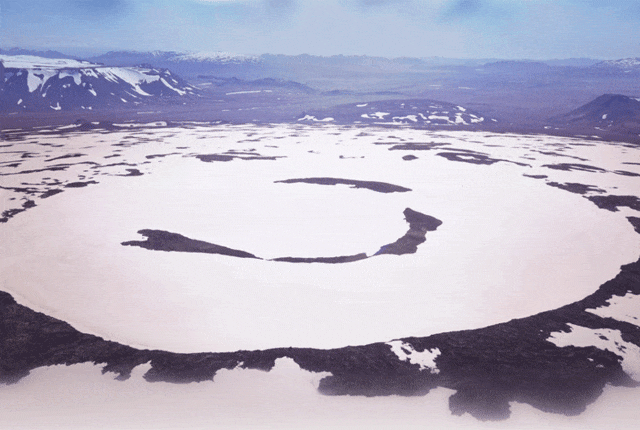 Okjökull glacier before it disappeared.
Dominic Boyer/Cymene Howe
She said the idea for the memorial came as a result of conversations with Dominic Boyer, a colleague who was also working on Not Ok. "We went back and forth on whether Ok should have a headstone, or a more descriptive marker like one would find in a national park. We decided on the historic marker/memorial form because all over the world we see war memorials or plaques to historic figures—memorializing what people have done.
"Anthropogenic climate change is also something that people have done and we wanted to draw explicit attention to that fact. From the vantage point of the future, we were trying to imagine future generations looking back to our time and our responsibility for it," Howe said.
The plaque reads: "Ok is the first Icelantic glacier to lose its status as a glacier. In the next 200 years all our glaciers are expected to follow the same path. This monument is to acknowledge that we know what is happening and what needs to be done. Only you know if we did it."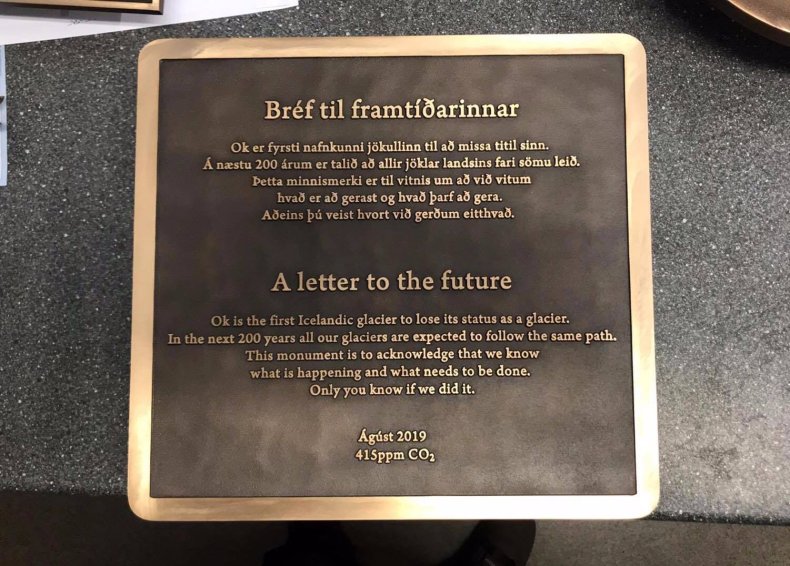 Howe expects around 50 people to attend the ceremony.
She said the loss of glaciers will have an impact on people from Iceland—a country known as the land of ice and fire because of its glaciers and volcanoes: "Losing half of that identity is cause for some grief and I believe, frustration, for it is not the Icelandic population that has produced massive amounts of emissions either in the past or present, and yet, their country is feeling the effects of climate change quite dramatically, especially as the Arctic region is heating at about twice the rate of the rest of the world."
Oddur Sigurðsson, the geologist who realized Okjökull was disappearing, said he knew by around 2003 that the glacier was "obviously heading for complete melting." He told Newsweek that the Icelandic Met Office has confirmed tens of glaciers were lost between 2000 and 2017, and that he expects Hofsjökull, in the center of the country, would probably be next to go.
Glaciers across the world are currently at risk of global warming. According to research published in journal The Cryosphere, most of the ice in the glaciers in the European Alps will be gone by 2100 if emissions are not reduced. The study also found that irrespective of emission cuts, about 50 percent of glacier volume will have disappeared by 2050 because of current warming.
"Glaciers in the European Alps and their recent evolution are some of the clearest indicators of the ongoing changes in climate," senior co-author Daniel Farinotti said in a statement. "The future of these glaciers is indeed at risk, but there is still a possibility to limit their future losses."
This article has been updated to include quotes from Oddur Sigurðsson.