Iceland Sets up World's Largest Air-Scrubbing Machines, but Environmental Impact Is Unclear
A new facility by direct air capture company Climeworks in Iceland is now the most significant plant of its kind in the world. However, questions are being raised about its effectiveness.
Orca, a new geothermal power plant near Reykjavik, Iceland, will capture around 4,000 metric tons of carbon dioxide per year. In the process known as direct air capture, carbon dioxide is sucked from the atmosphere and stored underground, emitting cleaner air as a result. Within a few years, Climeworks estimated that the carbon dioxide will harden and turn into stone.
According to the International Energy Agency, direct air capture plants globally remove around 9,000 tons of carbon dioxide per year.
However, critics said the addition of Orca still might not be enough. According to the Associated Press, experts said that 10 billion tons of CO2 would have to be removed from the air annually for the effects of climate change to begin reversing.
"We have already failed on climate to the extent to which direct air capture is one of the many things we must do," said Julio Friedmann, a senior research scholar at the Center on Global Energy Policy at Columbia University. "We have already emitted so many greenhouse gases at such an incredible volume and rate that CO2 removal at enormous scales is required, as well as reduction of emissions."
Climeworks is currently aiming to remove several million metric tons of carbon dioxide from the air by 2030.
For more reporting from the Associated Press, see below: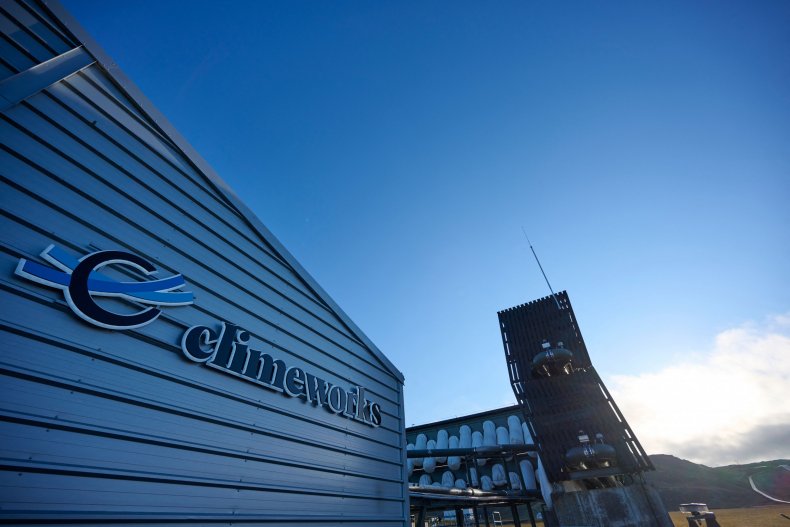 "Effectively, in 30 years' time, we need a worldwide enterprise that is twice as big as the oil and gas industry, and that works in reverse," said Friedmann.
Leading scientific agencies including the United Nations Intergovernmental Panel on Climate Change said that even if the world manages to stop producing harmful emissions, that still won't be enough to avert a climate catastrophe. They said we need to suck massive amounts of carbon dioxide out of the air and put it back underground—yielding what some call "negative emissions."
As dire warnings have accelerated, technology to vacuum carbon dioxide from the air has advanced. Currently, a handful of companies operate such plants on a commercial scale, including Climeworks, which built the Orca plant in Iceland, and Carbon Engineering, which built a different type of direct air capture plant in British Columbia. And now that the technology has been proven, both companies have ambitions for major expansion.
Climeworks built its first direct air capture plant in 2017 in Hinwil, Switzerland, which captured 900 metric tons of carbon dioxide annually that was sold to companies for use in fizzy beverages and fertilizer. The company built another plant, called Arctic Fox, in Iceland that same year; it captured up to 50 metric tons of carbon dioxide annually that was injected underground.
Estimates vary, but it currently costs about $500 to $600 per ton to remove carbon dioxide using direct air capture, said Colin McCormick, chief innovation officer at Carbon Direct, which invests in carbon removal projects and advises businesses on buying such services.
"This is really exploding. We really didn't see hardly any of this until a couple of years ago," he said, referring to companies investing in the technology. "Two years ago Microsoft, Stripe and Shopify were really the leaders on this who first went out and said, 'We want to procure carbon dioxide removal from the atmosphere.'"
Oil companies such as Occidental and Exxon have been practicing a different form of carbon capture for decades. For the most part, they are taking carbon dioxide emissions from production facilities and injecting it underground to shake loose more oil and gas from between rocks.
Some question the environmental benefits of using captured CO2 to produce more fossil fuels that are eventually burned, producing greenhouse gases. But Occidental said part of the goal is to make products such as aviation fuel with a smaller carbon footprint—since while producing the fuel, they're also removing carbon dioxide from the air and storing it underground.
Worldwide, industrial facilities capturing carbon dioxide from their operations had a combined capacity to capture 40 million tons annually, triple the amount in 2010, according to the International Energy Agency.