'Iceman' Chuck Liddell Jailed After Alleged Physical Altercation With Wife
UFC Hall of Fame fighter Chuck "The Iceman" Liddell was arrested Monday and booked in a Los Angeles-area jail on a misdemeanor charge of domestic violence.
Police were called to Liddell's home in the early hours of Monday, according to TMZ. Upon arrival, officers were said to have determined an argument between Liddell, 51, and his wife, Heidi, had turned physical.
An inmate report from the Los Angeles County Sheriff's Department showed Liddell was held at the Malibu/Lost Hills Sheriff's Station in Agoura Hills, and his bail had been set at $20,000.
Heidi Liddell did not need medical attention, TMZ reported. The couple has two children together.
Liddell became one of UFC's first major stars after capturing the light heavyweight title in 2005 with a knockout win over Randy Couture. He and Couture competed against one another in a trilogy of famous MMA bouts before Liddell retired in 2010.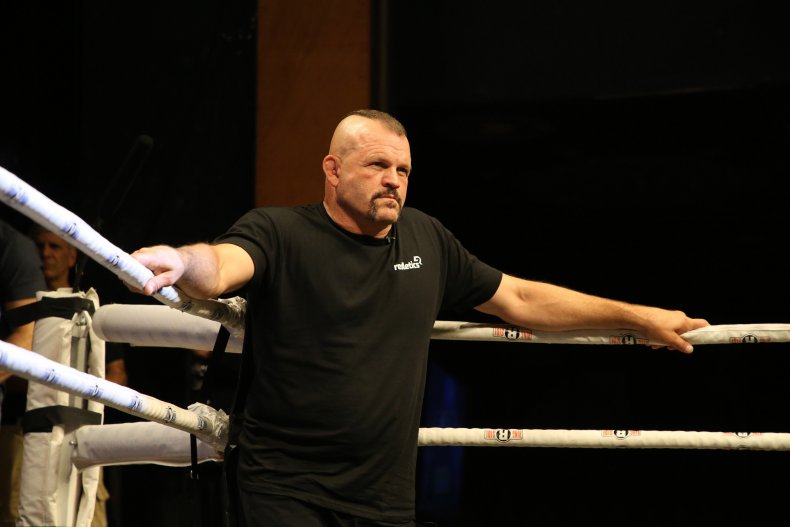 He briefly came out of retirement to fight Tito Ortiz in 2018 but hung up his gloves after losing to Ortiz in the first round. He has not fought professionally since that time.
With a mohawk haircut and handlebar mustache, Liddell was a recognizable face for MMA and became the first UFC fighter to appear on the cover of ESPN The Magazine in 2007. Outside the ring, he parlayed his fame into acting roles on TV shows such as The Simpsons, Workaholics and Hawaii Five-0 and films like Bachelor Party Vegas and Drillbit Taylor.
Additionally, Liddell has appeared on the reality television programs Celebrity Big Brother and Dancing with the Stars. He also recently refereed a celebrity boxing match in June 2021, between former NBA star Lamar Odom and pop singer Aaron Carter.
His nickname "The Iceman" reportedly came from his trainer, John Hackleman, who gave Liddell the title due to his relaxed demeanor before fights. In his 2008 autobiography, Iceman: My Fighting Life, Liddell described receiving the monicker.
"My pulse rate rarely goes up or down, no matter how tense or relaxed the situation. In fact, that's how I got my nickname: the Iceman. Hackleman gave it to me around my third kickboxing match," Liddell wrote. "He told me he had been in countless pro fights and was anxious before every one of them. Meanwhile, I looked as if I were going for a stroll in the park. He thought I had ice in my veins."
In 2009, Liddell was inducted into the UFC Hall of Fame's Pioneer Wing.