ICU Nurse's Viral Twitter Post Shows Her Shocking Before and After Pandemic Photos
An ICU nurse has posted images of her that reveal how the pandemic has taken its toll on medical workers, with photos of her before and during the pandemic.
The tweet, posted on Sunday, shows the frontline worker who goes by the username @kathryniveyy, looking young and healthy compared to a recent photo of her with tired eyes, mask lines and bruises, plus the expression of someone who has been working tirelessly for months.
Her post, which reads "How it started – How it's going," referencing the photos, has garnered 250,000 likes and counting. The post has been flooded with thousands of messages of gratitude and numerous comments from medial professionals experiencing similar ordeals.
"My husband (respiratory therapist) had that same expressionless stare and bruised face for all of April and half of May (they ran out of vents April 1st). He worked 85 hrs of OT in April. Be kind to yourself; PTSD is real," wrote nurse Nancy Ceccon in response.
Twitter user Kenzie Marie posted a comparative picture of her returning to work after recovering from coronavirus. "This is my second shift back after testing positive and I have never felt so drained, and hopeless. Thank you for all you have done, you are a true hero," she wrote.
Another user posts a picture of her taking her mask off after a day at work to show a weary face scarred with mask lines:
The registered nurse responded to a comment explaining that she is not afraid of hard work, but that people not wearing masks are making her job unnecessarily more difficult and putting people at risk. "I am fine with working hard, being sweaty and tired and doing hard things," she wrote. "I'm not fine with so many people refusing to acknowledge the situation that has been created through inaction and obstinacy. All these people didn't have to die."
In a post on November 11, the RN with the handle @kathryniveyy outlined the exhaustion medical workers around the world are facing. "The thing about healthcare workers being called 'the front line' is that it implies that there is backup waiting in the wings should we fall. But there's no backup. No cavalry. There is only us and we are tired, we are finite, and we are falling."
The frustrated nurse has been vocal about mask-wearing during the pandemic. "This morning after a shift in COVID I stopped to get gas at a completely full Kroger gas station by my house. I was the only one in a mask," she posted.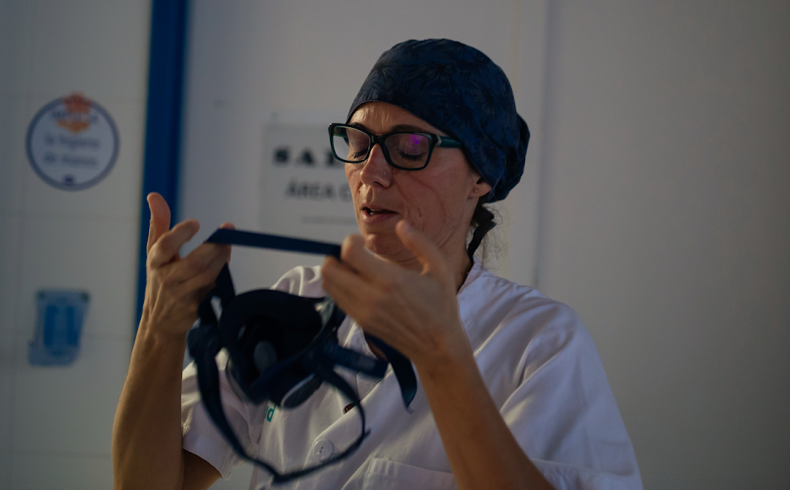 She's also called for a national lockdown to help reduce casualties of the pandemic. "We gave personal responsibility a shot. It hasn't worked. Tennessee is largely ignoring the pandemic and the consequences are enormous. We need strong, decisive steps NOW to mitigate the damage. A mask mandate is not enough. We need a lockdown."
The U.S. has had more than 12.2 million confirmed cases of coronavirus, making it the country with the most recorded cases of COVID-19 in the world.