Hurricane Ida is further straining already overwhelmed health systems in Louisiana that are battling high numbers of COVID-19 hospitalizations.
A partial loss of a generator at Thibodaux Regional Health System in Lafourche Parish sent doctors at the hospital scrambling to keep COVID patients breathing as they moved them to a different floor in the hospital.
The Louisiana Department of Health told Nola.com that patients were being bagged by hand on Sunday after the generator failure, meaning that ICU staff had to manually pump air in and out of their lungs in place of ventilators that were keeping them alive.
Dr. Joe Kanter, the state's chief health officer, said that other generators at the hospital were still working during the outage to support patients riding out the storm.
In a Sunday evening update shared on their Facebook page, Thibodaux Regional Health System said the power failure caused by hurricane winds was brief and that the backup generator was up and running again.
"Due to the unknown impacts that the storm may still produce we are closely monitoring the situation," the health system wrote. "We continue to provide a safe environment for our patients and staff."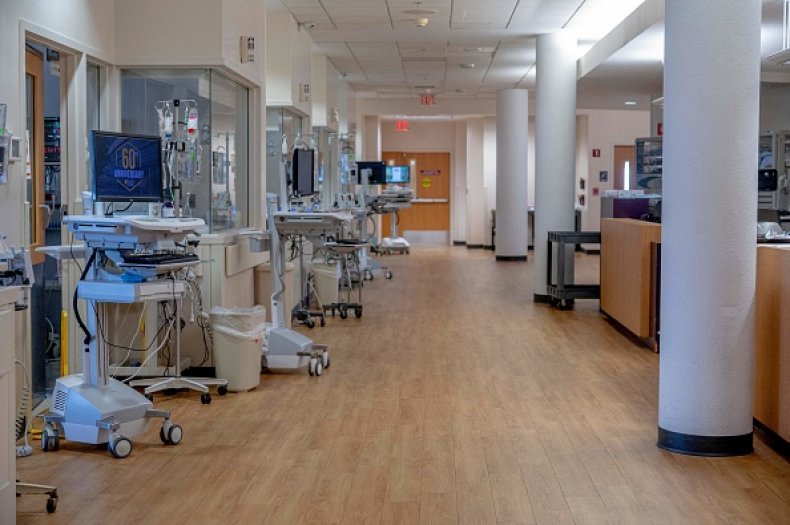 Louisiana State Representative Jerome Zeringue, who was in touch with a physician who reported the problem in the ICU, described the conditions as "Katrinaesque."
Zeringue said patients had to be transported from the ICU ward to the hospital's post-anesthesia care unit via a hospital stairwell. It is unclear how many patients were transported and how many were COVID patients.
According to data from the state department of health, there are currently 2,684 COVID hospitalizations and 479 of those patients are on ventilators.
Hurricane Ida hit Louisiana as a Category 4 storm just after 5 p.m. on Sunday, with sustained winds recorded at 93 miles per hour and gusts up to 122 miles per hour.
Louisiana Governor John Bel Edwards told the Associated Press that the state was in a "very dangerous place with our hospitals." He added that 22 nursing homes and 18 assisted living facilities had been evacuated ahead of the storm.
"I hate to say it this way, but we have a lot of people on ventilators today and they don't work without electricity," he said on Sunday.
Thibodaux Regional Health System isn't the only hospital network that has been impacted by Hurricane Ida.
Louisiana's largest hospital system, Ochsner Health, is reporting that 15 of their hospitals have been potentially affected by the storm and have already preemptively evacuated some patients from small, rural hospitals to larger facilities.
Warner Thomas, president and CEO of Ochsner Health, said 35 patients were moved to other hospitals over a little less than three hours. The hospital system plans to evacuate all patients at two other Ochsner hospitals on Monday as soon as conditions allowed.
Newsweek reached out to the Louisiana Department of Health and the Thibodaux Regional Health System for further comment but did not hear back before publication.