'I'd Like to Have the Virgins Here, Not in Heaven,' Philippines' Duterte Tells Businessmen in India
Philippines president Rodrigo Duterte made a bizarre sales pitch advertising his country as an investment destination to a meeting of businessmen in India.
Duterte took the stage of the Philippines-India Business Forum in New Delhi on Friday, tackling head-on issues that may discourage investment in the country—among them, the presence of separatist Islamic militants in the island of Mindanao who stormed the city of Marawi in May and were only defeated in October.
Duterte, who described himself as "half Muslim" during the speech live-streamed on social media, told businessmen to stay away from Mindanao, as martial law is currently enforced in the island and will remain in place until at least the end of 2018.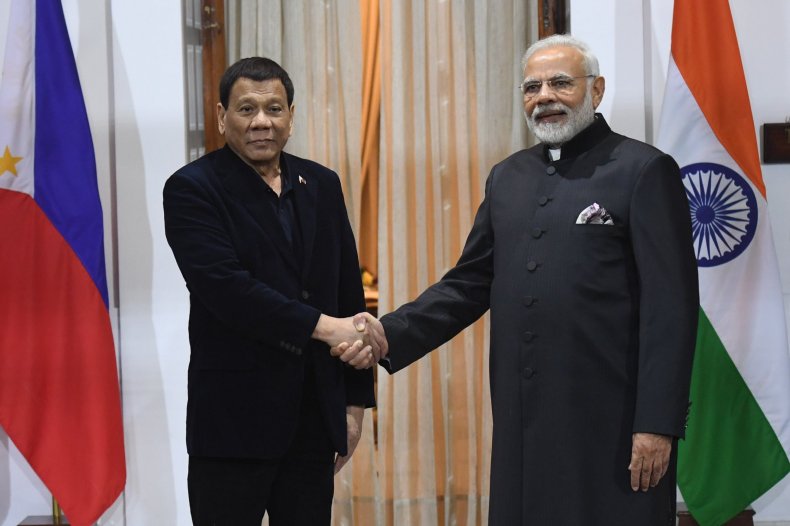 He digressed from the main subject of his speech to contemplate the way extremists affiliated with the Islamic State militant group (ISIS) recruited new followers despite a "bankrupt" ideology.
"The come-on is that if you die a martyr, you go to heaven with 42 virgins waiting for you," Duterte said—although according to the Islamic traditions (the Hadith), the number of virgins awaiting martyrs in heaven as a reward for their sacrifice is actually 72.
"If I could just make it a come-on also for those who'd like to go to my country," Duterte continued, as a few of the audience members laughed.
"I'd like to have the virgins here, not in heaven. God may not allow it. But anyway…" he said before moving on to discuss the issues his country is facing, such as corruption.
Duterte is known for making remarks that are considered humorous by his supporters and offensive by his detractors. It is not uncommon to hear him cursing, joking about sexual assault or using hyperbole to drive his point across.
While in India, Duterte met with prime minister Narendra Modi and Southeast Asian leaders such as Myanmar's Aung San Suu Kyi, who faced widespread criticism from the international community for her lack of condemnation of the military-led violence against the Muslim Rohingya minority in her country that has forced more than 655,000 people to seek refuge in neighboring Bangladesh.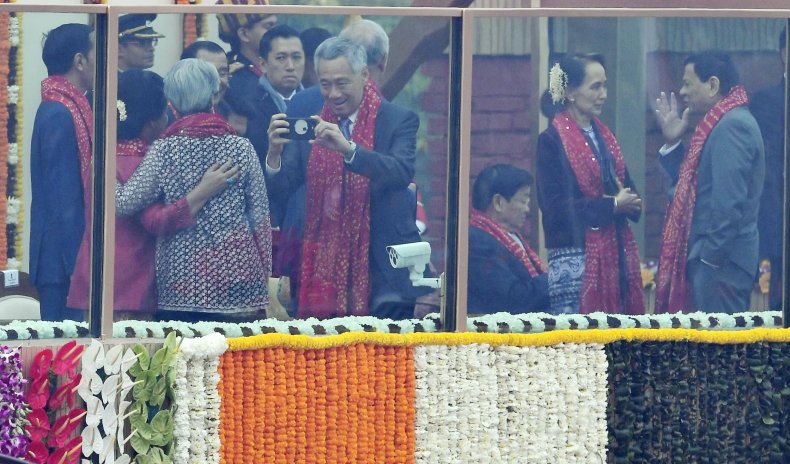 Duterte said he pitied her and offered the Nobel Peace Prize winner his support. "We were talking about our country, the interest of our country ... and I said, 'Do not mind the human rights' [activists], they are just a noisy bunch actually," Duterte said, quoted in Reuters.
The Filipino president's own record on human rights is the subject of widespread international criticism. His "war on drugs" caused the death of thousands of people, including minors, in extrajudicial killings. More recently, his government's intention to revoke the license of news website Rappler, which is often critical of Duterte, was condemned by U.N. human rights experts in a statement issued on Thursday.
Duterte has, however, expressed concern for the rights of Filipinos abroad, following reports of abuse suffered by low-paid immigrant workers in Kuwait and other Middle Eastern countries. He called on those governments to act to end the abuse and "to treat my countrymen as human beings with dignity," Reuters reported earlier this week.