'I'd Rather Be a Russian Than a Democrat': Trump Supporting T-Shirt Creators Say They Were 'Just Fooling Around'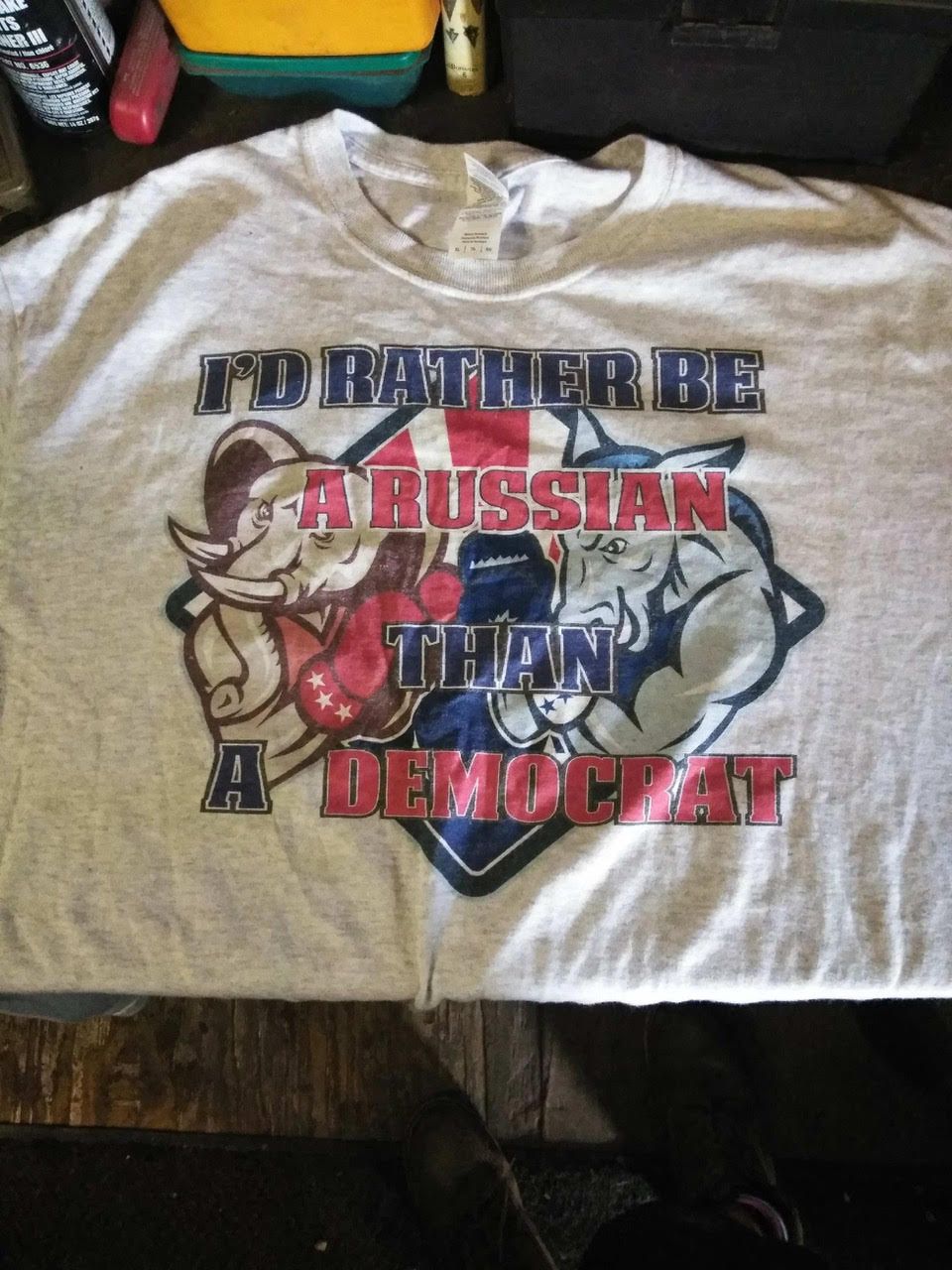 Just kidding, say the two Ohio men who showed up at a rally for President Donald Trump on Saturday wearing T-shirts saying, "I'd Rather Be a Russian than a Democrat." A photo of the two Trump supporters on The Plain Dealer website quickly went viral, provoking glee, disgust and bewilderment worldwide, including in Moscow, where the Kremlin-controlled RT news site crowed that the T-shirt was "sending Democrats into meltdown."
But the two men, Republicans, said they didn't really mean they'd rather live in Russia.
"We were just fooling around," James "Tim" Alicie, a 60-year-old Delaware, Ohio, auto body shop owner, told Newsweek in a telephone interview on Tuesday. "It wasn't meant to be mean to anybody."
Would he really rather live in Russia than be a Democrat?
"Of course not," he said. "I'm for the United States. Obama was my president too, even if I didn't vote for him."
"Evidently it come out more severe than what we was thinking," said Richard Birchfield, 76, a retired paint-factory worker. "I hope we didn't get things stirred up too bad."
Too late.
Many people thought the photo was a hoax, the Snopes fact-checking site reported. The photo on the Cleveland news site drew nearly 600 combative comments, mostly negative.
"These unAmerican scumbags, mingled in with the QAnon wackjobs and red-hatted cultists make for a terrifying mix of anger, fear, ignorance and stupidity," said one. "The right-wing in this country is seriously disturbing."
Another mourned that "there is no common ground anymore. I can remember a time when both sides were at least civil to each other."
Alicie said he'd gotten some "hate calls" on his home phone, but "some positive ones" too.
Neither Alicie or Birchfield use computers or smartphones themselves.
Birchfield said Alicie thought up the idea "a few months ago," based on their conclusion that "the Democrats don't seem to want to let go of Russia—they're just Russia about everything. And we just thought, if that's all the Democrats want, we don't want to be a Democrat. Does that make sense?" They took it to a local T-shirt printer, who added the artwork of a Republican elephant and Democratic donkey under the lettering on the front. It was Birchfield's idea to put "Trump for America" on the back, Alicie said.
Both declined to name the local designer. "We're catching so much hell over it," Birchfield said. "If there's any hell to be paid, I don't want him involved in it." The two shirts they got back were made in Nicaragua, the label shows.
They say they made only two copies, for themselves, but now a handful of online vendors are selling varieties of them—T-shirts, sweatshirts and tank tops—at an average price of $25. Sales figures could not be readily obtained from any of the vendors.
Birchfield and Alicie aren't making a penny from them, they said. "Someone stole our design," Birchfield said. "I don't know whether we can get that straightened out or not.... Legally, I don't know where we're at."
It won't be easy to track down the vendors, whose websites don't typically list home-office addresses, much less the names of executives. One leading vendor of the "Rather Be Russian" T-shirts, Ladaking.com, variously lists addresses as a post office box in Princeton, Iowa, and another at 1202 Heires Avenue in Carroll, Alabama. The latter is actually in Carroll, Iowa. On Monday, a call to the Ladaking website support number triggered an outgoing voice message referring inquiries to Teescape, a contract printer at that address. A Teescape executive said the company had "no connection" to Ladaking.
"A bunch of [foreign] sites, without our permission, publish our address and/or phone number, or that of another U.S. business, to make themselves look more like a legit domestic business located in the U.S.," the executive told Newsweek, asking not to be named, because he did not want to be dragged into the controversy. "We have absolutely no connection or affiliation with them or any of the hundreds of other e-commerce sites that list our information as if it is their own."
The DomaineBigData website says Ladaking is located on Huyen Lam Thao Street in Ho Chi Minh City, Vietnam. Its Internet address is in Canada. A company official could not be immediately reached by telephone or email.
Alicie, meanwhile, said he's "a little bit" surprised by the controversy the T-shirt stirred up.
"I don't know whether to be excited," he chuckled, "or worried."