'I'd Take Anything': As Stimulus Checks Stall, Americans Detail How Congress' Failure Has Affected Them
Americans are feeling the financial pain caused by the coronavirus pandemic as negotiations over a new round of economic stimulus legislation have stalled, with the Senate set to remain in recess through early September.
Millions of Americans remain unemployed, while many struggle to pay their rent and meet other financial obligations. Nearly 30 million Americans told the Census Bureau at the end of the July that they did not have enough food. Meanwhile, extra unemployment benefits that provided $600 extra per week to jobless Americans have dried up, a moratorium on evictions has lapsed and the $1,200 direct payments sent by the IRS in spring have been spent.
"I'm now getting an insignificant payment compared to the extra $600 I was getting per week. I now have to save my entire [unemployment] paycheck just to get by and pay my bills," a 28-year-old New York City resident, who previously worked as a restaurant server, told Newsweek on Monday.
Others across the country are facing even more dire circumstances. A report published by CNBC on Monday shared the perspectives of Americans, many who expressed frustration that Congress went on recess before negotiating a new stimulus deal.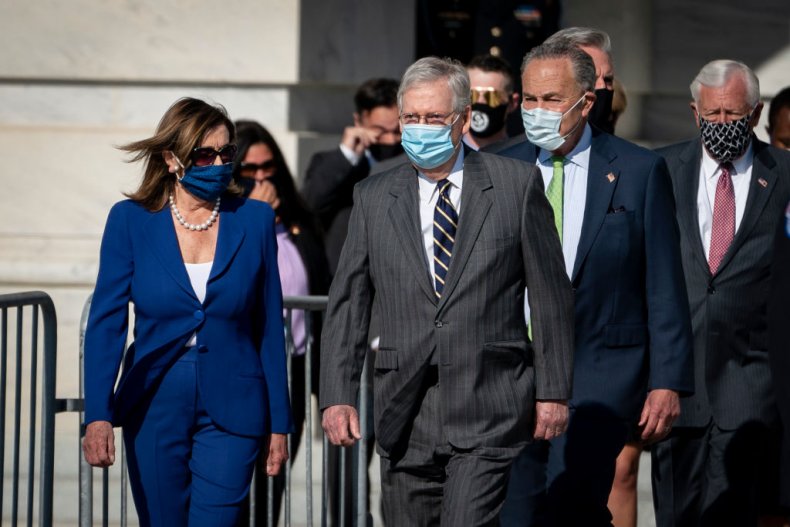 "Literally the only thing[s] I think about [are] money, bills, money, debt, food," Jane from southern Indiana told CNBC. "I wake up thinking about these things, and I go to bed, struggling to fall asleep, thinking about these things."
"I get that [House Speaker Nancy Pelosi] wants $600 extended benefits, I'd love that, when I was getting that I was able to keep up with all of my bills," she said. "But at this point, I'd take anything."
"Some of us don't have the choice to work and we will lose everything in the next few weeks," Jessica Moreno, 36, of Washington state told CNBC. "We don't have much to begin with. I think it's very selfish of people in Congress to not think about the children and families who were already strapped."
Newsweek reached out to Pelosi, a California Democrat, and Senate Majority Leader Mitch McConnell, a Kentucky Republican, for comment, but they did not respond by time of publication.
In late May, the Democrat-controlled House of Representatives passed the $3 trillion HEROES Act, which provided a range of economic support for ordinary Americans, state and local governments, coronavirus research and health care costs. The bill included another round of $1,200 checks for most Americans, but Republicans dismissed the overall package as a "wish list."
Negotiations remained stalled until late July, when McConnell put forward a $1 trillion dollar proposal, the HEALS Act, with the backing of the White House. Although that legislation also included $1,200 payments for most Americans, it significantly reduced the amount of extra unemployment insurance and did not provide funding for struggling state governments. Lawmakers have been at an impasse since then, although negotiations persisted for several weeks.
Now, the Senate remains in recess, as Pelosi has called the House back into session this week to vote on legislation to bolster and protect the U.S. Postal Service ahead of the election. But whether lawmakers will soon reach a compromise and pass another round of stimulus legislation appears unlikely. Talks have stalled, with Democrats urging Republicans to meet in the middle and put forward a $2 trillion bill.
"I am now stuck sitting here wondering, how am I going to feed my kids? How am I going to take care of my bills? How am I supposed to survive?" Jon Meadows, a Mississippi father of two, who remains unemployed, told CNBC. "I hope that we get something, anything to help my family out."