Ida Power Outages 'Literally the Difference Between Life and Death': Louisiana Congressman
U.S. Representative Garret Graves was about to survey damage from Hurricane Ida in South Louisiana recently when he looked out and noticed a woman in a wheelchair racing across multiple highway lanes, trying to get to the helicopter to plead for help: Her mom's oxygen supply was critically low and they had no way to reach out for help, with electricity and phone service down across the state.
"This isn't just about hospitals and nursing homes," Graves, a Louisiana Republican, told Newsweek. "Electricity is literally the difference between life and death."
Graves, who helped the woman secure oxygen for her ailing mother, is urging the White House to find ways to send more fuel to the state that's struggling in Ida's wake, as thousands of people remain without power and emergency teams continue with rescue and recovery efforts.
He said he's written a letter and had private conversations with Biden during the president's trip to the state on Friday about the issue that's facing so many Louisiana residents. In both, he urged the White House to send fuel fleets and loosen Environmental Protection Agency restrictions that could stymie recovery efforts.
"It was very much on his radar," Graves said. "He understood the problem."
Graves noted that Biden helicoptered over gas stations in Louisiana that had cars stretching half a mile or longer, waiting for fuel.
The White House didn't immediately respond to Newsweek's request for comment.
"We have communities without cell coverage, without internet access, without water," Graves said. "It's the cumulative impact on these communities—it's not just about being without electricity."
The ongoing coronavirus pandemic has only exacerbated the power outage problem, or "thrown in a monkey wrench," as Graves says. Less than half of the Louisiana population has been vaccinated, and hospitals have reported bed shortages in recent weeks.
Thousands of people remain without power in Louisiana, and many have been completely displaced because of the storm's damage after Ida slammed ashore as a Category 4 storm on Sunday—the 16th anniversary of Hurricane Katrina's catastrophic landfall.
"Unless your administration intervenes, disaster victims in Louisiana will continue waiting in hours-long lines for a chance to purchase fuel at one of the few operating gas stations," Graves wrote in his plea to Biden, just days after the president traveled to Louisiana to survey Ida's damage first-hand.
According to data collected by GasBuddy's tracker, more than 65 percent of gas stations did not have fuel in Baton Rouge Monday morning, as well as nearly 62 percent of stations in New Orleans and more than 58 percent in Lafayette.
"While emergency workers and linemen work to restore power to Louisiana's impacted communities, gasoline-powered generators are being used to run critical infrastructure like medical special needs shelters, nursing homes, and hospitals," Graves wrote in his letter to Biden. "For these facilities, and for folks at home, generators provide a critical supply of power to oxygen machines and ventilators, keep the medically vulnerable cool during the intense summer heat, refrigerate insulin and other cold storage medications and address other important health care needs."
The Department of Energy released 1.8 million barrels of crude oil from the Strategic Petroleum Reserve last week in response to the disaster, but Graves argues more should be done.
In his letter, he noted that emergency operations centers are using generators to power their equipment and organize disaster response and recovery until electricity can be restored. Additionally, the pumping stations that keep New Orleans and other areas of Louisiana from flooding are using temporary power supplies to keep sewage out of people's homes.
"Fuel is further needed for search and rescues, wellness checks, medical transports, supply drops and even to power chain saws and other equipment used to clear debris from roads," Graves wrote. "One potential solution would be to bring in hundreds of loaded fuel trucks from outside of Louisiana into the state to help meet the rising surge fuel needs. These trucks could make multiple deliveries, including refueling stops at operating refineries, before emptying their holds one last time in Louisiana and making their way back to their point of origin."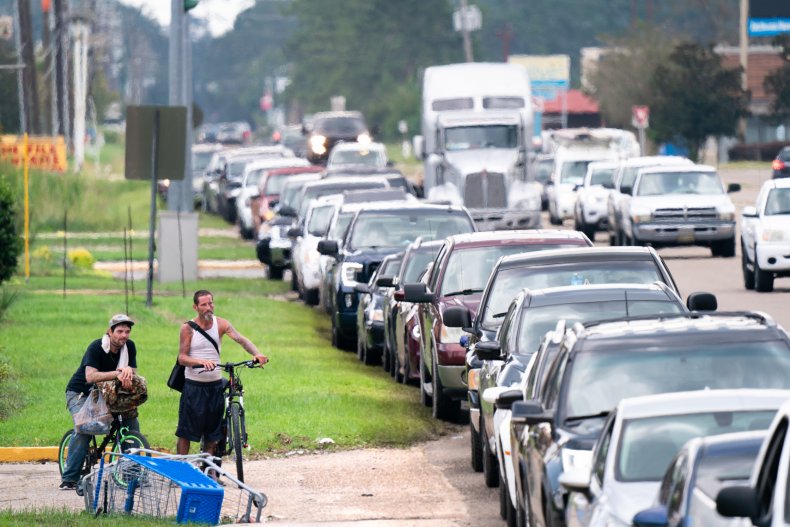 Read Graves' full letter here.