Idaho Church Under Fire for Hosting GOP Rally Ahead of Midterms
An Idaho Republican Party tweet about a rally at a Baptist church has sparked criticism and calls for the church to lose its tax-exempt status.
The state GOP tweeted about a "packed house" during a "Keep Idaho Red" rally held at First Baptist Church in Coeur d'Alene on Monday night, prompting backlash, as tax-exempt religious institutions are legally obliged to refrain from participating in partisan political activity.
"Packed house tonite at our #KeepIdahoRed Rally in CDA," Idaho GOP tweeted. "Thank you First Baptist Church for opening your doors, to our GOP candidates for being there to speak, to voters for attending & most importantly thank you to our hardworking volunteers who made it happen! #WeAreIdaho #idgop."
A tweet from earlier in the day urged Republicans to "bring your whole family" to the church, noting that the event was free.
Replies to the later tweet were almost universally negative, with many respondents either demanding that the church be investigated by the IRS or announcing that they had reported the event.
The group American Atheists said in a tweet that First Baptist Church was "breaking the law" and urged followers to report them to the IRS.
A tweet from Nick Fish, president of American Atheists, argued that the Idaho GOP tweet amounted to "just openly bragging about breaking the law."
A provision of a 1954 tax code known as the Johnson Amendment, named after primary sponsor and then-Senator Lyndon B. Johnson, who later became president, requires that tax-exempt organizations including churches do not partake in partisan political endeavors.
The organizations "are absolutely prohibited from directly or indirectly participating in, or intervening in, any political campaign on behalf of [or in opposition to] any candidate for elective public office," according to the tax code.
However, it is not entirely clear whether First Baptist Church violated the Johnson Amendment by hosting the event. Under certain circumstances, the law would allow the church to rent space to the party.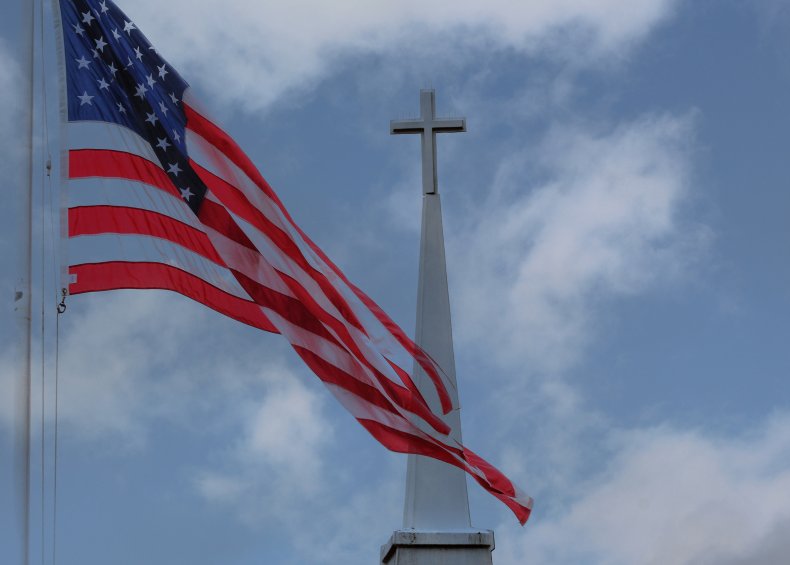 The church could also potentially host the event if favoritism was not shown to the Republican Party and an equal opportunity was presented to political opponents, such as the Democratic Party.
"The facts of any given situation aren't always clear, but the Johnson Amendment is: tax exemption is a privilege, not a right," advocacy group Americans United for Separation of Church and State told Newsweek in a statement. "That privilege is only extended to nonprofit groups that refrain from entering the partisan political fray."
The IRS declined Newsweek's request for comment on the Idaho GOP tweet, while pointing out a document detailing the IRS rules for tax-exempt churches and religious institutions.
Some clashes between religion and tax law have been far less ambiguous. This year, right-wing pastor Greg Locke said that he was dropping his Tennessee-based church's claim of tax-exempt status after facing opposition for repeatedly engaging in partisan rhetoric.
Locke has described Democrats as "God-denying demons that butcher babies" who "hate this nation," telling his followers that "you cannot be a Christian and vote Democrat in this nation."
Newsweek reached out to First Baptist Church and the Idaho GOP for comment.
Update 10/19/22, 4:31 p.m. ET: This article was updated with additional information and background.