Idaho District Plans 'Back-to-School Pool Party' as County Breaks Coronavirus Case Records
Idaho's largest school district announced plans to host a districtwide, in-person fundraiser at a local water park next month, despite the county's reversal of its reopening schedule because of a major spike in coronavirus cases.
On Monday, the West Ada School District in Idaho's Ada County invited families to a "Back-to-School Pool Party" to raise money for the district's nonprofit arm, the West Ada Foundation. The event is set to take place August 12, just two weeks before the district's planned August 27 start date, and was met with immediate backlash on social media.
Stubbs McGillivray-Zanelli, a parent of two West Ada middle-schoolers, wrote on Twitter that the planned event made the district "seem tone deaf and out of touch" at best, and "callous and indifferent to the thousands dealing with this disease" at worst.
Ada County, the state's most populous county and its virus hot spot, has experienced a surge in coronavirus cases since mid-June. On July 13, health officials reported a record 285 new cases there. Ada County has topped 100 cases 11 days in a row.
Idaho, one of the few states with no face covering requirements, reported 500 new coronavirus cases July 13 for a statewide total of 11,402 cases.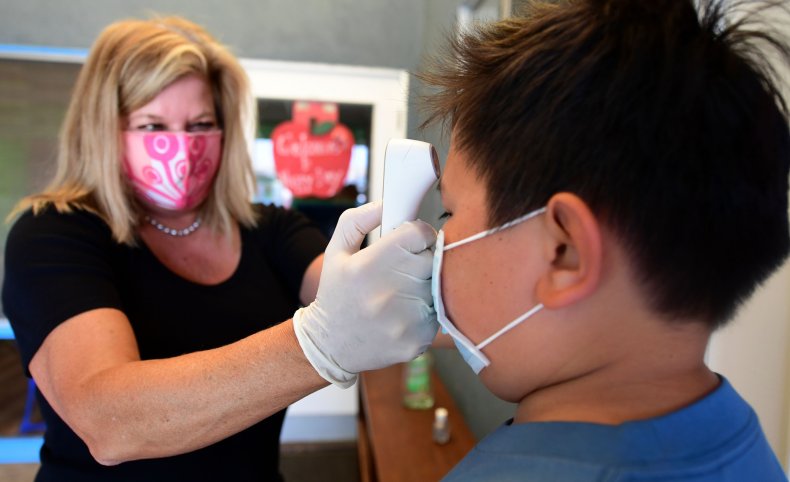 On June 22, Central District Health (CDH) Director Russell Duke signed an emergency order reversing Ada County's reopening plans by shuttering all bars and nightclubs in the county.
"The number of COVID-19 infections reported to Central District Health since June 11, 2020, has significantly increased," the order stated. It also said that public and private gatherings of 50 or more people "should be avoided."
But according to a CDH public health order from July 7, the Board of Health updated Duke's order, changing the wording concerning such gatherings from should to shall.
"Gatherings of 50 or more, both public and private, shall be avoided," the updated order stated. "People participating in gatherings of fewer than 50 people, while permitted, should adhere to social distancing and sanitation and wear face coverings."
It is unclear how the West Ada School District's pool party event would comply with the new health order.
Newsweek contacted the district for comment but did not receive a response in time for publication.
According to its website, the district will offer two learning options this fall: attending school in-person, with added safety measures in place, or an online option for families who are not comfortable with their child returning to school.
Some families expressed dissatisfaction with the school's plans on Twitter.
"They haven't even provided them a school plan but they are planning pool parties," wrote one woman, whose granddaughter is set to begin kindergarten in August. "I begged my son today, don't send her," the woman added.