Idaho Official Brags About Legally Killing 'A Whole Family of Baboons,' Faces Social Media Backlash and Calls for His Job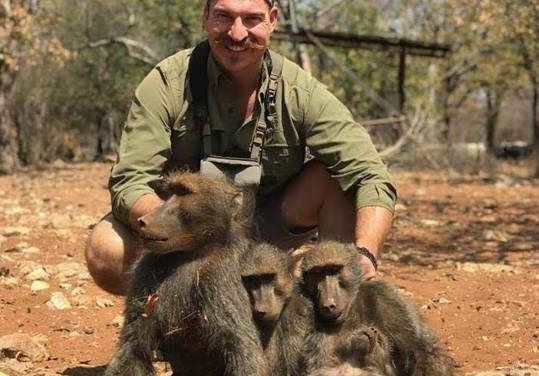 A wildlife official is facing calls to resign after he shared photographs of him posing with dead animals on a hunting trip in southern Africa and boasting about how he killed a "whole family of baboons."
Blake Fischer, Idaho Fish and Game commissioner, emailed friends and colleagues photos of him stood next to more than a dozen animals, including a giraffe, leopard and a sable antelope. He had taken the photos during a hunting trip with his wife in Namibia, reports the Idaho Statesman.
More than 100 people were reportedly sent the email, with each photograph containing a caption detailing each kill, reports the Huffington Post.
It was the photograph of Fischer posing with four bloodstained baboons, which he killed with a bow, that has caused the most outrage.
Fischer reportedly joked in the email how he wanted his wife to "get a feel of Africa" during her first trip to the continent. "So I shot a whole family of baboons. I think she got the idea quick," he added.
Fred Trevey, who was Fish and Game commissioner from 2007 to 2015, said the photo "dismays and disappoints" him. He said Fischer should consider resigning in order to "shield the commission as an institution and hunting as a legitimate tool of wildlife management from the harm that is sure to come."
"I'm sure what you did was legal, however, legal does not make it right," Trevey added in an email obtained by the Idaho Statesman through a public records request. "Sportsmanlike behavior is the center pin to maintaining hunting as a socially acceptable activity."
Fischer's actions were also condemned by former Idaho commissioner Keith Stonebraker. "They killed a whole family, including small baboons, and I think that's revolting," he told the Idaho Statesman. "It just puts a bad light on us."
Steve Alder, of pro-hunting group Idaho for Wildlife, also said Fischer broke the state's code of conduct for hunting animals by taking photographs of the kill.
"It's everything we preach against in hunters' education," Alder said. "It just sends the wrong signal.
"The biggest thing is the baboon thing. I was really troubled," Alder added. "He killed the whole baboon family and you've got little junior laying there in mom's lap. You just don't do that."
Comedian and actor Ricky Gervais also tweeted a photo of Fischer posing with the baboons to his 13 million followers along with the caption "Pathetic c*** #BanTrophyHunting."
Fischer, who has been on the commission for four years, apologized for sending the photographs—but not for going on the hunting trip.
"I didn't do anything illegal. I didn't do anything unethical. I didn't do anything immoral," Fischer said. "I look at the way Idaho's Fish and Game statute says we're supposed to manage all animals for Idaho, and any surplus of animals we have we manage through hunting, fishing and trapping. Africa [sic]does the same thing."
Fischer said he was also required to pay a trophy fee for permission to hunt the animals, except for the baboons—which were free because they are a "weird animal."
More than 15,000 animals are hunted each year in Namibia, raising millions for conservation, reports The Times of London. In July, the government urged tourist hunters to stop posting photographs of their kills onto social media, fearing it was damaging the reputation of the country.