Idaho Pastor, Five Other Church Workers, Contract COVID After Forgoing Mask Mandate for Services
A pastor at a church in Coeur d'Alene, Idaho, is recovering in an intensive care unit after he and five other church staffers contracted COVID-19. Although no one is sure how they got the virus, the church has welcomed attendees to worship without face coverings during the coronavirus pandemic.
Paul Van Noy, the senior pastor at Candlelight Christian Fellowship, has spent the past two weeks in the ICU at Kootenai Health. His wife, Brenda Van Noy, also contracted the virus but was able to recover at home, The Spokesman-Review reported.
The church, which has nearly 1,200 members, reopened in May for in-person services but has allowed and even encouraged its congregation members to gather without masks, according to The Spokesman-Review. Paul Van Noy wrote in a July 17 Facebook post that masks wouldn't be required inside his church.
"It is true that COVID-19 cases are in escalation here in our community and that the virus is real," he wrote. "However, the panic to 'stop the world' or mandate public compliance...is causing untold problems and pushback that will not be helpful."
Face coverings, however, are mandatory in Kootenai County, according to an order enacted July 23 by the Panhandle Health District. Van Noy claimed in a July 24 Facebook post that his church didn't have to abide by the order because it isn't a public space. The order defines public spaces as "any place open to all members of the public without specific invitation."
"We note that Candlelight Christian Fellowship facilities are member owned and operated, are not 'open to the public' and are not deemed a 'Public Place,'" Van Noy wrote. "We do maintain the right to refuse entry to non-members at our discretion."
The Panhandle Health District always recommends that "cloth face coverings or masks be worn when in public and physical distancing cannot be maintained," Katherine Hoyer, a district spokeswoman, wrote to Newsweek in an email. "The Candlelight church situation is one of many unfortunate examples of what can happen if precautions are not taking place," she wrote.
Candlelight closed its doors for two weeks following the pastor's diagnosis and underwent a deep cleaning, but it reopened for in-person services last Sunday, Eric Reade, body ministry coordinator, told The Spokesman-Review. "We didn't want, obviously, to be spreading the virus," he said.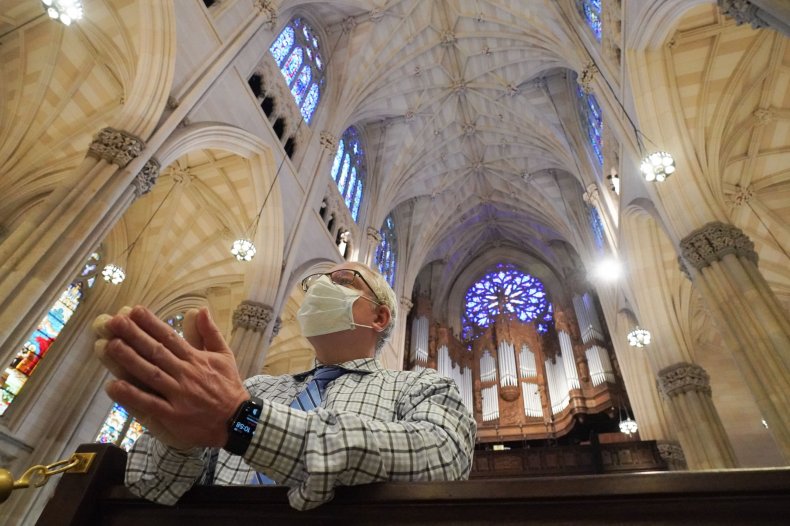 Van Noy is known for bringing his political views to the pulpit, The Spokesman-Review said. His wife has been active on Facebook throughout the pandemic, posting her own health updates as well as conspiracy theories, several of which have been flagged by Facebook as untrue, according to The Spokesman-Review. In a September 4 post, Brenda Van Noy acknowledged she hadn't taken the virus seriously before contracting it.
"I haven't taken this Covid seriously enough. I'm humbled. I have Covid and some of my friends have Covid now but more seriously my husband is in critical care in ICU with Covid and it is serious," she wrote. "Please take this serious. Pray for healing. Love each other. Pray for those who have lost loved ones because of this EVIL virus!"
But Candlelight's stance on mask wearing has not changed since the Van Noys' diagnosis, The Spokesman-Review reported. Asked whether masks are mandated to attend services in compliance with state law, Reade told the newspaper no.
"The position is, if you feel comfortable wearing a mask, you can. If you're not comfortable wearing a mask, you don't have to," Reade said. "Nobody is going to be criticized for whatever decision they make."
Candlelight members gathered independently of the church on September 9 to hold a vigil for Van Noy outside of Kootenai Health. Photos from the event showed attendees without masks standing close to one another, the Coeur d'Alene Press reported.
The church provided an update Monday regarding the Van Noys' respective conditions, writing that Brenda is "well on her way to full recovery" and Paul "has shown improvement these last couple of days." The update included a message from the pastor, who thanked "the Lord for all the support I have been shown."
"Having been in the ICU now for 11 days...and counting, I am really starting to turn the corner—for the better. They tell me it will be a few more days in ICU and then I will move back to a regular room for a couple of days and then to recover at home," Paul Van Noy said.
"At present I feel OK but still need quite a bit of oxygen support—especially if and when I try to get up out of the bed," he added.
The pastor said he prayed daily for "health and strength for all," adding that he hoped his church community could be back "worshipping together as called" soon.
While its pastor continues to recover, the church will bring in guests to lead services in his absence. Charlie Kirk, an evangelist, Trump supporter and the founder and president of Turning Point USA, is scheduled to speak at an in-person church service on September 27. Kirk is set to speak along with Rob McCoy, the California pastor who was recently fined because he held indoor church services that violated coronavirus restrictions, The Spokesman-Review reported.
Update (09/17/20, 4:40 p.m.): This article has been updated to include a comment from the Panhandle Health District.