Idaho Police Discuss Skinned Dog Connection to Mysterious Student Killings
Police in Idaho said a report about a skinned dog isn't related to the murder of four university students who were stabbed to death.
The slayings of University of Idaho students Ethan Chapin, 20, Kaylee Goncalves, 21, Xana Kernodle, 20, and Madison Mogen, 21, on November 13 have rocked the small college town of Moscow and drawn national attention. The women were roommates, and Chapin was dating Kernodle.
More than a week on, authorities have said they have no suspect or weapon in the killings.
In a news release on Monday, the Moscow Police Department sought to debunk rumors circulating about the attack.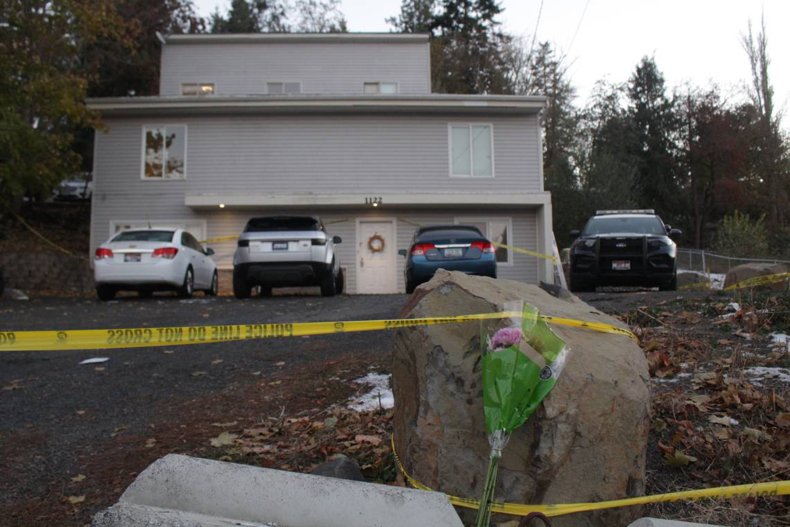 The department said detectives were aware of a report made about a skinned dog to the Latah County Sheriff's Office, but they "have determined it is unrelated" to the murders.
The Latah County Sheriff's Office has been contacted for comment.
Moscow Police said it was also aware of a report of deceased animals left on a resident's property. "This was determined to be wildlife activity and unrelated to the incident," they said.
Officers did locate a dog at the residence after the murders. "The dog was unharmed and turned over to Animal Services and then released to a responsible party," police said in an update on Monday.
On the night of the killings, police said Goncalves and Mogen were at a bar called The Corner Club in downtown Moscow until around 1:30 a.m., and they were then seen at a local food vendor called the "Grub Truck" at around 1:40 a.m. They used a private party to get a ride home, arriving there at about 1:45 a.m.
Detectives determined that Chapin and Kernodle also returned home about about 1:45 a.m. after being seen at the Sigma Chi house on the University of Idaho's campus.
Two other roommates had also been out in Moscow, separately, but returned home by 1 a.m.
Authorities said autopsies conducted last week determined the four victims were each stabbed multiple times. The coroner said all four were likely asleep when they were attacked and some had defensive wounds.
Police said the two other roommates slept through the attack, but when they woke, they summoned friends to the residence because they believed one of the victims "had passed out and was not waking up."
One of their cell phones was used to call 911 from inside the residence at 11:58 a.m.
Moscow Police Chief James Fry on Sunday said authorities didn't know how the two roommates were not woken up by the killings and that it is part of the investigation.
Police also said that detectives don't believe the two surviving roommates or anyone who was at the residence when the 911 call was made was involved in the killings.
Detectives also don't believe a man who was seen in the "Grub Truck" surveillance video or the driver who took Goncalves and Mogen home was involved.
Police have urged anyone who observed suspicious behavior, has video surveillance, or can provide relevant information about these murders to call the tip line at 208-883-7180 or email tipline@ci.moscow.id.us.