GOP Lt. Gov. Drives Around With Gun and Bible To Protest COVID Restrictions in Idaho as Cases Soar
The Lieutenant Governor of Idaho was filmed with a gun and a bible in her car as part of a video in which state lawmakers question the existence of coronavirus and pledge to ignore any restrictions.
Janice McGeachin joined several state officials to promote a "declaration" against coronavirus measures that was published on the Idaho Freedom Foundation (IFF) website on October 1.
In the film, shared on YouTube earlier this week, Republican lawmakers all take turns to read lines from the declaration.
During McGeachin's segment, she can be seen sitting in her truck smiling and holding a bible, before she takes out a handgun and places it on the book.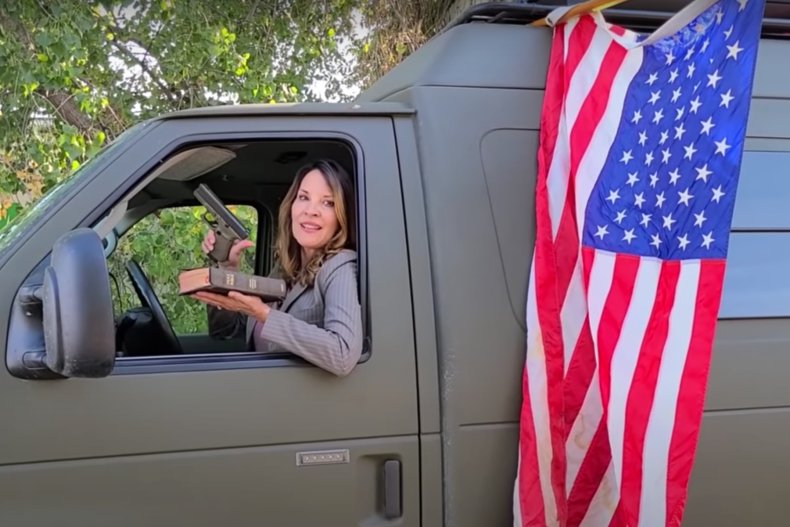 As she does this, she reads out a line from the declaration that quotes from the state constitution, saying: "We recognize that all of us "by nature are free and equal and have certain inalienable rights among which are enjoying and defending life and liberty, acquiring, possessing and protecting property, and pursuing happiness and protecting safety.""
McGeachin has been a vocal critic of GOP Gov. Brad Little's COVID orders, attending several rallies to protest against the restrictions during the pandemic, according to The Idaho Statesman.
In the recent video, she is joined by Republican state representatives, Tammy Nichols, Dorothy Moon, Bryan Zollinger, Christy Zito, Chad Christensen, Priscilla Giddings, Tony Wisniewski, Heather Scott, Ron Nate and Karey Hanks, to protest against the COVID rules.
Hundreds of Idaho residents have also joined the lawmakers to sign the document itself, which says it was "ratified by the people of Idaho October 1, 2020."
It comes as Idaho has seen record-breaking numbers of new daily cases in October, bringing the total to 62,746, according to state government figures.
October 16 saw the highest number of confirmed new cases at 1,092, while the latest figures on October 29 shows an increase of 961
The declaration claims the emergency orders are infringing on the rights of Idahoans and also appears to question whether "a pandemic may or may not be occurring."
It also lays out a pledge to ignore any new restrictions which continue to curtail people's "freedom" and calls for "an end to the emergency orders issued by state and local government officials and the restoration of our constitutionally protected rights."
IFF spokesman Dustin Hurst said: "I think many are missing the point of the video. The aim wasn't to question the pandemic, but rather to reaffirm that our rights exist pandemic or not.
"Some public officials act as if they can restrict rights without consequence or pushback. That's just not how this works."
The restrictions at this stage mainly affects large gatherings of more than 50 people. Businesses and hospitality venues can remain open and travel is not restricted.
Republican lawmakers have repeatedly criticized the governor's pandemic response with many attending "special sessions" at the state parliament, where they claimed the COVID restrictions were unconstitutional, according to The Idaho Stateman.
But the Idaho Attorney General's Office has defended the legality of the governor's moves, the publication reported.
The Declaration in full
Newsweek has contacted Lt. Gov. McGeachin for comment.
Update 10/28/20, 9.50 a.m. ET: This article was updated to include a statement from IFF spokesman Dustin Hurst.