An Idaho state trooper narrowly averted a potentially fatal collision involving six vehicles at 9:15 a.m. Wednesday in Ada County, home to the capital city of Boise.
Video of the collision from the trooper's dashboard camera showed the officer wearing a neon yellow vest while standing on the shoulder between a motorist's Toyota Corolla and a barrier on the Interstate 84 highway median. The motorist was crouched nearby, tending to his car's flat tire on the front driver's side.
The officer suddenly put out his arms before hopping backwards against the median, toppling backwards over it. Barely a second later, a white Chevy truck careened towards the Corolla, crashing into its rear, sending it smashing into the barrier and clear out of the dashboard camera's view.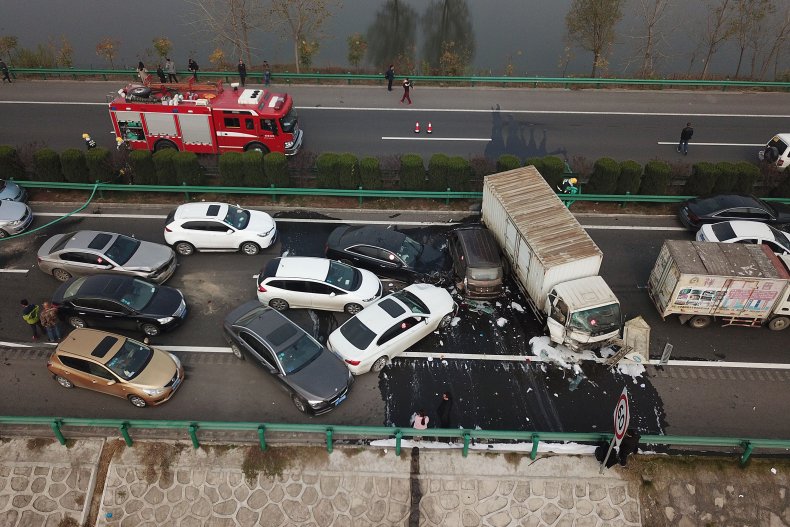 The motorist also hopped backwards, sitting himself upon the median as the violent crash seemingly missed him by mere inches.
A black truck had collided against the white truck's passenger side, causing it to lose control and smash into the Corolla. The resulting crash left only the Corolla's tire rim and wreckage from where it once stood.
Without even looking at his demolished car, the aforementioned motorist then hopped down from the median barrier and immediately looked over it, extending his arms to try and help the fallen officer. Behind them, the two trucks finally came to a stop.
A preliminary investigation by the Idaho State Police found that the wreck began when one vehicle began to slow down just before passing the officer's patrol car. That vehicle was hit by another, causing a chain reaction of four vehicles, which included the two aforementioned trucks.
The motorist sustained minor injuries. An ambulance transported the trooper to a nearby hospital. He was released with minor injuries.
The crash delayed traffic on the interstate for 90 minutes as emergency crews helped clear the scene.
"Traffic stops are very high risk. They're necessary to keep people safe on the road and to help those stranded, but we need motorists' help so we can all go home at night," Idaho State Police Sergeant Brandalyn Crapo said in a press statement.
Idaho law requires drivers to slow down and change lanes when passing police and emergency vehicles stopped on the roadway. That includes tow trucks and highway incident response vehicles.
"Slowing down and moving over for emergency vehicles and workers isn't just a courtesy, it's the law," Crapo added. "Drivers need to be alert to emergency lights and vehicles and always alert to what's happening around them. That keeps all of us safe."