Identical Twin Using Sister's Nickname for OnlyFans Account Stuns Internet
The internet was left stunned after an identical twin used her sister's nickname for her OnlyFans account.
Published on Reddit's r/AmITheA**hole forum, a woman under the anonymous username u/onlytwinsthrowaway shared her story to receive feedback from the "AITA" forum. The popular post has over 11,000 upvotes and 2,000 comments.
The original poster (OP) began her story by explaining that she has an identical twin sister and their relationship can be described as "tumultuous" and "competitive." The OP said they've fought over boys, clothes, friends and other things.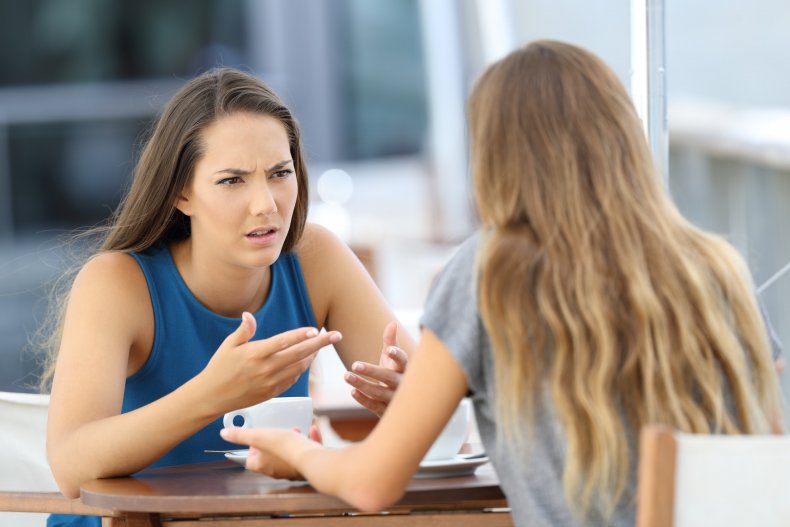 Recently, a mutual friend sent the OP a link to an OnlyFans account.
"I clicked on the link and was shocked to discover that the profile belonged to my twin sister. The profile picture was very clearly a scantily clad image of her, and the username was my nickname that literally everyone in my life uses. I asked our friend about it and he told me that he had discovered the profile through twitter and then subscribed to the profile, which included dozens of videos of her doing... spicy things to say the least, solo and with partners, all of which with her face showing.
"I was floored and, in a fit of rage, showed the profile to our parents. I mean... literally anyone who saw that profile that knows us would immediately assume that it's me considering she's basically going by my name. Our parents forced her to delete the profile and she hasn't spoken to me since, claiming that I not only ruined her main source of income, but also betrayed her trust. However, I think that she betrayed my trust by going by my nickname," she concluded.
Newsweek reached out to u/onlytwinsthrowaway for comment.
Newsweek has published several articles regarding siblings, including a man who was backed for telling his siblings a family secret, making them "hate" their mom, a sibling slammed for bashing their brother's "not traditional" wedding and a brother who was backed for excluding his step-siblings from a trip.
What is OnlyFans?
Founded in 2016 by Tim Stokely, OnlyFans is a platform based out of London that allows fans to connect with their favorite online creators. The site has over 150 million users and 1.5 million content creators. OnlyFans is famously known for its adult content, however, there are other topics ranging from advice to workout videos.
"Safety is a top priority at OnlyFans," a representative at OnlyFans told Newsweek, "We have robust protections and controls to ensure the safety, privacy, and well-being of the OnlyFans community while maximizing the freedom of our creators to control and monetize the content they produce. To subscribe to content, or to post on OnlyFans, all users must be over 18 and pass OnlyFans' strict identity verification checks. Unlike many other digital media platforms, OnlyFans knows the legal identity of all users and no one can post anonymously on OnlyFans."
For people to create an account, they must provide "true and accurate" information including:
Full name
Verified email address
Postal address
Date of birth
Valid government photo identification
Standalone selfie
Selfie while holding their photo identification
Social media account handles
Bank account information
The company also says it rejects nearly 60 percent of creators who apply to the platform every month because they did not provide the right, or enough, information. OnlyFans also checks profiles to recheck the account's identity verification and age.
What to do if you suspect someone has stolen your identity?
Do you believe that someone has stolen your identity? According to Monster.com, here are some steps you should take:
Know the types of fraud to know which one you're experiencing: credit, banking, taxes, employment, government benefits, medical and criminal.
Place a fraud alert with a National Credit Reporting Agency (CRA) as this can decrease any risk of someone opening up accounts in your name.
If you notice any unauthorized activity on any existing accounts, make sure to close them.
Analyze your computer for any viruses by getting an antivirus program.
Keep track of your records in regard to making any reports and closing any accounts.
If you suspect that someone has stolen your identity, report identity theft to the Federal Trade Commission online at IdentityTheft.gov or by calling 1-877-438-4338.
Redditor reactions
"[You're the a**hole]. She exploited your identity for profit. She's lucky you only told your parents, instead of suing her," u/SirMittensOfTheHill wrote, receiving the top comment of over 13,000 upvotes.
"[Not the a**hole]. What kind of a**hole uses their twins name for onlyfans??? It baffles me why someone would do that a**hole move," u/shrink-ray2333 exclaimed.
U/solo_throwaway254247 commented, "If she was that serious and proud about it as a source of income, she'd have used her own nickname, not yours. Or even picked some random name. Of all the names we have in this world, she decides to use yours, knowing people would think it was you. I think she wanted to kill two birds with one stone, earn some money and ruin your reputation in the process. [Not the a**hole]."
"Ruined her income, she was posting pretending to be you. At the end of the day, it's your rep that was being harmed. You did You did right thing, and protected yourself," u/Apprehensive_Look974 said.
"[Not the a**hole]. She's lucky you didn't take legal action against her for purposely posting nsfw content pretending to be you. Although I'd definitely take legal action against her, twin or not she could have ruined your whole life by doing that," u/cowboybepopop explained.
Update 9/30/2022, 7:15 p.m.: This article has been updated to include comment from OnlyFans.