Authorities Release the Identities of the 14 Victims in the San Bernardino Mass Shooting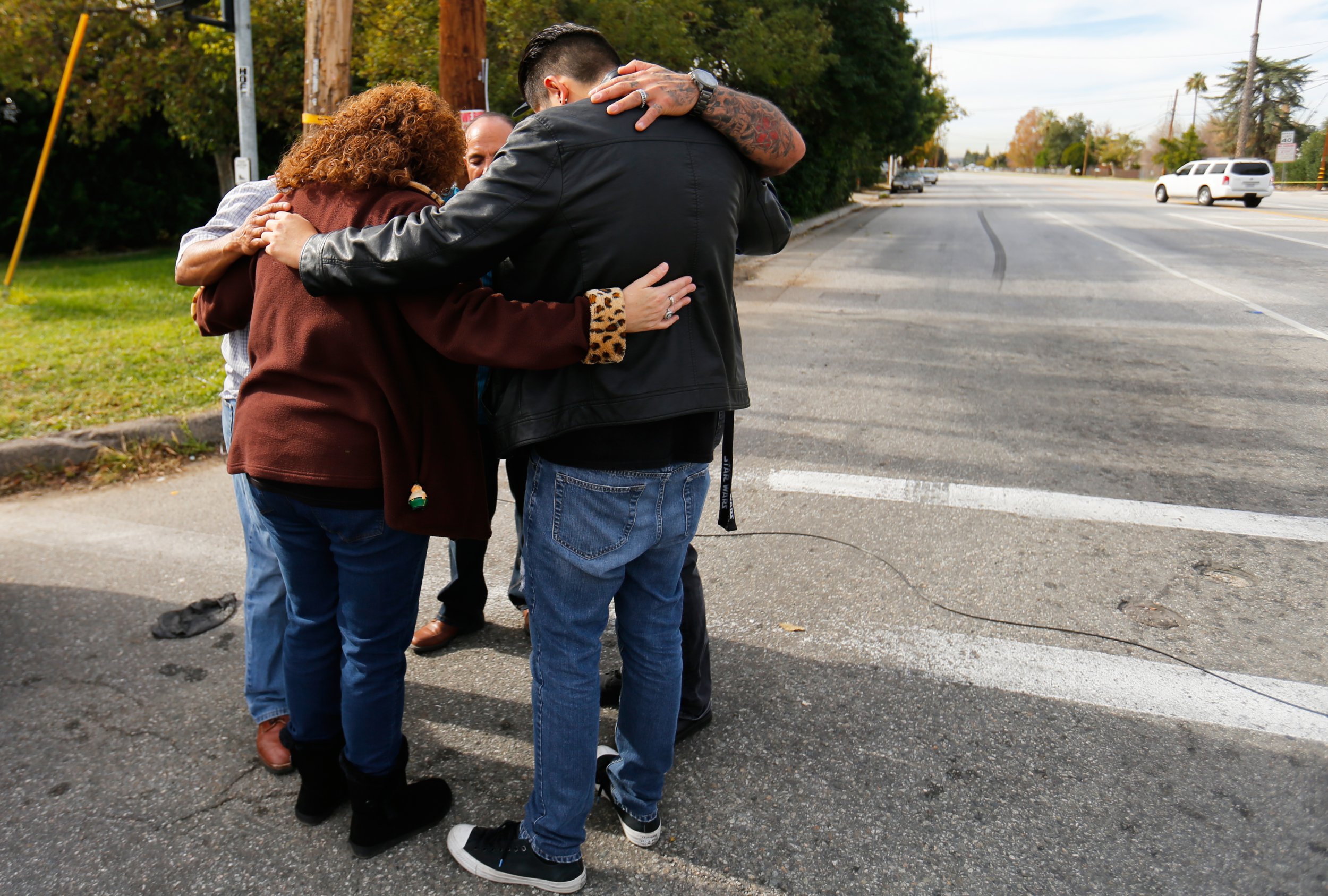 Authorities in San Bernardino, California on Thursday released the identities of those killed in America's latest mass shooting.
On Wednesday morning, Syed Rizwan Farook, 28, and his wife, Tashfeen Malik, 27, opened fire at a holiday party hosted by the the county public health department at the Inland Regional Center, killing 14 and wounding 21. Farook was an employee of the department.
Here is what we know about the victims:
Nicholas Thalasinos, 52: A co-worker of the gunman, Thalasinos worked for the San Bernardino, California County Department of Public Health for more than a decade. He was married to his wife, Jennifer, for nine years.
"He had worked with [Farook,]" Thalasinos said of her husband. "He had talked about him. Nothing negative...My husband was very outspoken about ISIS and all of these radicalized Muslims. If he would've thought that somebody in his office was like that, he would've said something."
Michael Raymond Wetzel, 37: He was a father of six children and married to Renee Wetzel. The family attended the Church of the Woods in Lake Arrowhead, California, which is now working to raise funds for the widow and children. Wetzel worked as a supervising environmental health specialist for the county's health department.
"We have a service, a prayer, open for people to come today and remember him," a spokeswoman for the church tells Newsweek.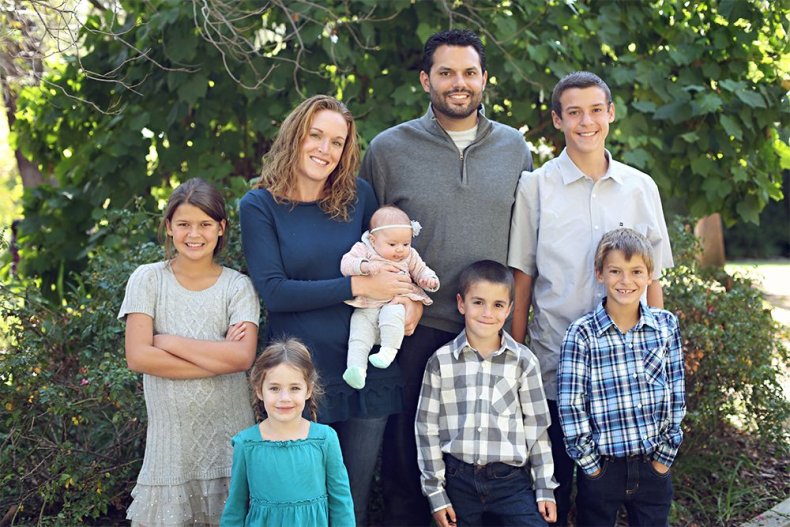 Larry Daniel Kaufman, 42:A coffee shop manager at the Inland Regional Center, he helped train developmentally disabled people.
"He was a colorful character," Susan Ursprung, a friend of Kaufman's for more than 20 years, tells Newsweek. "And he always made you feel special. He always took the time to listen and would share the mood with you. He was well known for wearing flowers in his hair, so that is why I am wearing these flowers, as a tribute to him. He was bigger than life. He never held a grudge. He forgave very easily. And he was very tolerant of the intolerant."
"I'm so emotionally drained right now," Ryan Reyes, Kaufman's boyfriend, told the Los Angeles Times. "I don't know if I want to scream, cry or break a window."
Damien Meins, 58: An employee of the county's environmental health department, Meins also took on a role as Santa at the St. Catherine's School in Riverside, the Times reported.
"I will always remember Damian as a caring, jovial man with a warm smile and a hearty laugh," Juan C. Perez, an employer, says.
Sierra Clayborn, 27: The health inspector was beloved by her friends and clients in Big Bear City. She had been an inspector for three years.
"She was just in my kitchen at the middle school about two weeks ago," Christine Kay Naylor, who works a Big Bear Middle School, which Clayborn would regularly inspect, tells Newsweek. "She was always smiling, upbeat, and so helpful. She felt more like a friend than an inspector. Many of us are in shock and feeling very angry. She gave great feedback on how we could make our kitchen a better place and always left us feeling good about what we do."
Heidi Duran, who owns BJ's Restaurant in Big Bear City with her husband, Chuck, remembered Clayborn fondly as well:
She was amazing, very good sense of humor. I always thought she was a little sweet on Chuck. She spent a lot of time in the kitchen with him just chatting. She would even come into BJs to eat lunch when she wasn't working. She told us once that before she ever ate anywhere she would check the letter grade.

She met my kids and would sit and talk with my son. She was funny, patient, and very kind. We were expecting her this week for our review because it's overdue. This morning Chuck and I were saying it would probably be a few more days because the offices were closed. Little did we know we would never see her again. It's very sad.
Bennetta Bet-Badal, 46: Betbadal fled Iran in 1969 at the age 18 to escape persecution, according to a GoFundMe page set up in her honor. She was married to Arlen Verdehyou, a police officer, and had three children. She was an inspector for the health department.
"She loved her job, her community, and her country," the funding page writes. "Her greatest love, however, was for her husband, her children, and her large extended family."
Aurora Godoy, 26: The married mother of a toddler, Godoy worked for the environmental health department and once studied cooking.
"She had a big heart and loved Disneyland," Janice Henson, her mother-in-law, told the Press-Enterprise. "They were constantly there with their son."
"The Godoy family has always been positive, fun, loving and have grown on all of us in such a short amount of time," A GoFundMe page set up to cover funeral costs for Godoy writes.
Isaac Amanios, 60:The cousin of NFL player Nat Berhe, Amanios was an environmental health specialist.
"He was a great human being. Thoughts and prayers are with my family back in CA," Berhe said on social media.
Shannon Johnson, 45:A sports fan and former college baseball player, Johnson was also an animal lover.
"He was a really good man with a really big heart," his ex-wife, Tina, told the New York Times. "I'm still kind of reeling."
Harry Bowman, 46:He leaves behind two daughters, 11 and 15.
"Death at its best is hard to take," Bill Kraft, a relative, told the Los Angeles Times. "This type of death is extremely hard to take, especially when you have young children. There is no way you are going to make them understand."
Yvette Velasco, 27: She was one of four girls and worked for the county as an environmental health specialist.
"We are devastated about what happened," the family told the Los Angeles Times in a statement, "and are still processing this nightmare."
Robert Adams, 40: A GoFundMe page set up in his honor describes Adams as a devoted husband and father to his daughter, Savannah. He worked as an environmental health specialist.
"While we mourn the great loss that Robert and at least 13 other families face this morning, we can do our small part to help bring some comfort to his family," the page says. "We will continue sending our prayers and thoughts to them but we will also show our grieving through action."
Tin Nguyen, 31: A health inspector, Nguyen was supposed to have the day off, a cousin, Calvin Nguyen, told the Desert-Sun. She was planning a wedding at the time of her murder.
"She was very intelligent, a good girl, takes care of mom and family," her cousin told the paper. "We very sad that we lose her. Pray for us."
Juan Espinoza, 50: A husband and father of two, Espinoza was a health inspector for the county.
"I do remember him always saying that education is something that can never be taken away from you," his daughter, Jerusalem Espinoza-Mendoza, told the Press-Enterprise. "He was just a really hard worker. He was very fair. He was just very honest."