Idyllwild, California, Fire: Cranston Wildfire Rapidly Spreading, Evacuations Ordered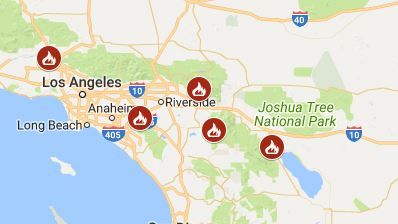 UPDATE: Thursday, 3:32 p.m. EDT— The San Bernardino National Forest added Fern Valley, Pine Cove, and Cedar Glen to the list of mandatory evacuation areas. Evacuees were encouraged to remember the six "p" items, listed as:
People and pets
Phone numbers and important documentation
Prescriptions and eyeglasses
Pictures and irreplaceable memorabilia
Personal computer hard drive and disks
Plastic, meaning credit cards and ATM cards, and cash
UPDATE: Thursday, 6:09 a.m. EDT— The fire has grown to 4,700 acres and is five percent contained, according to the San Bernardino National Forest. Over 3,000 people have been evacuated from 2,174 homes, the San Bernardino National Forest tweeted.
Five structures have been destroyed, but Pine Cove is no longer on the mandatory evacuation list. California Department of Forestry and Fire Protection Law Enforcement arrested someone for arson in connection with the Cranston Wildfire, according to the San Bernardino National Forest.
UPDATE: 10:21 p.m. EDT— The Cranston Wildfire has spread to 3,000 acres and 500 personnel are fighting the blaze, which is zero percent contained, according to the National Wildfire Coordinating Group. The San Bernardino National Forest tweeted mandatory evacuations were expanded and include Idyllwild, Pine Cove, Fern Valley, Mountain Center Community, Apple Canyon Area, Lake Hemet Area, and Hurkey Creek Area. Almost 4,000 people are without power because of the fire, according to Southern California Edison.
Original Story: Evacuations were ordered after the Cranston Wildfire in Idyllwild, California, spread from 25 acres to 800 acres in just a few hours on Wednesday.
California Wildfires: Dramatic Photos of the Carr, Cranston and Ferguson Fires
San Bernardino National Forest officials first posted the fire on Twitter at 1:02 p.m. ET. By 1:38 p.m. ET, the fire had grown eight times its size to an estimated 200 acres with a "rapid rate of spread," according to a San Bernardino National Forest tweet. Mandatory evacuations were ordered for Southwest Idyllwild and officials tweeted that residents should "leave the area immediately."
At 2:54 p.m. PT, the San Bernardino National Forest tweeted that the fire spread to 800 acres.
Highway 74 between Cranston Fire Station and Lake Hemet and Highway 243 between Pine Cove and Mountain center were also closed. Idyllwild was experiencing temperatures in the triple digits and the National Weather Service issued an excessive heat warning on Tuesday through 8:00 p.m. PT on Thursday.
Rebecca Miller from the San Bernardino National Forest told Patch.com that the fire was zero percent contained as firefighters from the United States Forest Service, Riverside County Fire Department, and Cleveland National Forest assisted in fighting the blaze. Miller added that the cause of the fire is currently being investigated.