IED Discovered, Destroyed In Front of Stadio Olimpico Ahead of 2020 Euro Game
An improvised explosive device was found in a car outside of Stadio Olimpico in Rome on Wednesday prior to the 2020 European Championship soccer match with Italy and Switzerland.
The homemade bomb was allegedly reported as a suspicious-looking package on a car in the Prati area, just a couple of miles from the stadium. According to Italian news outlet Il Messaggero, it was a "machine with some suspicious threads" coming from the top of it.
Il Messaggero reported the bomb was a cylinder filled with gunpowder and electrical wire found on the bodywork of Italian municipal executive Marco Doria's parked car.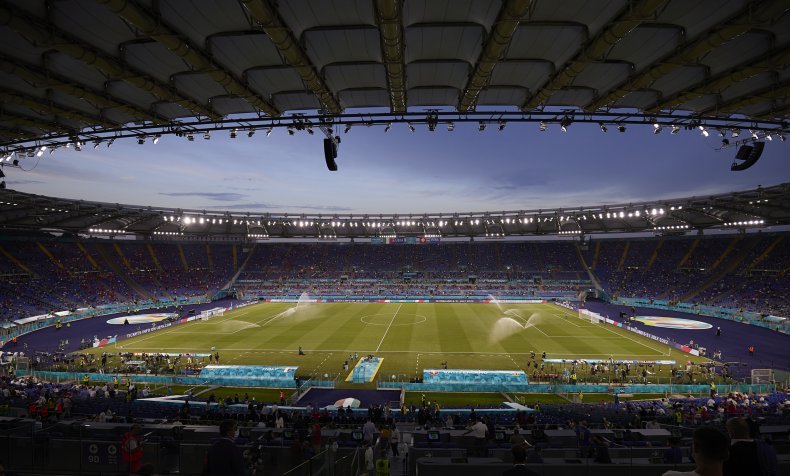 According to local reports, it was fashioned to go off, but further details have not yet been released as to how it would have ignited. Italian police safely defused the bomb and are investigating the attempted bombing.
Marco Doria is the president for the redevelopment of the parks and historic villas in Rome, and according to Il Messaggero, this was not the first threat against him. The report stated that Doria already had security measures put in place, which will most likely be intensified after Wednesday's incident.
Doria has spoken about the intimidation tactics he has seen against him recently, according to Express.
"They opened the car and rummaged through my papers, left a .38 caliber bullet with a cross-cut tip in the car. They tried to set my house on fire by placing primers here and there in the garden. I even found a homemade bug in the car. That's enough," Doria said.
He added that he even fears the safety of his family due to the terrorizer's persistence. "I'm afraid, I haven't even seen my daughter this summer."
According to Express, the Italian Metropolitan Police reported it has stopped four late-stage terror plots since the pandemic began and has warned citizens to be aware of the situation.
"We have seen an increased body of online extremism and hatred, much of which sits below the criminal threshold but which creates a worryingly permissive environment that makes it easier for terrorists to peddle their brand of hatred," authorities said.
The mayor of Rome, Virginia Raggi, tweeted on Wednesday: "A bomb was found in the car of Marco Doria, president of the table for the redevelopment of parks and historic villas in Rome. A very serious fact, I express my full solidarity."
The attempted bombing took place right outside Stadio Olimpico as fans were gathering in preparation for the Euro 2020 match, where Italy is hosting Switzerland.
Italy won their match against Turkey in the opener on Saturday 3-0, with Switzerland beating Wales after a 1-1 draw.
Elsewhere in the Euro 2020 tournaments, a Greenpeace protester parachuted into Allianz Arena and injured two people before the Euro 2020 match in Munich, Germany on Tuesday.
Newsweek reached out to Interpol in Italy for comment but did not hear back before publication time.