If Biden Wants to Talk Nuclear Weapons, China Says U.S. Needs Less of Them
As tensions over Taiwan continue to rage with the second visit by U.S. lawmakers in as many weeks to the disputed island, the United States and China remain at odds over Washington's efforts to add limits to Beijing's growing nuclear weapons arsenal, officials from both sides told Newsweek.
The People's Republic said that if President Joe Biden's administration wants to engage in nuclear talks in good faith, he must first take steps to reduce his own country's far larger arsenal.
The U.S. push for China to join in arms control measures began under former President Donald Trump, whose administration nearly allowed the last remaining bilateral non-proliferation treaty with Russia to expire over Chinese refusals. Biden renewed the pact, known as the New Strategic Arms Reduction Treaty (New START), shortly after taking office and days before it would have collapsed, but he too has called for Beijing to enter into discussions as the Tenth NPT Review Conference continued in New York.
A State Department spokesperson told Newsweek that China, as one of five nuclear-armed parties to the 1968 Nuclear Non-Proliferation Treaty (NPT) and one of five members of the United Nations Security Council, "has a responsibility" to "engage in talks that will reduce the risk of miscalculation and address destabilizing military dynamics."
"We have raised, and will continue to raise, strategic risk reduction issues with the PRC," the spokesperson said. "We are prepared to engage in a substantive bilateral discussion with the PRC on transparency regarding our respective security strategies and other elements of strategic risk reduction. We continue to underscore to them that these are the types of discussions that responsible powers need to have with each other."
Liu Pengyu, spokesperson for the Chinese Embassy in Washington, D.C., rejected this overture, saying it was an underhanded tactic by the U.S. intended to divert attention away from its own nuclear behavior.
"The U.S. asks China to be part of the nuclear disarmament dialogue on the occasion of the Tenth Review Conference of the NPT with one purpose only, which is to deflect blame and distract attention," Liu told Newsweek.
"As the country that possesses the largest nuclear arsenal in the world," Liu said, "the U.S. should, first and foremost, act on the U.N. General Assembly documents and international consensus to fulfill its special and primary responsibilities in nuclear disarmament and take further substantial and substantive cuts to its nuclear arsenal in a verifiable, irreversible and legally binding manner, so that there can be conditions for other nuclear weapon states to be involved in the multilateral nuclear disarmament negotiations."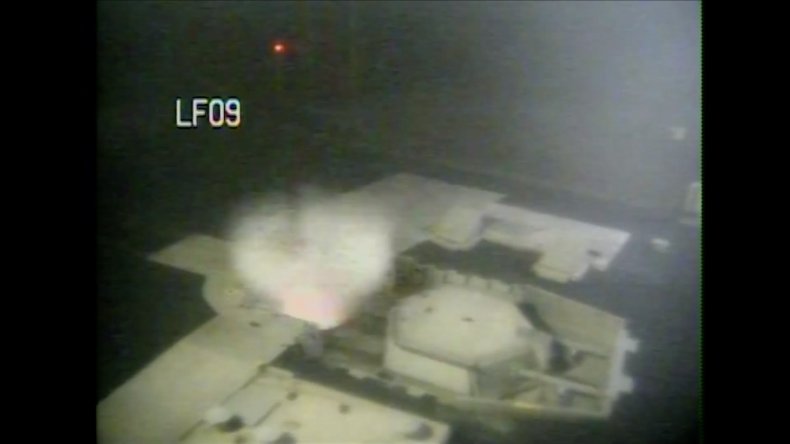 The U.S. and Russia currently possess around 90% of the world's nuclear weapons.
In its latest assessment, the Stockholm International Peace Research Institute (SIPRI) found that as of January the U.S. had a deployed arsenal of around 1,744 nuclear warheads out of a total stockpile of 5,428, while Russia had deployed about 1,588 out of a total of 5,977. In February, the Federation of American Scientists (FAS) estimated that the U.S. had deployed around 1,644 warheads and Russia 1,588 with total inventory counts identical to those of SIPRI.
Both SIPRI and FAS placed China's nuclear warhead stockpile at just 350, almost none of which, unlike a sizable portion of U.S. and Russian warheads, were believed to be actively armed to missile systems due to the low-alert nuclear posture of the People's Liberation Army. Also dissimilar to Washington and Moscow, Beijing has always maintained a "no first use" policy, indicating China would only resort to nuclear weapons if an adversary were to use them first.
The Pentagon has nonetheless expressed concerns about a growing and advancing Chinese nuclear arsenal. The latest U.S. military report on Chinese military power published last November assessed China's stockpile could expand to 700 warheads by 2027 and at least 1,000 by 2030.
And because Beijing was never a party to the 1987 Intermediate-range Nuclear Forces (INF) Treaty that restricted Washington and Moscow from fielding land-launched platforms with ranges between 310 and 3,420 miles until the pact's collapse after the Trump administration's withdrawal in 2019, China is also believed to possess potentially the world's largest arsenal of short and medium-range missiles.
U.S. Strategic Command chief Navy Admiral Charles Richard also made a number of allegations regarding China's nuclear weapons during his April testimony before the House Appropriations Subcommittee on Defense, among them claims that China's nascent nuclear triad made it a "nuclear peer," and that Beijing was expected to "increase the role of nuclear weapons in its defense strategies."
Liu, for his part, pointed out that the U.S., which is the only nation in history to have used nuclear weapons in combat, has also conducted "more nuclear tests than any other country in the world," and that "in recent years, it has invested enormously in modernizing nuclear weapons."
"It has also publicly stated that it will not ratify the Comprehensive Nuclear Test-Ban Treaty in its 2018 Nuclear Posture Review report," Liu said. "From time to time, there have been noises in the U.S. advocating the resumption of nuclear tests. We hope that the U.S. side can take the lead in honoring its responsibilities and obligations as a major nuclear country and set a good example on the reduction of strategic nuclear weapons."
Such discussions were widely reported to have taken place during the Trump administration, and the Senate Armed Forces Committee's version of the Fiscal Year 2021 National Defense Authorization Act called for at least $10 million for
reducing the time required to execute a nuclear test if necessary, though the measure was ultimately blocked by the House of Representatives.
Liu also defended Beijing's approach to nuclear weapons, arguing that "China is committed to a self-defensive nuclear strategy, and we have exercised utmost restraint in developing nuclear capabilities, which have been limited to the minimum level required by national security."
"And we have never been part of any form of arms race," he added. "The size of our nuclear arsenal is not on the same level with the U.S. At the current stage, to ask China to be part of the multilateral disarmament process is not fair, nor is it reasonable."
Though making it clear that Beijing was not interested in signing up for any nuclear weapons caps owing to a much smaller stockpile, Liu said that China was still advocating for greater non-proliferation measures on the multilateral level.
"China has been working hard to advance the international nuclear non-proliferation process," he said. "Early this year, with China's efforts, the leaders of the five nuclear countries issued a joint statement on preventing nuclear wars and avoiding arms races, stressing that 'a nuclear war cannot be won and must never be fought.'"
That phrase was first issued decades ago by then-U.S. President Ronald Reagan and his Soviet counterpart Mikhail Gorbachev during a 1985 meeting in Geneva. The two men would go on to sign the first START in 1991 just months before the collapse of the USSR, and a year before China acceded to the NPT.
More than three decades later, Beijing is calling on Washington to make good on the treaty.
"If the U.S. can lead by example and follow in real earnest the NPT stipulations, it will mean a lot both for improving the international security environment and for ensuring global strategic stability," Liu said. "We are ready to maintain close communication with other parties on this issue, which bears on global strategic stability and security."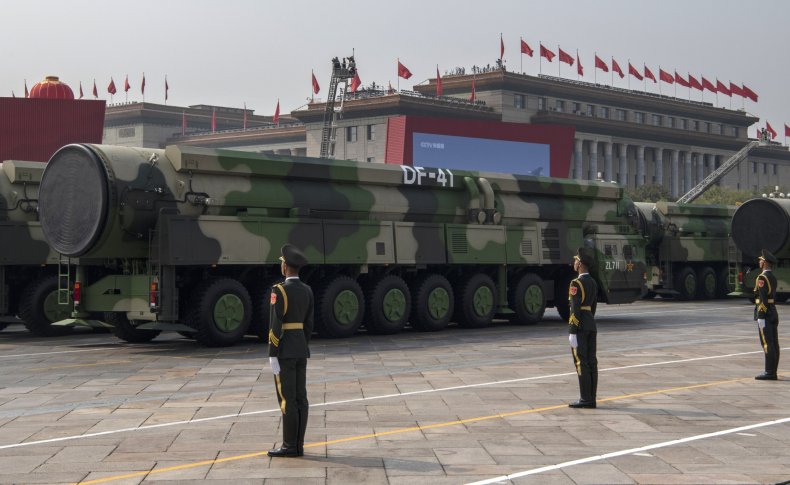 But just months after relations between Washington and Moscow plunged to a post-Cold War all-time low after Russia launched a war on neighboring Ukraine in February, the already strained ties between the U.S. and China moved closer to the breaking point earlier this month as a result of U.S. House Speaker Nancy Pelosi's Taiwan trip.
In addition to the largest-ever live-fire People's Liberation Army exercises surrounding Taiwan, China's response to Pelosi's visit included suspending a range of bilateral talks with the U.S. in areas including criminal cases, counter-narcotics, climate change and even military meetings. The moves were announced after a series of high-level conversations and meetings between U.S. and Chinese officials, including a call between Biden and Chinese President Xi Jinping days before the trip.
The dust had barely settled from Pelosi's visit when another Democrat, Senator Ed Markey of Massachusetts, led a bipartisan delegation as part of another unannounced visit to Taipei on Monday.
That same day, State Department spokesperson Ned Price told reporters that the trip was "entirely in line with our longstanding 'one China' policy." The policy was formulated as part of Washington's diplomatic shift from Taipei to Beijing in 1979, three decades after a Communist victory in China's civil war forced Nationalists to form a rival government in Taiwan.
As the U.S. has expanded its informal relations with Taiwan in recent years to include increased political contacts and military support, however, Beijing has repeatedly accused Washington of chipping away at the one-China policy, and has warned that China reserves the right to pursue reunification by force if necessary.
Now, amid what a number of experts are already calling the Fourth Taiwan Strait Crisis, the first two of which raised discussions of the U.S. potentially using nuclear weapons against China in the 1950s, Chinese officials are emphasizing this point.
In a video address delivered to the Moscow International Security Conference on Tuesday, Chinese Defense Minister Wei Fenghe stated that, while "China loves and defends peace," it also "unswervingly safeguards its core national interests, there is absolutely no good end to 'Taiwan independence' separatist schemes, and interference by external forces will never succeed."
He condemned Pelosi's visit and reaffirmed his nation's willingness to confront any force that sought to intervene on the Taiwan issue in a direct message to the U.S.
"The Chinese People's Liberation Army has never been afraid of any enemy," Wei said, "and we have the confidence and courage to defeat all incoming enemies, and also surely have the resolve, the will and the capability to safeguard China's sovereignty and territorial integrity."