If Chosen for Supreme Court, Amy Coney Barrett or Barbara Lagoa Would be Only Justices Not to Graduate from Harvard or Yale
President Donald Trump's nominee to the Supreme Court is unlikely to share ideological similarities with the late Ruth Bader Ginsburg. But her replacement may share a note on her resume that sets her apart from the rest of the Court—that she didn't graduate from Harvard or Yale law school.
The loss of Ginsburg, who graduated from Columbia Law School, left only graduates from Harvard and Yale on the Supreme Court. Trump vowed to nominate a woman to fill Ginsburg's spot and 10 of the 12 women on his publicly released list didn't graduate from Harvard or Yale, including Circuit Judges Amy Coney Barrett and Barbara Lagoa, two of his reported top contenders.
Only two women on Trump's original list, White House counsel Kate Todd and District Court Judge Sara Pitlyk, graduated from Harvard or Yale. Alumni from the two schools have long been represented on the Supreme Court and even Ginsburg attended Harvard before transferring to Columbia. The schools are among the top in the country for law, but some argue having a Supreme Court that lacks degree diversity is problematic.
"The elitism on the Supreme Court is worrying," Benjamin Barton, a law professor at the University of Tennessee at Knoxville, told The Washington Post in 2018. "From the age of 18, these people have all essentially done the same thing, followed the same path, run in the same cloistered circles. That's not healthy."
Richard Davis, a political scientist at Brigham Young University, partially attributed the common resume of justices to "confrontational" confirmation processes. He told the Post degrees from Harvard and Yale become "stand-ins" for merit and ideology and give presidents ammunition to back up claims that their nominee is qualified.
Barrett, a graduate of Notre Dame, emerged as a favorite of Trump's since Ginsburg's passing. Her name being at the top of his list isn't entirely surprising since Trump considered her two years earlier when he had the opportunity to fill Justice Anthony Kennedy's seat. He ultimately chose Judge Brett Kavanaugh, who was confirmed after a contentious hearing process, but Trump hinted Barrett would be next in line.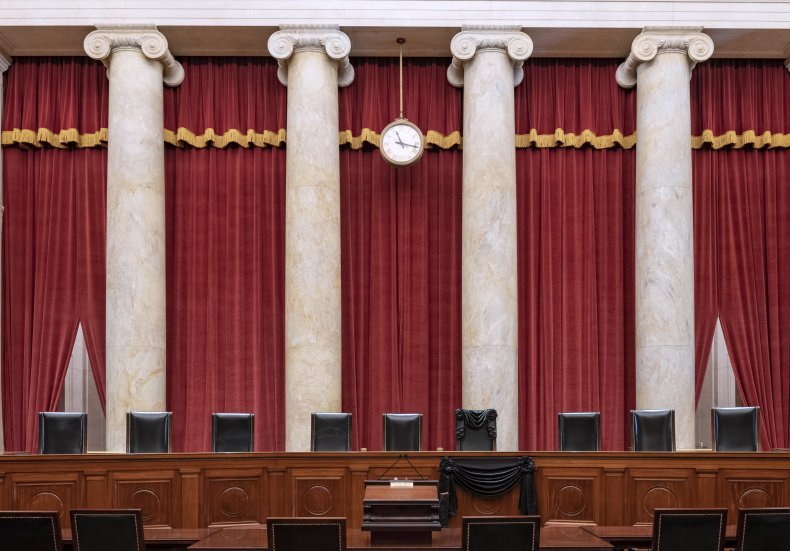 Being only 48-years-old, Barrett's age puts her in a position to serve on the court for decades, and as a proud Catholic and anti-abortion rights advocate, she's considered a favorite among conservatives. Trump confirmed Monday that Barrett is a candidate to replace Ginsburg and said she is "very respected."
Although the president's public list of 44 candidates includes 12 women, Trump said on Monday that he's narrowed the list to five. They're being "vetted very carefully" and he plans to meet with "a few" of them in person before announcing the nominee on Saturday.
One of the the candidates Trump may speak with in person could be Lagoa and he said it could take place on Friday when he visits Miami. The president said he's received "a lot of phone calls from a lot of people" supporting Lagoa, who graduated with her law degree from Columbia, sharing an alma mater with Ginsburg.
"I don't know her, but I hear she's outstanding. And she's one of the people we're looking at," Trump said on Monday.
Newsweek reached out to the White House for comment but did not receive a response in time for publication.
Joan Larsen is also suspected to be under serious consideration from the White House and on Monday, Trump told Fox News one of his candidates was "a great one from Michigan." An administration official confirmed to CNN that he was referencing Larsen, a Northwestern law school graduate who was appointed to the 6th U.S. Circuit Court of Appeals in 2017.
Of the current eight justices on the Supreme Court, four graduated from Harvard, including Chief Justice John Roberts, and four graduated from Yale. Where a person attends law school doesn't guarantee them success, but if you want to clerk for a Supreme Court justice, it's important to go to a top school, according to late Justice Antonin Scalia, a Harvard graduate.
"By and large, I'm going to be picking from the law schools that basically are the hardest to get into. They admit the best and the brightest, and they may not teach very well, but you can't make a sow's ear out of a silk purse. If they come in the best and the brightest, they're probably going to leave the best and the brightest, O.K.?" Scalia told a student at a 2009 event at American University, according to The New York Times.
Interestingly enough, Scalia's own rule would have barred him from working with Judge Jeffrey Sutton, the clerk that he was "most proud of." Justice Lewis F. Powell Jr. hired Sutton, who then helped Scalia.
"I wouldn't have hired Jeff Sutton," Scalia said. "For God's sake, he went to Ohio State! And he's one of the very best law clerks I ever had."
Not everyone sees the Supreme Court being packed with Harvard and Yale graduates as a problem or the lack of a degree as a barrier to receiving the nomination. Stanford Law professor Pamela Karlan told NPR in 2016 that she didn't think people were nominated to the Supreme Court because of what they "did as a child."
"Graduates of elite universities do all sorts of things in their professional careers, just as graduates of not particularly selective law schools often go on to elite positions," Karlan said.