How Would an SAT-only Admissions Process Alter Student Demographics at Colleges?
For almost 90 years, SAT scores have been a consideration in a candidate's application for college. If the exam was the sole decision maker, a recent report found over 50 percent of students would not have gained admission to the most selective higher education institutions.
The exam has been criticized for failing to accurately measure a student's preparedness for college and over the years, an increasing number of institutions have made submitting SAT scores optional for applicants. Others often use a holistic approach, opting to consider a number of factors, including grades, exam scores, extracurricular activities and the essay with the goal being to establish a well-rounded, successful class.
"Operation Varsity Blues," the recent college admission scandal, lifted the veil on a bribery scheme that helped students gain acceptance to several colleges and universities through fraudulent exam scores and forged athletic records. Lawmakers and university systems have since looked at implementing measures to ensure students are accepted based on their merit.
However, if the SAT was the only factor for acceptance to higher education, Georgetown University's Center on Education and the Workforce (CEW) recently reported that classes would be formed differently.
If students were admitted solely on their SAT score, 53 percent of students who were high school freshman in 2009 and later enrolled at one of the top 200 selective colleges in America would no longer be attending.
Along with altering the specific individuals attending, an SAT-only admittance policy would also change class demographics.
Students in the top socioeconomic status would grow from 60 percent to 63 percent and students in the bottom three socioeconomic statuses would shrink by three percent, from 40 percent to 37 percent. Changes in the race and ethnicity of students would also occur.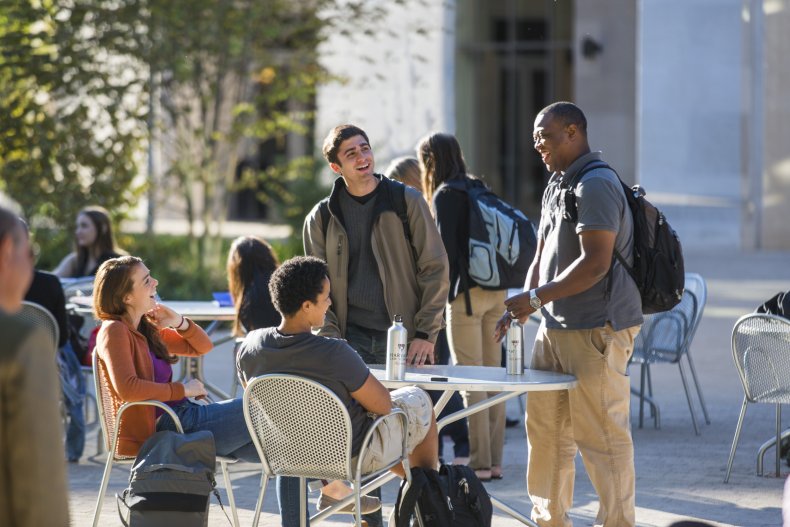 White students would see the biggest change, according to CEW, with a nine percent difference. The only racial category of students to see an increase in representation, the percentage of White students in a class would go from 66 percent to 75 percent.
Black, African American, Hispanic or Latino students would experience a decrease in admittance, going from 18 percent to 11 percent. There would also be a one percent decrease in Asian students.
Switching to an SAT-only admissions approach would increase the median SAT score from 1250 to 1320. Currently, on average, CEW found students without a score of 1250 who were admitted to the selective higher education institutions only missed the requirement by 120 points.
While White students had a median SAT score of 1140, the highest median score below 1250, CEW noted differences between racial groups were slim so no single group was detrimental to the average. Asian students had a median score of 1130 and Black and Latino students had a median score of 1120.
One bill in California would require three administrators to sign off on a decision to admit a student who didn't have the required combined SAT or ACT score and high school GPA. Another bill would restrict preferential admissions for the children of donors or alumni.
"In the wake of the college admissions scandal, our thought experiment tested whether removing legacy and social capital from the admissions equation would have a more equitable outcome," Dr. Anthony P. Carnevale, CEW director and the report's lead author, said in a statement. "But a test-only admissions policy would only further privilege in the higher education system."
To help provide context to a student's SAT score, College Board, the organization that administers the exam, announced an Overall Disadvantage Level will appear on a student's Environmental Context Dashboard. On a scale of one to 100, it will show factors including relative poverty, wealth and opportunity with higher scores indicating hardship and lower scores indicating privilege.