If Congress Doesn't Impeach Trump, America Will Be 'Left With a Potential Dictatorship,' Says Former Federal Prosecutor
Former federal prosecutor Kim Wehle on Monday argued that America will be "left with a potential dictatorship" if Congress doesn't move to launch impeachment proceedings against President Donald Trump.
The Trump administration has been accused of pressuring the newly-elected Ukrainian president to open a probe into the business dealings of 2020 Democratic front-runner Vice President Joe Biden's son, Hunter Biden.
An unidentified whistleblower, reportedly concerned about a phone call between the president and Ukraine, filed an official complaint. The alleged phone call coincided with the Trump administration's decision to withhold $250 million in military aid. Following bipartisan pressure from Congress, the funds were eventually released, along with an additional $140 million. It has not been established that the president's administration withheld aid because Ukraine refused to open an investigation.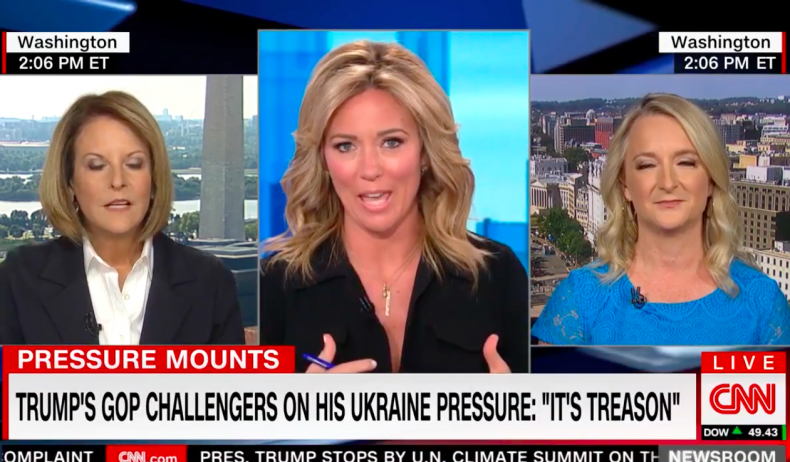 During a segment on CNN earlier today, host Brooke Baldwin, Wehle and the network's chief political analyst, Gloria Borger, discussed whether House Democrats are closer to launching impeachment proceedings in light of the recent whistleblower scandal.
"The thing is, President Trump stood there and publicly admitted this," Baldwin noted, before asking "what more" could Congress need to launch impeachment proceedings?
"We don't know whether extortion really happened. Extortion is a crime and that means give me this or else," Wehle said. "In this instance, give me dirt on my political opponent or I'll withhold $250 million in military funding."
"I think the question is, has he done enough to start impeachment hearings? For sure!" she continued. "And the Congress has to ask themselves, 'Are we going to have a check on the office of the presidency?' Because the judicial branch is out—the judicial branch is out, pursuant to the OLC memo banning the federal prosecutors from prosecuting the president. The only potential ticket can come from the Congress."
"If Congress doesn't act, then they're abdicating their congressional prerogative and we're going to be left with a potential dictatorship," Wehle added.
"I think that Congress needs to start doing its job and be firm about it," Borger said. "They could have walked Corey Lewandowski out of his testimony the other day when he wasn't cooperating—and they didn't. And I think now they have to demand what they should have gotten in the first place, which is the transcript of this conversation."
A roughly five-hour-long closed-door briefing with House Intelligence committee members on Thursday left lawmakers with unanswered questions when Intelligence Inspector Michael Atkinson refused to allow them access to the whistleblower's complaint. House Speaker Nancy Pelosi condemned the Trump administration for blocking the information in a letter to members of Congress on Sunday.
"The Administration's blocking of Acting DNI Maguire from providing Congress with the whistleblower complaint calls upon him to violate the federal statute, which unequivocally states that the DNI 'shall' provide Congress this information," she wrote.
Trump on Monday denied that he asked the president of Ukraine to investigate Biden and his family in exchange for military aid. "No, I didn't," the president said when asked my reporters. "I didn't do it... when you see the call [transcript], you're going to be very surprised."
Watch the CNN segment below: