If Democrats Can't Deliver on DACA, It Could Cost Them in Key Midterm Battleground States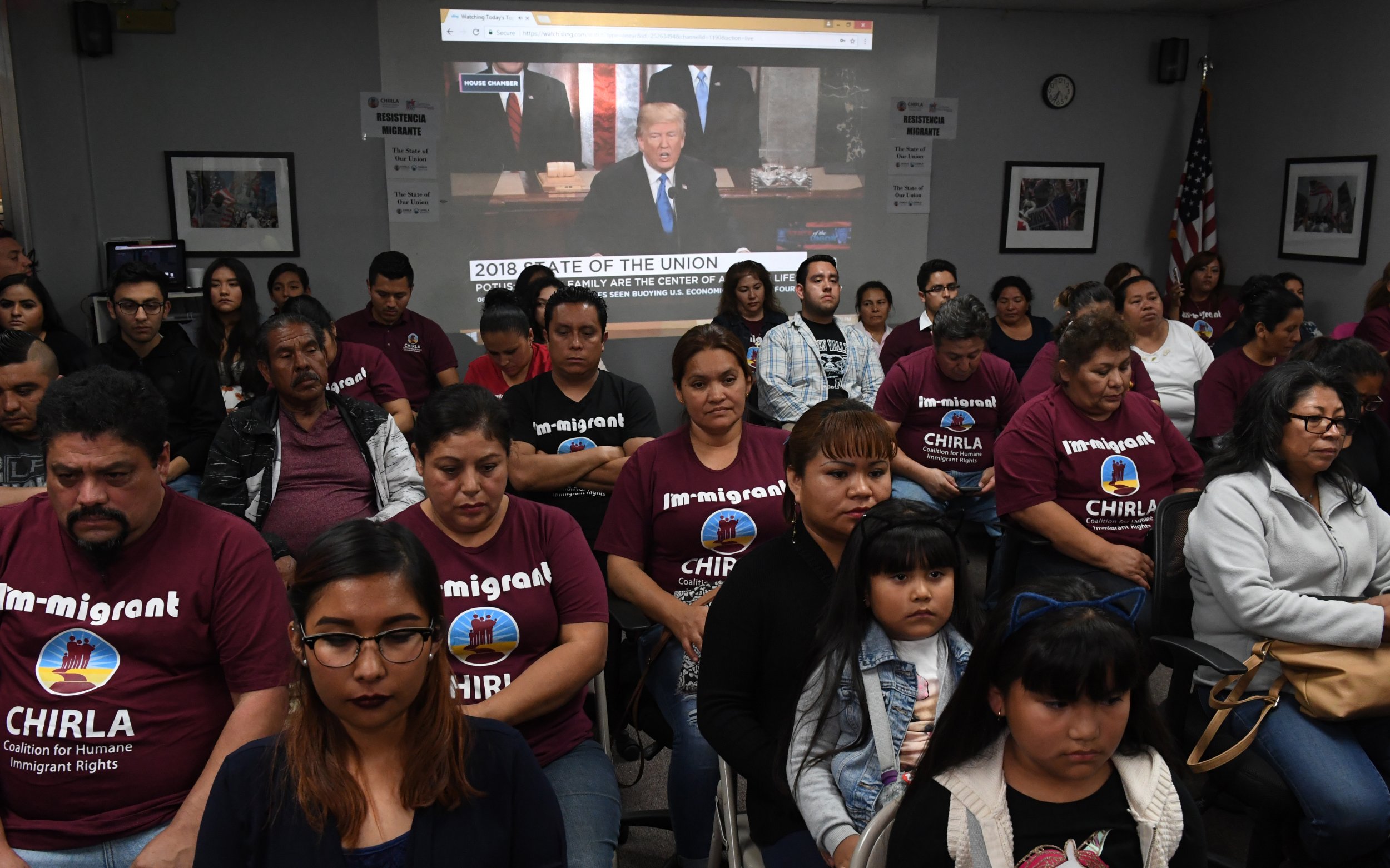 LAS VEGAS—Jose Echeverria held back tears, sitting at a table in the Culinary Workers Union offices in Las Vegas, as he laid out, simply and clearly, how the Trump administration had put his family in the crosshairs.
First, last year, President Donald Trump announced that he planned to rescind the Deferred Action for Childhood Arrivals program that keeps Echeverria's 23-year-old daughter—and some 800,000 undocumented immigrants—safe from deportation. Then, in January, the president promptly eliminated the temporary protected-status program for Salvadoran refugees, a designation that allowed Echeverria, who emigrated from El Salvador in 2001, to live, marry and raise his family in the United States for almost two decades.
Echeverria is not a citizen, so he can't vote in his home state of Nevada, a major 2018 battleground state with a booming Latino population. But his situation reverberates through entire communities of friends, family, coworkers and customers—all feeling the weight of his fears and his aspiration for that most American of dreams, a better life.
Many Democrats in the state worry that the hopelessness felt by Echeverria and hundreds of thousands like him—coupled with nearly a decade's worth of frustration and disappointment—could keep Latinos, a key constituency, at home this Election Day, potentially costing Democrats their best chance to flip seats in the Senate and win control of Congress in the midterms.
"They've been promised this for I don't know how long," Representative Dina Titus (D-Nev.) told Newsweek amid the ongoing disputes over immigration reform. "They feel betrayed by Republicans and disillusioned by Democrats."
In late January, Titus had pushed the House for a vote on the DREAM Act, legislation she's supported as a Nevada representative for nearly a decade, that would give those who qualify a path to citizenship. Predictably, her efforts failed. Titus said she doesn't doubt that her constituents will blame Trump and Republicans, but she worries Democrats haven't done enough to convince Latinos that they'll defend them against these attacks.
"We haven't lost them yet, but we need to make sure they feel energized so they can express their dissatisfaction with the current administration in the form of a vote," she said. "There's room there for us to win them back over."
On the national stage, House Minority Leader Nancy Pelosi is trying to do just that—in four-inch heels nonetheless. On Wednesday, Pelosi filibustered on the House floor for more than eight hours, the longest in over a century, to force a vote on Dreamers—perhaps heeding the concerns of Democrats like Titus.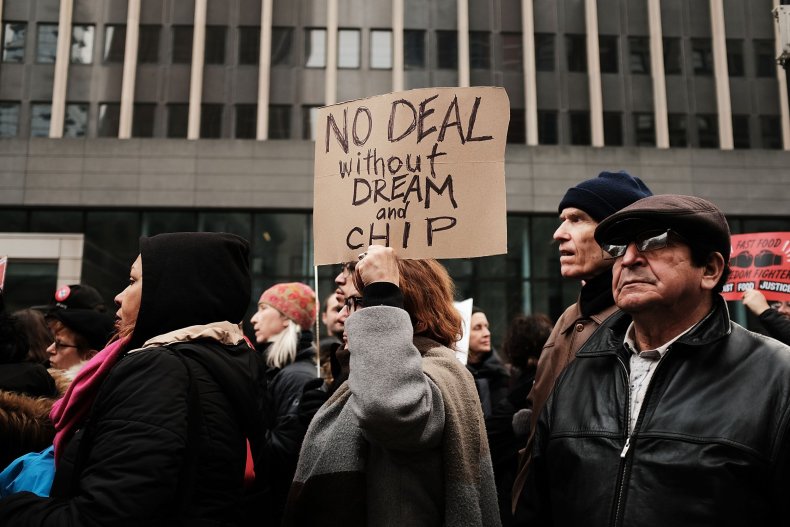 Despite these apparent shows of solidarity, Trump and Republican Party leaders are determined to make sure their political opponents come off looking bad. Trump has long been trying to pin failed DACA negotiations on Democrats, accusing them of blowing up the issue so they can campaign on it in the midterms.
"We wanna make a deal," Trump said Monday, according to Politico. "I think they want to use it for political purposes, for elections. I really am not happy with the way it's going, from the standpoint of the Democrats."
In Nevada, the political climate is tougher on Democrats because the Republican incumbent Senator Dean Heller said in November that he would support a DACA fix but also backs the border security package Trump wants so badly. Representative Jacky Rosen (D-Nev.), the Democratic frontrunner vying to unseat Heller this year, has put more of a focus on the state's protected immigrant population, meeting with DACA recipients last month to discuss the DREAM Act and bringing a culinary worker with temporary protected status as her guest to the State of the Union.
Still, Rosen will need a big push from the Culinary Workers Union, which represents more than 57,000 workers in the state's gaming, hospitality and food service industries to help her to victory over her opponent, who has never lost an election.
Every election cycle, the union's members—an overwhelming number of whom are Latino immigrants—are heavily involved in grassroots campaigns for candidates who are good on the issues they care about, immigration policy being among their foremost concerns. They're serious enough about it to go door-to-door on even the hottest Las Vegas summer days, when it's typical for temperatures to climb above 100 degrees. Ultimately, they're the reason Latino voters show up to the polls every November, excited to cast their ballots for progressive candidates, or not.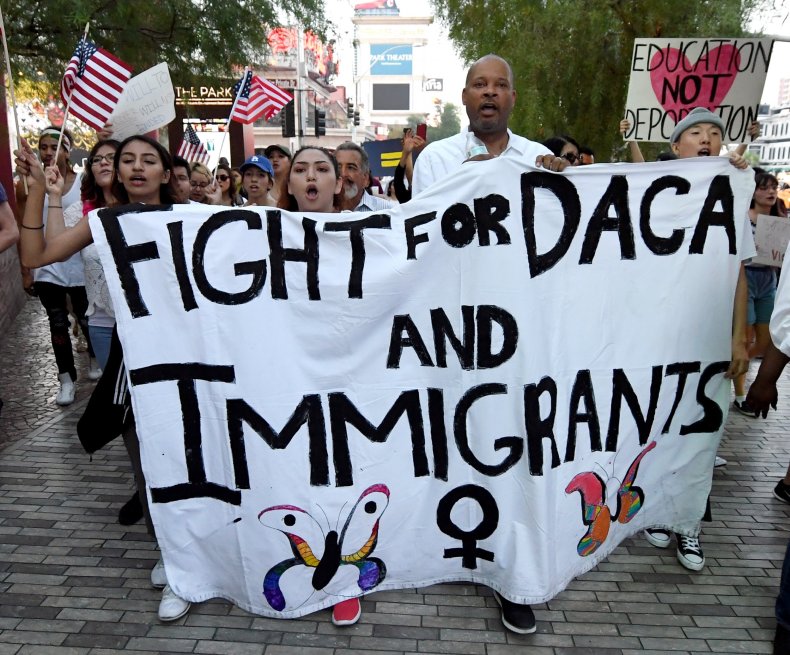 In 2014, that didn't happen. A stunning number of Latino voters stayed home on Election Day following former President Barack Obama's decision to delay action on immigration reform until after that year's elections, some said with the intention to help Democrats win. The move had the opposite effect. Statewide, only 31 percent of Latinos turned out to vote in 2014, according to data from political research organization Latino Decisions. As a result of the low turnout, Republicans held the governor's office, swept every statewide constitutional office and regained control of the Nevada Senate and Assembly in a historic upset.
"Voters want to align with the party that is fighting for them and against the party denigrating them as a class and demeaning them," state Senator Yvanna Cancela, who oversaw the Culinary Workers Union's political program at the time, said of this year's climate. "But it's incumbent upon groups that are interested in winning seats across the board to turn that message into action."
It's growing more difficult, however, to see a way forward. With Trump's March deadline on DACA looming, lawmakers on both sides are considering putting off a fix on the immigration program for another year. Union leaders are once again paying close attention to how politicians are handling the issue.
"American voters are really smart—they know when they're being played, they know when they're being placated," D. Taylor, the president of Unite Here, the parent union of the Culinary Workers Union, told Newsweek. "Democrats have to demonstrate that they're willing to go to the wall for Latino voters."
Democrats may be falling short in that respect. Last week, Senate Minority Leader Chuck Schumer provided little comfort to Latino immigrants when he told The Washington Post, "We believe strongly in Dreamers, but we can't let that occupy the whole stage." Schumer said the party also needs to "fight for the middle class." Representative Luis Gutierrez (D-Ill.), on the other hand, is so eager to protect DACA recipients that he said he would even be willing to fund Trump's $25-billion border wall, itself a hated symbol for many immigrants.
"I'll take a bucket, take bricks, and start building it myself" if it means protecting Dreamers, he said last month.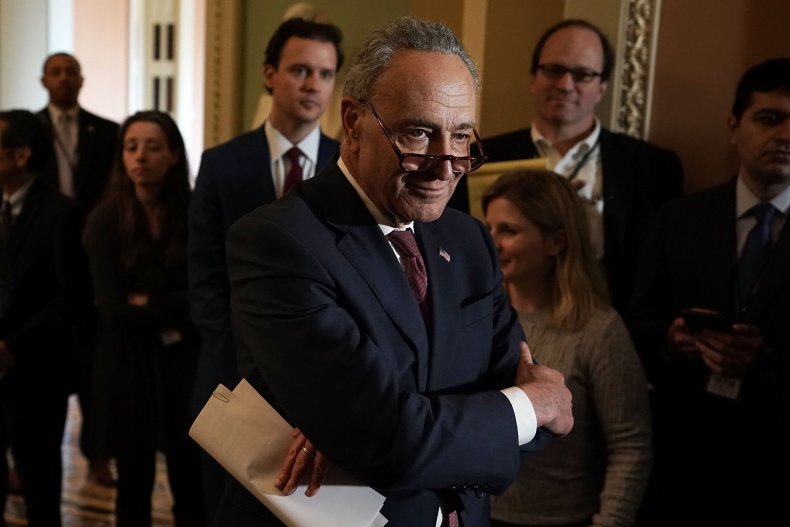 The party is, no doubt, in a tough spot. In order to win back the Senate, Democrats need to defend 10 seats in states Trump won in 2016—states with smaller Latino populations than Nevada. Democrats will have to figure out how to balance appealing to those electorates, while also focusing on pickup states like Nevada, where reaching Latino voters is crucial.
Strategists suggest Democrats take their cue from former Senate Majority Leader Harry Reid, a Nevada Democrat whose support for immigrants engaged Latinos and propelled him to victory. In the months leading up to the 2010 election, Reid's Republican opponent Sharron Angle called him "the best friend an illegal alien ever had" and ran campaign ads bashing the incumbent for his position on illegal immigration. Instead of rebuffing the attacks, Reid embraced them, and doubled down on his immigration platforms. He won 69 percent of the Latino vote to Angle's 30 percent, according to exit polls. Under his leadership, the Senate passed a bipartisan immigration reform package in 2013 that included a path to citizenship for the country's undocumented immigrants.
Latinos have been trending Democratic for years, but some pollsters say they're far from solid blue. Mayra Macias, Latino Victory Project's political director, said through its own research, the organization has found that Latino voters are almost just as likely to support a Republican who supports the DREAM Act as a Democrat. "We're trying to create a sense of urgency with the Democratic caucus about how important immigration reform is to the American electorate and to Latinos," she told Newsweek.
Polling from the Latino Victory Project also found that in 2016, more than 61,000 Latino voters went to the polls in Nevada for the first time, helping Hillary Clinton win the state and electing the country's first Latina senator, Catherine Cortez Masto. The organization found similar trends in other states where Latino turnout made a difference in elections, like in Florida and Arizona. Macias said Democrats should be warned: If they kick the can down the road on DACA, they could lose those voters for good.
"If we're not engaging and exciting those first-time voters in 2018, it's going to be nearly impossible in 2020," Macias said. "If were trying to win back the White House the Latino vote is going to be key."
But beyond the concerns of electoral politics, Democrats may have a much larger existential question to consider.
"The Democrats have to decide who they are," said Taylor, the Unite Here president. "The DACA negotiations are about a more fundamental issue—what are you going to fight for? Because I'm not clear on that."
Echeverria says it's something he worries about almost every day, and talks about with his coworkers at Bellagio, many of whom also face an encroaching deadline on their time in the U.S. Still, he hopes that his representatives in Nevada will fight for his community.
"There are some politicians who are trying to work for everyone, not just people who have TPS, but all of the immigrants," Echeverria said. "I hope that one day someone will convince the people who are in power now to get a solution for all of us."