If Democrats Want the Immigrant Vote, It'll Take More Than Photo Ops at the Border | Opinion
Can a Democrat defeat President Donald Trump in 2020?
We often hear about constituencies that could swing the race in any direction, such as conflicted Trump supporters, black voters in South Carolina and white Rust Belt voters, just to name a few. However, no Democratic candidate is focusing enough on the potential effect of first- and second-generation immigrant voters, or "new Americans," on the upcoming election.
Here's the reality: New Americans—primarily progressive Asian and Latinx voters—could be the difference between Democrats winning or losing in 2020.
According to the U.S. Immigration Policy Center at the University of California, San Diego, there are at least 21,283,864 naturalized citizens of voting age nationwide. About 2 million Americans have become naturalized citizens since the 2016 election. And the impact of these voters only increases when you add in their American-born families, a younger population that is growing every year. The only reason the immigrant family vote isn't a part of every analysis is that political pundits in America are a vastly maler and paler group, on average, than the public.
With the latest wave of deportations, deplorable conditions in camps at the border, children separated from parents, and the villainization of Muslims and immigrants broadly by the Trump-dominated Republican Party—first- and second- generation immigrants could swing harder than ever before for Democrats in 2020.
But fear and dislike of Trump could just as easily cause people to disengage from the political process. We need inspiration and investment to truly swing an election. Despite this reality, motivating new American voters like me has long been left to under-resourced and over-stretched nonprofit groups. To win, Democratic campaigns need to invest heavily in reaching us. We cannot be an afterthought.
I became a citizen in December 2000, after 17 years of living in the United States. But I had been actively engaged in electoral and community work long before. Conducting exit polls on Election Day, advocating to City Council and Congress members, and protesting police brutality had all been part of my daily life as a concerned New Yorker and immigrant rights advocate. But when it was time for me to vote for the first time in elections for New York's mayor and City Council in 2001, no party or candidate found me to ask for my vote.
I'm not alone. Polling from APIA Vote and AAPI Data clearly indicates that neither party is truly speaking to Asian and Pacific Islander communities or working to earn their votes. Among Asian American voters, only 16 percent were aggressively courted by Democrats, while only 10 percent were courted by Republicans. Outreach to Latino voters has also been dismal, as presidential hopefuls opt for photo ops on the border, when Latinx communities really want conversations about "kitchen table" issues like health care, education, child care and worker justice.
Through the organization I currently run, New American Leaders, I work with immigrant candidates across America. They are tapped into communities whose votes have never been targeted. By knocking on the door of new citizen voters, candidates change the equation of elections. Supporting immigrant candidates is another way to invest in this key constituency.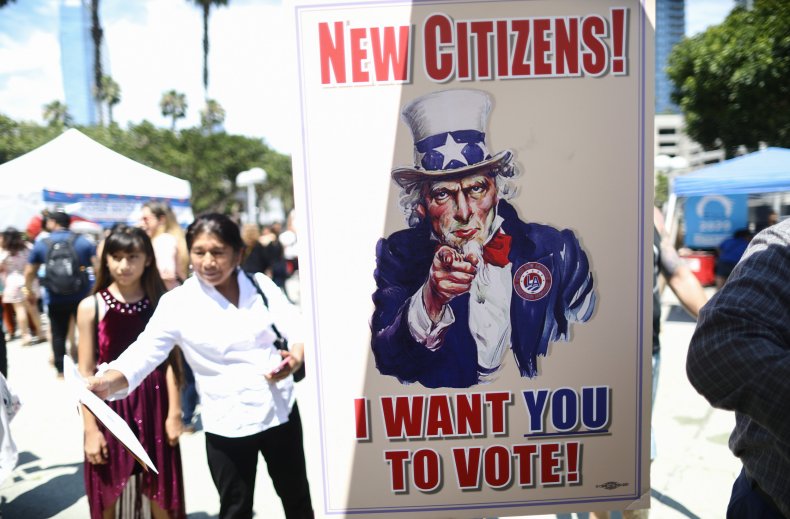 If the 2020 candidates want to win, they could also look at Stacey Abrams as a model: In her iconic campaign for Georgia governor, she made progressive Asian voters a priority from day one, nearly two years out from the election. As a result, she tripled the Asian American vote in Georgia in 2018, while Latinx turnout more than doubled, with only institutionalized voter suppression stopping her from taking the governor's mansion.
Tiffany Cabán's race for district attorney in Queens, New York, offers another roadmap for success. She invested in campaign staff who spoke fluent Korean and Chinese dialects, as well as Spanish, and actively worked to get out the vote with those populations, leading her to a close, still unresolved race that is going to the courts, with opponent Melinda Katz.
This is a lesson that the Democratic Party and 2020 candidates must learn. Recognizing and validating immigrant communities is key to winning elections in America today. Asian American and Latinx voters remain largely unreached and uninspired. If Democrats want Trump to be a one-term president, that has to change.
Sayu Bhojwani is the founder and president of New American Leaders and the author of People Like Us: The New Wave of Candidates Knocking at Democracy's Door.
The views expressed in this article are the writer's own.