If Donald Trump Refuses to Accept Election Results, DNC Lawyers Are 'Fully Prepared' to Fight
Democrats are preparing to fight back in case President Donald Trump refuses to accept the outcome of November's election.
"The DNC lawyers are fully prepared and getting at least mentally ready for a scenario where they have to go to the courts and fight," Wisconsin Democratic Party spokesman Phil Shulman told Reuters, referring to the Democratic National Committee.
Concerns about a possibly disputed election intensified after Trump declined to give Fox News' Chris Wallace an answer on whether he would accept the voting results.
"I have to see. Look, you—I have to see. No, I'm not going to just say yes. I'm not going to say no, and I didn't last time either," Trump said this past Sunday.
Democratic Representative Adam Schiff previously told Newsweek that Trump's refusal to directly answer the question is "laying the foundations to discredit the votes of millions of people."
Both presumptive Democratic nominee Joe Biden and former Secretary of State Hillary Clinton have publicly warned that Trump may retaliate if he loses the election.
Biden called it his "greatest concern," while Clinton said "we have to be ready" if the president tries to undermine the election.
Biden's campaign lawyer in Michigan, Mary Ellen Gurewitz, told Reuters that she's "working with a group of election lawyers to try to get ready, and that means a whole lot more this year than it's ever meant."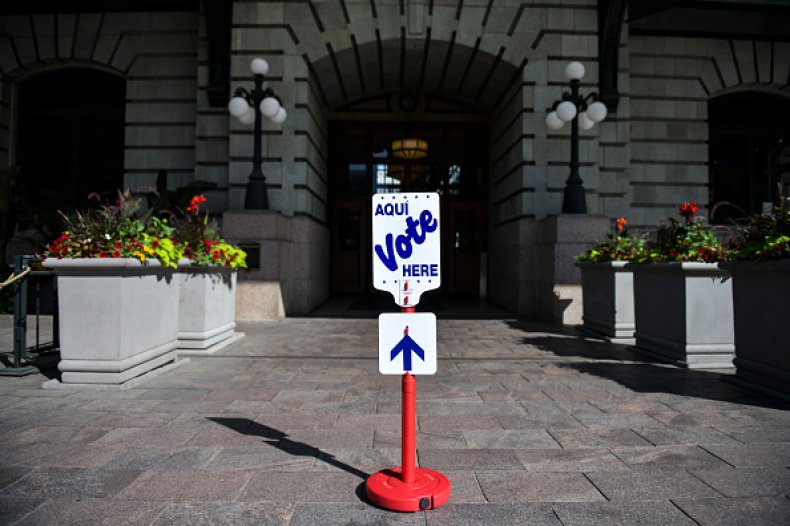 Asked by Newsweek if the president would accept the election's results, the Trump campaign directed the conversation instead to mail-in voting.
In an email to Newsweek, communications director Tim Murtaugh wrote, "It is now the stated goal of Democrats to eliminate protections for election integrity, such as mailing a ballot to every registered voter, whether they asked for one or not. They also want to eliminate signature matching and clear the way for ballot harvesting, which are also wide open opportunities for fraud."
"Against this backdrop, we don't know what kind of shenanigans Democrats will try leading up to November. If someone had asked George W. Bush and Al Gore this same question in 2000, would they have been able to foresee the drawn-out fight over Florida? The central point remains clear: In a free and fair election, President Trump will win," Murtaugh said.
Trump has continually discredited the legitimacy of mail-in voting as Democrats have pushed to expand absentee ballots in response to the coronavirus pandemic.
The president has made unsubstantiated claims that mail-in ballots lead to widespread voter fraud. In May, Twitter flagged Trump's tweets saying that absentee ballots will result in a "rigged election" with a link to information showing that voter fraud is rarely linked to mail-in voting.
The Democratic Party is also mounting voter protection efforts in anticipation that Trump's supporters will intimidate people at the polls as part of a Republican effort to suppress voting.
In June, voting was challenged by long lines and broken voting machines in Georgia's statewide primary election. Later that month, voters in Jefferson County were locked out of the Kentucky Exposition Center. The campaigns of state Representative Charles Booker and U.S. Senate nominee Amy McGrath had to file emergency injunctions to keep Kentucky's polls open long enough so everyone in line could cast their ballots.
According to Reuters, the Democratic Party has hired voter protection directors in 19 states to file lawsuits ahead of the election to make voting easier and will be mobilizing thousands of lawyers and election monitors on November 3.
Newsweek reached out to Biden's campaign for comment but did not hear back before publication.