If Donald Trump Writes a Presidential Handover Letter, Here's What He May Say to Joe Biden
It remains to be seen if President Donald Trump will continue the tradition of leaving a note for his successor, but if he does, experts are expecting it to focus on his accomplishments and time in office.
The tradition of leaving a note for a presidential successor began with Ronald Reagan, who told his vice president, George H.W. Bush, he'd be praying for him. Every president since has issued a missive to the next in line. But after a contentious post-election season and Trump holding onto the belief that he was cheated out of a second term, it's unclear if he'll continue the tradition.
Historically, notes have started off as confidential but have later been made public either by way of presidential memoir or social media and the press. If President-elect Joe Biden enters the White House and finds a note from his predecessor, Trump biographer Michael D'Antonio told Newsweek it's likely to be a departure from the norm.
"He might leave behind some reminder of his peak but the last thing I would expect from him is graciousness but, then again, never say never," D'Antonio said. "If he were to leave a note, it could say, 'You're not legitimate and I know it and I'll be back.' He's so committed to this brand of grievance that that would be inside any message he leaves and it would be linked to the continuation of his cause."
Often short and simple, most of the notes from past presidents tried to strike a tone of camaraderie despite it usually being from the president of one party to a president of another party. Bush followed Reagan's lead and wished Bill Clinton, who defeated him in the 1992 election, "great happiness" during his tenure. He added that Clinton's success is "now our country's success" and that "I am rooting hard for you."
Clinton then told the younger Bush, George W. Bush, that he was "president of all of us" and continued the tradition of wishing him success and offered prayers to his successor and his family. Eight years later, Bush congratulated Barack Obama on becoming president and said in the "trying moments" of his presidency, Bush would be among those "pulling" for him.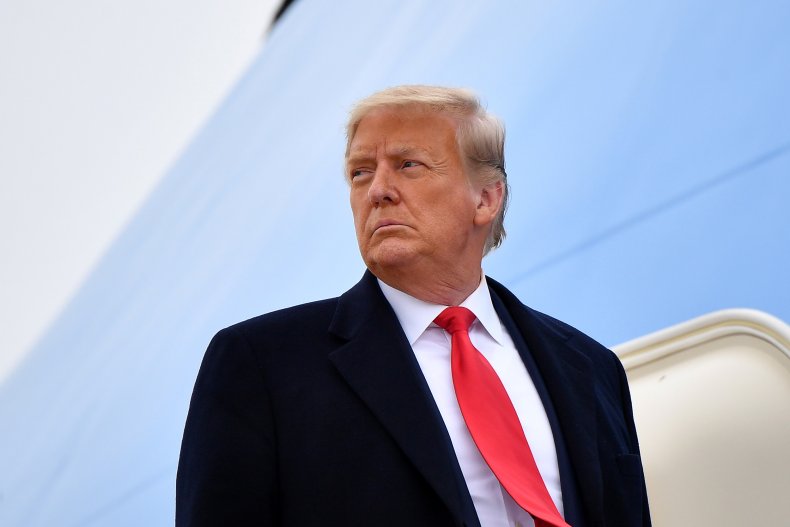 Presidential historian Kate Anderson suspected any note Trump would leave would be filled with a list of what he considers accomplishments of his time in office. But, she wasn't confident there would be any note at all.
During an interview for her book Team of Five, Anderson said Trump told her he views himself as a "different kind of president" and a person that doesn't follow tradition. Seeing himself as a perpetual outsider in the political arena, she noted Trump may buck the tradition of leaving a note behind, as it's one of the "ultimate insider rituals."
While Obama wished Trump the best, Anderson noted that he offered more of a "cautionary warning than a warm letter." He advocated for Trump to "build more ladders of success for every child and family that's willing to work hard" and leave "democratic institutions and traditions," such as the rule of law, separation of powers, equal protection and civil liberties, "at least as strong as we found them."
"Compared to the other notes left behind by departing presidents it was far less warm and we can understand why," Anderson said. "Trump has burned every bridge with his predecessors and he does not care."
Trump was publicly considering the possibility he'd still be in office come January last month and only recently acknowledged that Biden would take office. After weeks of heightened tension surrounding the election results, Thomas Whalen, a Boston University political historian and author, said writing a note would be a "sign of defeat" and run contrary to Trump's message to his supporters that they "never give in" and "never give up."
"To Trump, apologizing is a sign of weakness, so that is not something his red meat devouring base wants to hear," Whalen said. "He'd never do it and it's such a shame because it's such a nice tradition."
Offering a hand in friendship is the "best thing" one president could do for another president, D'Antonio said, and that cooperation is "good for the country." The outgoing president leaving a note to his successor also sends a message to the rest of the world, according to Whalen. The tradition shows America has a "peaceful transition of power unlike any in the world."
Trump not leaving a note, Whalen speculated, could signal that the president is eying a 2024 run and serve as a "drumbeat" to his supporters that "Donald J. Trump 2 is not too far around the corner." In December, Trump told attendees of a White House Christmas party that he'll see them "in four years" if he didn't remain in office come January.
Anderson agreed that Trump's staunchest supporters wouldn't be on board with the president writing a supportive note to Biden, but didn't think it would have an impact on the next presidential election.
Another person potentially eyeing a 2024 presidential run is Vice President Mike Pence and it's possible he could pick up the responsibility of welcoming the next administration. With sights consistently set "on the future," D'Antonio said the prospect of Pence writing a note to Biden or Vice President-elect Kamala Harris was a "great question and a really interesting thought."
"I think that he must be thinking that this experience with Trump has come with as much baggage as benefit and he's also, I think, more aware of history, more aware of tradition and more committed to that," D'Antonio said.
Pence broke with Trump over certifying the Electoral College, plans to be at Biden's inauguration, whereas the president has RSVPed "not attending," and called Harris to offer his congratulations. But, when it comes to writing a note to Biden or Harris, Whalen wasn't sure the vice president would have the "backbone to do that."