The United States for four decades has made little secret of its desire to see Iran's revolutionary Shiite Islamic Republic fail, something that could now prove a win for Washington's interests in a region where its policies have more recently been defined by successive setbacks.
Far from bringing peace to the Middle East, however, a significant escalation of demonstrations shaking Iran or any major foreign intervention could end up empowering an even greater enemy—the Islamic State militant group. The organization better known as ISIS rose up years ago from the death and destruction ravaging Iraq and Syria and the jihadis have since sought to tap into movements battling the Iranian government from within, and make good on external forces pushing the country toward implosion.
The Islamic Republic's enemies both at home and abroad benefit from the current chaos across the country, but even Tehran's foes fear that the instability could create the conditions for ISIS to breed.
"Different groups hostile to the Iranian government, including ISIS, separatists or other ones, have and will take advantage of any unrest in the country," Abas Aslani, a visiting scholar at the Istanbul-based, non-profit, non-partisan Center for Middle East Strategic Studies and editor-in-chief of the Tehran-based Iran Front Page private news outlet, told Newsweek.
"Any collapse or weakening of a state in the region is likely to fuel into more instability in the region," he added. "This is also a concern of even opponents in Iran, in so that they are not sure in the case of the collapse of the current system in the country who will replace them and how the situation will be."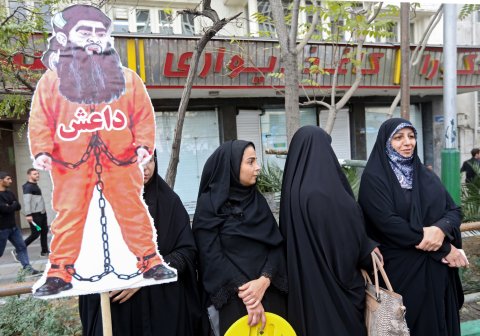 To Iran, the fight against ISIS was always an existential one. Just as the Pentagon began coordinating its own involvement in June 2014, Iran mobilized mostly Shiite Muslim militias in both Iraq and Syria in order to beat back lightning gains made by the Sunni Muslim insurgents that reveled in the mass slaughter of those deemed to be outside of their ultraconservative ideology.
This proved vital in turning the tide against the jihadis, who have been largely defeated in recent years.
Rodger Shanahan, a research fellow at the Lowy Institute's West Asia Program and former director of the Australian Army's Land Warfare Studies Centre, told Newsweek that "Iran was critical in providing logistical and advisory support to Iraqi paramilitary forces who battled ISIS in Iraq, particularly during the early days of the campaign." As for Syria, he said Iran's support for President Bashar al-Assad "also meant that it has contributed to the anti-ISIS campaign," but that "it is fair to say that that was by no means the aim of their support for Assad and the targeting of ISIS has been sporadic at best."
ISIS' so-called caliphate has since been destroyed, but special presidential envoy to the U.S.-led coalition against ISIS James Jeffrey estimated in August that there were about 15,000 militants left in Iraq and Syria. The math is fuzzy, as some members are believed to have joined other groups, gone into hiding or fled altogether. Even Jeffrey admitted this figure had "a standard deviation of significant thousands in either direction."
Despite battlefield losses, the group lives on through deadly sleeper cells and sophisticated media operations that non-stop broadcast propaganda. Tehran too has built a robust system of non-state actors also hostile to Israel, Saudi Arabia and the U.S and, while establishing this so-called Axis of Resistance proved a major strategic victory, it came at a steep price.
Iran's campaigns cost capital, both human and financial, and increasingly strict U.S. sanctions have choked up Tehran's access to disposable income. Though the Iranian government is believed to still have access to considerable wealth to run its operations, the dual effects of a U.S.-imposed trade siege and domestic mismanagement have made life more difficult for everyday Iranians unable to capitalize on the economic reforms promised by Iranian President Hassan Rouhani.
The Rouhani administration's decision last month to cut gas subsidies and ultimately transition to a welfare-based system had actually been in the works for some time and was supported by the International Monetary Fund. Still, the sudden shift appeared seismic for many Iranians accustomed to cheap fuel and citizens rose up with a rare intensity.
The government's reaction on the ground was swift and, against what at least officials claimed were rioters, deadly.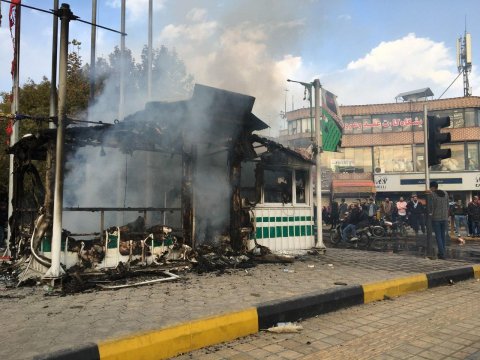 Amnesty International has estimated that more than 200 Iranians have been killed during the unrest and Brian Hook, a State Department representative for Iran, placed the casualties at "many hundreds, perhaps over a thousand"—a figure far higher than other estimates provided by human rights monitors. No conclusive count exists and the Iranian government has disputed those numbers.
Some of the fiercest resistance to the crackdown has emerged in Iran's western Khuzestan province, where Arab separatist groups such as the Arab Struggle Movement for the Liberation of Ahvaz have reported "violent clashes between residents, occupation forces and militias." While protesters expressed frustrations with the country's economic situation here, too, another potentially more serious peril loomed: separatist groups in key border areas.
Those groups are "the biggest non-state threat to Iran today," Ariane Tabatabai, an associate political scientist at the RAND Corporation and an adjunct senior research scholar at Columbia University's School of International and Public Affairs, told Newsweek. The most volatile border areas are Sistan-Baluchistan, Khuzestan and Kurdistan. Watchers worry that any escalation of insurgencies in these parts could propel Iran toward the sectarian strife seen in Syria.
"That's part of what's deterring many Iranians from outright pushing for regime collapse: The lessons of Syria loom large," she added.
Insurgencies were waged by separatist Arab, Baluch and Kurdish militias for decades before ISIS, Al-Qaeda or even the 1979 Islamic Revolution that overthrew the pro-West shah, who long-enjoyed the CIA maintaining his rule. The Islamic Republic has largely managed to keep these restive communities in line, but deadly attacks persist, such as a February car bombing that tore through a military bus, leaving up to 27 members of the Revolutionary Guard dead between the cities of Khash and Zahedan in Sistan and Baluchistan province.
The operation was claimed by Jaish ul-Adl, which along with fellow Sunni Islamist group Ansar Al-Furqan, has taken advantage of previous periods of unrest in an attempt to undermine the Iranian government. ISIS, notorious for its ability to build bridges across continents, has actively sought to exploit these national struggles as it does in countries as far away as the Philippines.
Dina Esfendiary, a fellow at The Century Foundation progressive think tank in New York, told Newsweek, "ISIS has made it clear that fighting the Shia is one of its core objectives, as a result, Iran is a first-order target."
"ISIS will likely help foment discontent in the areas of Iran with smaller ethnic minority communities," she added. "This has the same effect as the U.S. stating its support for protestors: allowing the Iranian government to develop the rhetoric that foreigners are instigating the protests, which they use as justification for their crackdown."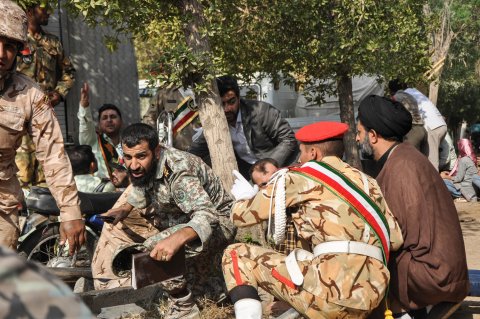 The group's reach within Iran remains fairly insignificant, Tabatabai added. She too explained, however, that "ISIS has mostly focused its efforts in the areas with significant Kurdish and Arab minority populations—because these are populations that have been historically neglected if not repressed by the central authority.
Shanahan told Newsweek that, from the very beginning, "Iran was concerned at the threat ISIS posed to Iranian territory, and the possibility of support for low-level insurgencies amongst Arab and Baluch Sunni groups inside Iran."
"They have limited support inside Iran but they may well seek to exploit security agencies' focus on the protests to undertake some local tactical actions," he added, noting, however, that the current demonstrations were "about Iranians' dissatisfaction with the system as a whole, with the lifting of fuel subsidies as the catalyst—it's not about minority rights."
Even with limited success in its infiltration, ISIS managed to strike at the heart of the Islamic Republic in June 2017.
Less than two months after ISIS released a Persian-language video, several Sunni Muslim Kurdish militants aligned with the group staged twin attacks on the Iranian parliament and the shrine to the late Ayatollah Ruhollah Khomeini. Eighteen people were killed.
Mayhem erupted again in September with dramatic scenes of civilians taking cover and soldiers carrying bloodied children in Ahvaz. Gunmen opened fire at a Revolutionary Guard parade commemorating the Iran-Iraq War—during which Saddam Hussein too tried to foster Arab separatism in Khuzestan—in an ambush that killed two dozen people, half of them soldiers, and was claimed by both ISIS and Ahvazi Arab separatists.
A week later, the night skies over Iran's Kermanshah and Kurdistan were illuminated with the flames of Zulfiqar and Qiam missiles as they flew hundreds of miles clear across Iraq and into the eastern Syrian province of Deir Ezzor, an ISIS stronghold at the time under assault by forces backed by Washington and Tehran. The unprecedented strike was seen not only as a message to ISIS, but as a testament of Iran's missile prowess directed toward its top three national foes.
Iran often blames the U.S., Israel and Saudi Arabia for fomenting discord within the country in an attempt to overthrow a government they view as destabilizing to the region. No conclusive evidence of such a conspiracy regarding the current demonstrations has emerged, though top Washington figures, such as war hawk former national security adviser John Bolton, have openly courted opposition forces like the People's Mojahedin Organization of Iran, or Mujahedin-e-Khalq (MEK) and Ahvazi Arab separatists.
Back in Tehran, journalist Reza Khaasteh said he doesn't "think protesters agree with such secessionist ideologies, and must be afraid of such groups exploiting their legitimate demands from the government."
Local university student Kiarash said, for Iranians, "the trauma of the previous ISIS attack on Iran still hangs around in our mind."
"Whether or not these demonstrations could lead to instability caused by ISIS or separatist groups, the fear of it exists in the public," he added. "A majority of Iranians are worried that in case of a military conflict with the U.S. or Saudi Arabia, or even in case of a serious turmoil on a domestic level, the situation could lead to instability or even getting attacked by ISIS or other groups."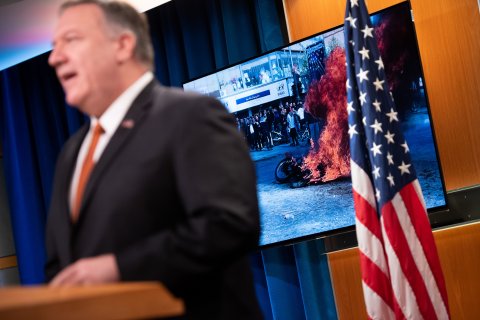 While Iran has bolstered its border security in recent years, instability to the point of a government retreat could allow ISIS to summon forces from beyond. Séamus Malekafzali, an analyst with the online International Review, told Newsweek that, in the event of a war either international or civil, "I have no doubt in my mind that ISIS would swoop in."
"I've never not doubted anything more in my life," Malekafzali said, adding that, should ISIS establish a foothold in the porous, mountainous badlands between Iran and its neighbors, "I don't think America would be able to defeat that group."
All seven individuals interviewed by Newsweek said they believed the collapse of the Iranian government was unlikely in the near future, despite the "maximum pressure" campaign by the U.S. against it. Even for Washington, this may not necessarily be a bad thing: It has repeatedly learned that an enemy government's loss of control often had far-reaching repercussions in the form of mass refugee flows, the formation of new, more powerful enemies, and costly military interventions to fight them.
In the leadup to the cardinal example of this, the 2003 invasion of Iraq, then-Secretary of State Colin Powell infamously warned President George W. Bush, "You break it, you own it." A year later, the U.S. was technically in control of 25 million people, inheriting a war-torn nation from which ISIS would be born, and the following administration still went on to embark on new foreign adventures in Libya and Syria.
The fall of Iran—a nation whose population outsized all three of those war-torn countries combined—would likely have even more devastating side effects and give ISIS and other underground forces new room to operate.
For now, the ISIS threat appears to be under control. But worsening economic woes resulting from U.S. restrictions and political infighting among Iran's own hard-liners and moderates ensure the militant group will continue to root for, if not actively seek, Iran's capitulation.
This article has been updated to reflect the print version that appears in Newsweek magazine's December 27 issue.