If Ivanka is Donald Trump's Political Muse—Where Does Her Influence Lie?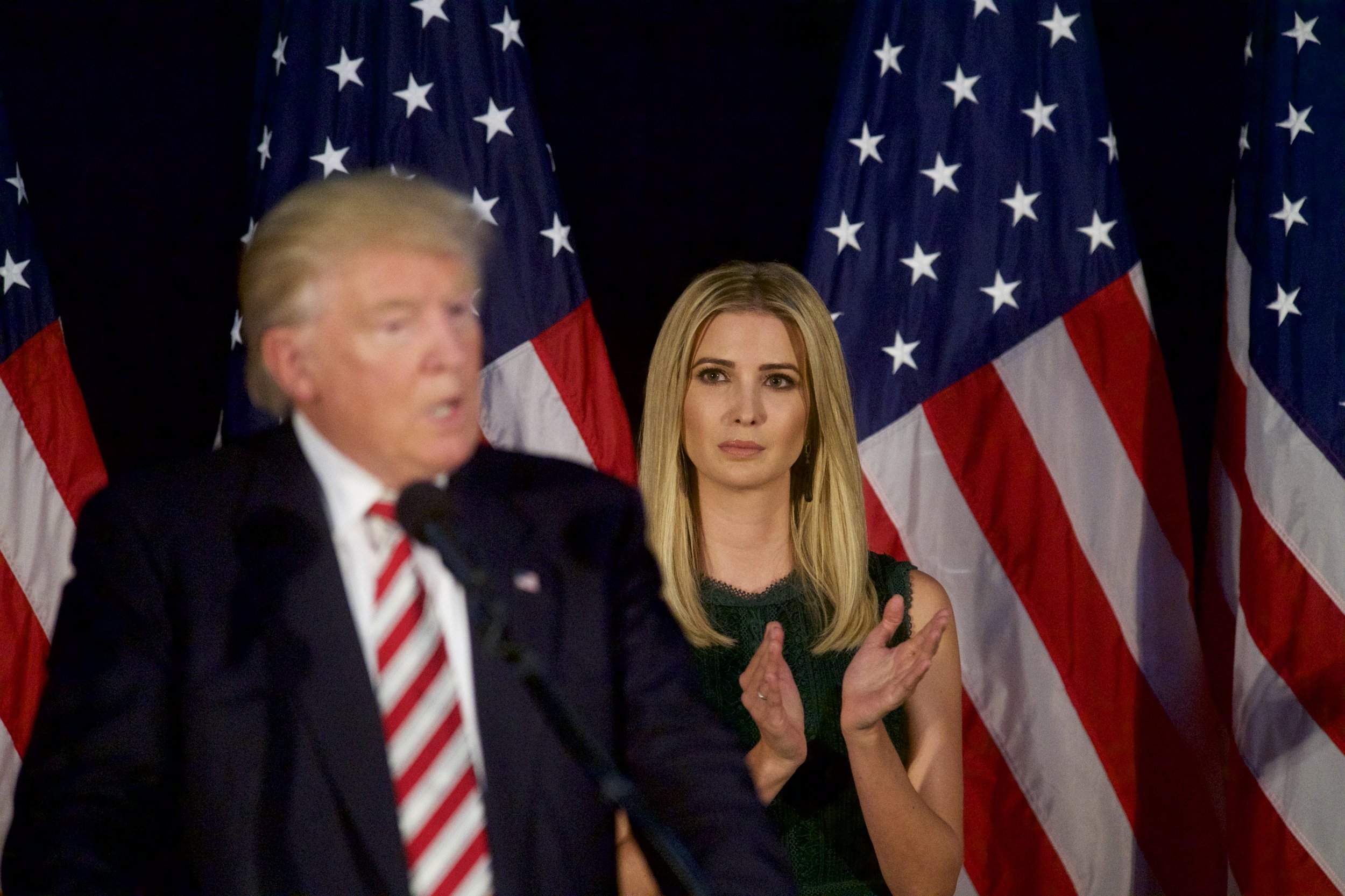 When U.S. President-elect Donald Trump appeared on American talk show The View in 2006, he shocked viewers by remarking on his daughter Ivanka's "very nice figure." "If Ivanka wasn't my daughter, perhaps I'd be dating her," he said.
Over the decade that followed, Trump's admiration for Ivanka grew considerably. He has referred to the 35-year-old businesswoman as the "favorite" of his five children and during his campaign for presidency, she was the first he mentioned by name.
Ivanka runs the Trump Organization alongside her brothers, Eric and Donald Jr., and has a line of shoes, diamonds and clothes under her own personal brand. She devotes her free time to speaking out for working women and is a mother to Arabella Rose, 5, Joseph Frederick, 3, and Theodore James, eight months.
While Ivanka said she had no plans to take on an official government role should her father win the election, she did say she would "not hesitate" to share her "strong opinions." According to The New York Times, a Trump campaign insider told reporters that Ivanka is "one of the few people who can influence [his] thinking."
If Ivanka is the U.S. president-elect's political muse and adviser, where does her leverage lie?
1. Israel
Ivanka says she is an advocate for women and Israel, having converted to Judaism in 2009 before marrying her husband, Jared Kushner. Speaking at a synagogue in Florida in August, she assured a large gathering that her father would be "an unbelievable champion for Israel and for the Jewish people."
She claimed if her father were to win the election, he would move the U.S. embassy in Tel Aviv to Jerusalem and recognize Jerusalem as the undivided capital of Israel.
According to one of Trump's top advisers on Israeli matters, this symbolic move is set to go ahead.
2. Women's health
When Trump was criticized for making derogatory remarks about women, he pushed back with a testimonial of sorts from Ivanka and his wife, Melania. Both, he says, have attested to his "great respect for women."
But Ivanka identifies as a feminist and despite claiming on CNN that her father is "absolutely not a sexist," which is proven, in part, by his "40 years experience of hiring women in business," she has criticized his sexually aggressive comments from a leaked 2005 Access Hollywood video as "clearly inappropriate and offensive." She said she was glad her father had apologized to the American people.
It was not, however, the first time Trump has spoken offensively about women. "You have to treat them [women] like shit," he advised, during an interview with New York Magazine in 1992. "A woman who is very flat-chested is very hard to be a ten," Trump said to radio personality Howard Stern in 2005.
Ivanka has successfully convinced her father to maintain moderated support for the reproductive health service Planned Parenthood, despite steadfast Republican criticism. He still promises to repeal federal funding from the organization because it performs abortion services, and has picked Mike Pence, a warrior against women's reproductive rights, as his vice president, but there might be time for Ivanka to impose some sway.
She did help her father design and roll out a child care and maternity leave plan that offers new mothers six weeks of paid maternity leave, tax deductions for stay-at-home parents, and dependent care savings accounts for families.
Vanity Fair recently described Ivanka as Donald's "proxy wife." It also summed up her role in the electoral campaign as "the spoonful of sugar to help the American electorate swallow some of his most bitter behavior."
3. Business
Ivanka is the Trump Organization's executive vice president for development and acquisitions. She is at the forefront of her father's multi-billion dollar legacy and, according to The New York Times, she has a bigger role than any of Trump's executives have ever had.
But what will happen to the Trump Organization is unknown. Newsweek's Kurt Eichenwald has raised serious concerns over the massive conflicts of interest Trump will be faced with as both president of his own company and president of the United States. Trump is yet to confirm whether Ivanka, and his other children, will remain at the helm.