If Joe Biden Wins, Will the Democrats Pack the Supreme Court?
There is a question no Democrat on Capitol Hill wants to answer: "If Joe Biden wins, should Democrats expand the number of Supreme Court justices?"
As Senate Republicans move full steam ahead to fill the Supreme Court vacancy by November 3, Senate Democrats have been caught flat-footed, unsure of whether they should threaten to blow up the filibuster and pack the court if they gain power next year.
Meanwhile, Republicans are unapologetic in their approach to confirm Justice Ruth Bader Ginsburg's replacement just weeks before the election, even as it reneges on their 2016 posture that nominees to the nation's highest court should not be filled in an election year.
The Republicans have changed their tune, arguing that this time it's different, because their party controls both the White House and Senate, while they only controlled the Senate under President Barack Obama.
One thing is certain: The Democrats' hands are tied.
They lack the votes to prevent President Donald Trump from appointing his third Supreme Court justice, as well as the ability to block Republicans from confirming him or her, which will cement a conservative majority for generations to come. And more moderate Democrats are unwilling to adopt the same sort of aggressive and controversial tactics that the Republicans have successfully employed.
For some Democrats, particularly liberals and party activists, the appropriate move would be threatening to end the filibuster that offers the minority power with a 60-vote threshold, and to expand the number of Supreme Court justices. The notion is backed by some, including Sen. Ed Markey (D-Mass.), House Judiciary Chair Jerrold Nadler (D-N.Y.) and Rep. Joe Kennedy III (D-Mass.), who have voiced their frustration.
But short of that, even as Senate Minority Leader Chuck Schumer (D-N.Y.) vows that "nothing is off the table," many moderates are doing all they can to dodge the question of whether they support court-packing.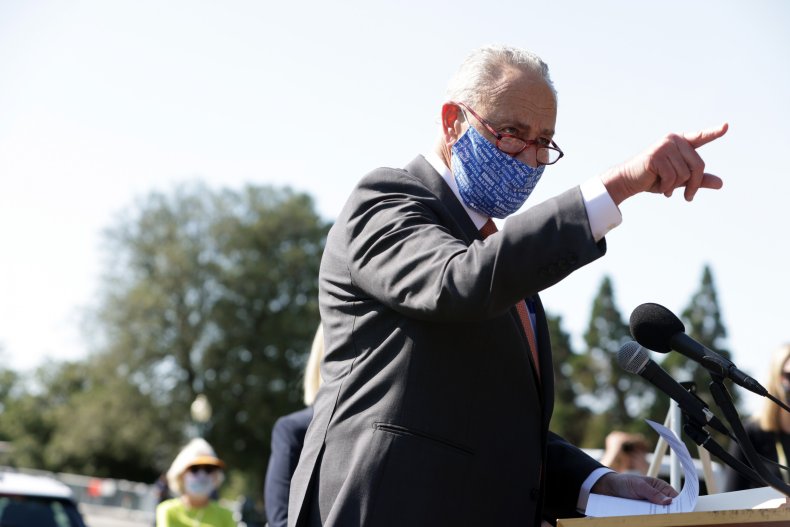 Joe Biden offered the most blunt explanation for why he wouldn't answer.
"Let's say I answer that question, then the whole debate's going to be about what Biden said or didn't say, Biden said he would or wouldn't," Biden told a local Wisconsin TV station Monday. "The discussion should be about why he is moving in a direction that's totally inconsistent with what the founders wanted... It is a fundamental breach of constitutional principle. It must stay on that and it shouldn't happen."
Many Senate Democrats, especially moderates, are equally as cagey about the question. Most of them pivot to discuss their focus on winning the majority and protecting Americans' health care, which they warn could be at risk with a new conservative justice and oral arguments on a case involving the Obama-era Affordable Care Act a week after the election.
"My focus right now is reminding people what is at stake here," Sen. Tom Carper (D-Del.) said. "I don't know that folks around the country are all that focused on adding more judges, but they certainly don't want to lose their health care."
"We're not going to have a good discussion about any [Supreme Court reforms] unless the Democrats take the Senate," Sen. Mazie Hirono (D-Hawaii) said. "Right now [we need] to tell the people what's at stake in this election because the next Trump nominee will strike down the Affordable Care Act."
Sens. Elizabeth Warren (D-Mass.), John Tester (D-Mont.), Bob Menendez (D-N.J.) and Dick Durbin (D-Ill.), the minority whip, offered similar sentiments. They said the focus is on the present and health care, and that adding justices should be debated at a later date.
Though court-packing is anything but a new phenomenon and there is no constitutional requirement for the number of Supreme Court justices, there have been nine since 1869. Even Ginsburg herself rejected the idea last year, telling NPR that "nine seems to be a good number" and expanding it "would make the court look partisan."
Sen. Dianne Feinstein—the top Democrat on the Senate Judiciary Committee, the panel that will soon run the hearings for Trump's nominee—drew backlash from liberals like Rep. Alexandria Ocasio-Cortez (D-N.Y.) for coming out this week against court-packing. Rather, Feinstein suggested Democrats should send a signal by voting against the president's candidate.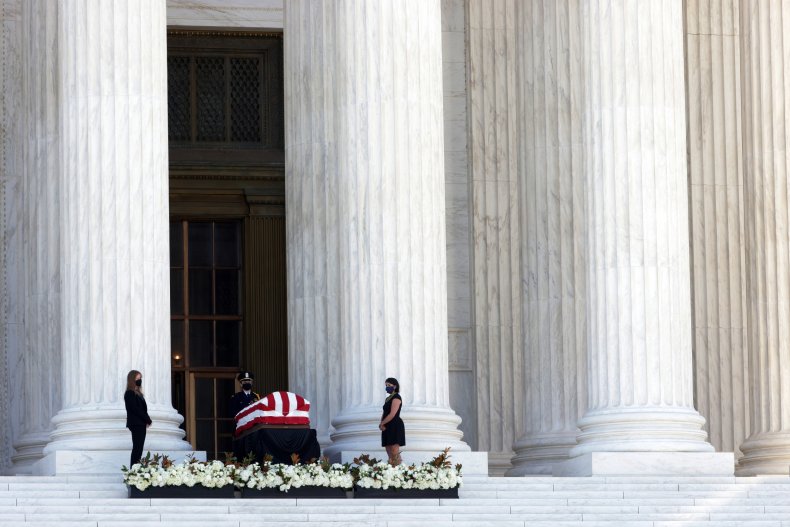 "I don't believe in doing that," the California Democrat said of ending the filibuster and adding justices. "I think the filibuster serves a purpose. It is not often used, it's often less used now than when I first came, and I think it's part of the Senate that differentiates itself. Ask me when we win the majority."
Procedurally, Senate Democrats can do virtually nothing to prevent their GOP colleagues—enough of whom support the move to fill the vacancy before Election Day—from confirming Trump's yet-to-be-named nominee. Still, Democrats aren't yet ready to look ahead to what they could do with control of the Senate and the White House.
Durbin said court-packing should not be on their minds, noting that Republicans have gone on the attack over the idea. He declined to "speculate" on adding justices, saying that "it's way too soon." Instead, he said, the party should focus on the forthcoming nominee's views on important issues like health care and abortion rights.
The White House, in addition to Senate Republicans, has piled on to blasting Democrats for even mentioning court-packing.
"If [they] don't get [their] way, Democrats will blow up the system," White House press secretary Kayleigh McEnany said Tuesday. "They will change the system. They will trample on the constitution. This president will proceed undaunted by Democrat threats."
The graphic below, provided by Statista, illustrates public opinion on the appointment of a new justice before and after the presidential election.
This article was updated to include an infographic.