If LeBron James Can't Stop Cavaliers' Slide With NBA M.V.P. Form, Who Can?
The 2017-18 Cleveland Cavaliers are too grizzled, too experienced and, still, too darned good to start hitting all the alarms inside Quicken Loans Arena.
Maybe there's a point, though, at which well-founded confidence gives way to unfounded complacency. If there is, the Cavaliers may be close to it.
Tyronn Lue was asked before Cleveland played the Warriors on Monday night whether the Cavaliers were still the best team in the Eastern Conference. "To answer your question in a better light, we're not right now, but we will be the best team in the East, yes," Lue told ESPN. "Well, we're not playing the best right now, but we will be."
Why, the Cavaliers head coach was asked, would he still maintain that contention? "Because we've got the best player in the world," he answered.
Unintentionally, the Cavaliers then did an excellent job of elucidating why Lue's words were more troubling than reassuring. LeBron James—the best player in the world—had the latest in a long series of monster games, putting up 32 points, eight rebounds, six assists and four blocks. Isaiah Thomas had 19, breaking out of a two-game slump. Kevin Love scored 17, and added seven rebounds and three assists.
As usual, James was M.V.P.-level great and the Cavaliers' offense was solid. And it didn't matter a jot, because they couldn't stop Kevin Durant, Stephen Curry and Klay Thompson on defense. The Warriors piled up 118 points on Cleveland, which ranks 29th in the NBA in defensive efficiency according to TeamRankings.com. Only the Sacramento Kings are worse.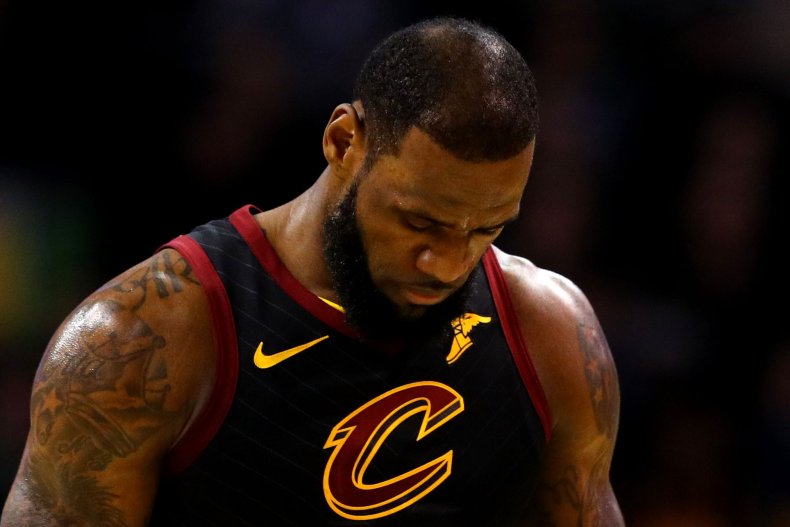 It says much for the mediocrity of the Eastern Conference—and something about their form before Christmas—that the Cavaliers can lose eight of their last ten games and still be in third behind the Celtics and Raptors. Every Eastern Conference team from Toronto in second to the Wizards in fifth is on a losing streak. Ergo, Cleveland is still a playoff team despite its defensive struggles.
But is James at or somewhere near his best still enough to maintain the Cavaliers as a championship contender? In a piece published on Tuesday morning, Brad Botkin of CBS argued that the rivalry between Cleveland and Golden State might be over. "We have to at least acknowledge the possibility we might never see this matchup again", Botkin wrote, acknowledging the fact that the Cavaliers have been outscored by 81 points during their past four games when James has been on the court.
"There is no doubt the [playoff] road will be tougher," Botkin continued. "Boston is better than it was last year. Toronto is, too." And James, who may very well be named regular-season M.V.P., can't overcome a startlingly bad defense through his otherworldly skills alone. If the alarm bells aren't yet ringing in northwest Ohio, then perhaps they should be.