Here's a sentence I never envisioned writing: A friend of mine may be the next governor of California.
The prospect is even more noteworthy because this friend is one of the strongest conservative voices I know—Larry Elder, who is not only a friend but a talk-show host colleague for the Salem Media Group.
Let that serve as a disclaimer for my following observations about his chances in the September 14 recall vote concerning Gov. Gavin Newsom. I've had friends I thought would do well in political races, and others I knew would fail, and I've not only told readers and listeners—I've told the candidates. In Larry's case, I'll aim for objectivity despite a mild tug of conflict; his win would mean losing him on the radio, where I have valued him for decades.
So could California find itself with a staunch conservative governor after the recall dust settles? It certainly could, but first voters will need to deliver the actual thumbs-down for Newsom. Only then will the door be open for Elder and the large crowd of hopefuls offering themselves alongside him.
Any governor facing a recall threat has a problem. For a Democratic California governor, the election reveals a dissatisfaction that extends beyond the usual Republican minority. Conservatives have hammered Newsom for liberal decisions like the planned phaseout of gasoline-powered cars. But from his COVID-19 response to forest fire susceptibilities to rolling blackouts, his track record has dimmed enthusiasm even among those who voted for him.
But this is still California, a state that has returned countless Democrats to office in good times and bad. Toppling a governor who won his general election by 24 points will not be easy. However, Newsom's ascendancy in 2018 came before COVID responses were the prime determinant of every governor's popularity. If every Democrat favored lockdowns and other restrictions, and only Republicans opposed them, Newsom would not be in trouble. As COVID ran roughshod over the nation, California businesses and families blamed Newsom's restrictive policies for the outsized damage they sustained.
Timing is everything. As the recall gained steam, the virus retreated in California and across the nation. Newsom announced a grand "reopening" of the state on June 15. A voting public with diminished coronavirus concerns would have been more likely to spend the ensuing weeks replacing unpleasant memories of restrictions with fresh experiences made possible by reopened businesses and restored liberties.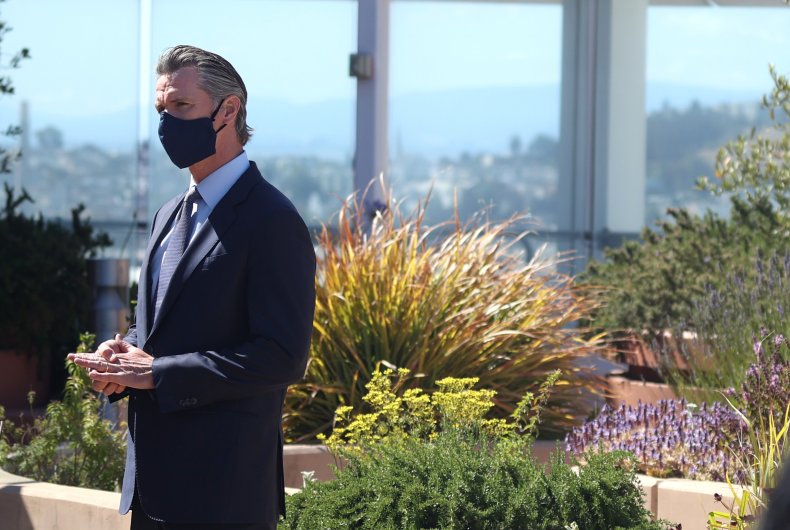 Now Newsom's biggest enemy may not be any Republican rival, but the Delta variant. As COVID reclaims the headlines, Californians may wonder what new orders lie ahead from a governor who once wielded such effortless shutdown powers.
A happy state does not ditch its governor. It is the job of the 40-plus candidates on the recall ballot to sow sufficient discontent that a majority chooses to return Newsom to private life. If COVID policy riles up enough Californians next month, the governor's fate is in deep question.
If Newsom survives the stay-or-go vote, his challengers will disperse back into their prior pursuits. But if he falls, the next governor of California will be the top vote-getter on that crowded ballot, which could mean a successor earning well below a majority.
This is where the door opens for Elder. A majority of Californians do not share his conservatism, but they may get a master class in it nonetheless. There is no shortage of Republican hopefuls, from former San Diego mayor Kevin Faulconer to state assemblyman Kevin Kiley to Newsom's 2018 opponent John Cox. But no one, not even the briefly attention-grabbing candidacy of Caitlyn Jenner, has come close to Elder's poll numbers in the weeks since surveys began. Democratic candidacies have been suppressed by the fact that most Democratic voters are likely to back Newsom.
So there is Elder, whose sizable talk show audience and appreciable communications gifts have ensured him the support of a strong plurality among expressed favorites to replace Newsom. There is a large chunk of undecideds, but it is hard to see them falling sharply toward any other single candidate.
Since this is a referendum on Newsom, Elder's chances do not hinge on how popular he is, or how knowledgeable he may be on the issues. This election turns on a single question: do Californians want to get rid of Newsom? If the answer is yes, Elder may soon be choosing drapes for the governor's mansion.
Since the only path to success involves voters souring on Newsom, the Elder pitch has not focused extensively on the governor's liberalism. The appeal is aimed across the ideological spectrum, at Californians lamenting the state's suffering economy, increased crime and struggling school system.
If voters believe Newsom is not the right leader to navigate those troubled waters, the recall will succeed. And if it does, Larry Elder may become California's most conservative governor since Ronald Reagan left Sacramento in 1975.
Mark Davis is a talk show host for the Salem Media Group on 660AM The Answer in Dallas-Ft. Worth, and a columnist for the Dallas Morning News and Townhall.
The views expressed in this article are the writer's own.