If the NFL Draft Was Ranked by Headline-Grabbers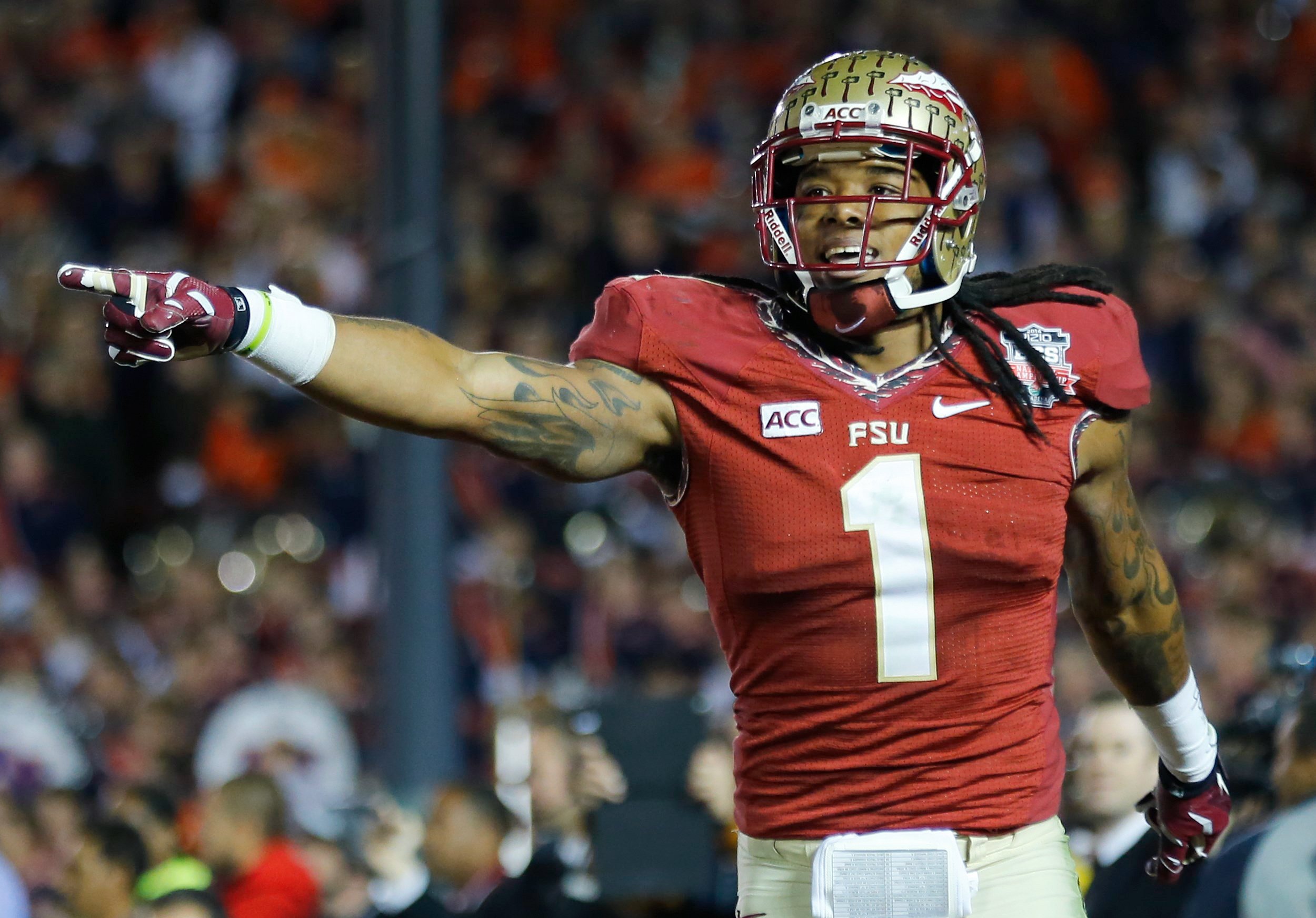 Leaves fall in autumn and marquee college football players fall in the spring. The three-day NFL draft, which commences this evening (ESPN, 8 p.m.) will once again demonstrate that mentions on ESPN's wraparound Saturday college football programs,College GameDay and College Football Final, are no harbinger of when a prospect will be drafted.
Below, a plethora of names that almost certainly will not be called in the first round (some may not be selected at all) and a quick reminder as to why they garnered so much attention last season:
Kelvin Benjamin, WR, Florida State
The 6-foot-5 Benjamin caught the game-winning touchdown pass with 13 seconds remaining in last January's BCS Championship Game.
A.J. McCarron, QB, Alabama
"You quarterbacks, you get all the good-looking women" —Brent Musburger, 2013 BCS Championship Game
Kyle Van Noy, OLB, Brigham Young
You outside linebackers don't fare too poorly, either. The third-team All-American is engaged to Miss Utah, Marissa Powell, who earned national notoriety for her bungled answer at the Miss USA pageant.
She rode the ignominy to a charming appearance onJimmy Kimmel Live.
Bishop Sankey, RB, Washington
A favorite of Tom Rinaldi, ESPN's bard of tear-jerking features, Sankey was profiled because his grandfather, Albert Sankey, had surgery to reverse blindness and was finally able to see his grandson play.
Logan Thomas, QB, Virginia Tech
An athletic freak at 6-foot-6 and 260 pounds whom experts spent three seasons calling a future Heisman candidate. That never happened, but Thomas did jack highly celebrated UCLA freshman Myles Jack in the Sun Bowl last December.
Tre Mason, RB, Auburn
A Heisman Trophy finalist who rushed for a record 304 yards in the SEC Championship Game, and 195 yards in a losing effort in the BCS Championship Game.
Aaron Murray, QB, Georgia
There are few creatures on God's green earth that CBS and ESPN, both of whom cover the SEC, love more than SEC quarterbacks with good looks.
Zach Mettenberger, QB, LSU
(See: Murray, Aaron)
Andre Williams, RB, Boston College
Emerged from obscurity to lead the nation in rushing (2,177 yards) and finish fourth in Heisman Trophy balloting.
Jared Abbrederis, WR/KR, Wisconsin
Winner of the Burlsworth Trophy, given to the nation's outstanding player who began his career as a walk-on. With a mellifluous name broadcasters adore, Abbrederis was also a first-team All-Big Ten performer.
Chris Davis, QB, Auburn
Only the author of arguably the greatest game-winning play in the history of college football ("Auburn's gonna win the football game! Auburn's gonna win the football game!").
Storm Johnson, RB, Central Florida
Storm Johnson's porn star name is Storm Johnson.
Shayne Skov, LB, Stanford
Fond of donning more eye-black than a WWE wrestler, Skov grew up and learned to play football in Mexico.
Lache Seastrunk, RB, Baylor
Seastrunk's recruitment to Oregon, where he spent his freshman season, led to an NCAA investigation that led to Chip Kelly taking a job with the Philadelphia Eagles.
Garrett Gilbert, QB, SMU
Former backup to Colt McCoy at Texas. After McCoy suffered a game-ending injury in the first half of the 2010 BCS Championship Game versus Alabama, Gilbert, then a freshman, played the last three quarters. The Longhorns lost.
Max Bullough, LB, Michigan State
Spartan defensive captain, whose father and grandfather played at Michigan State, was suspended shortly before the Spartans played in their first Rose Bowl in 26 years. Sparty upset Stanford in Pasadena; Bullough still has not revealed why he was suspended.
Isaiah Crowell, RB, Alabama State
As a high school senior, Crowell announced he would attend Georgia live on national television and then held up a bulldog pup. Following a promising freshman season, Crowell was dismissed from the team that June after being arrested on three weapons charges.
Colt Lyerla, TE, Oregon
Another draft enigma, Lyerla was considered one of the premier tight ends in the game. Then he was arrested for cocaine possession and booted from the team in midseason last autumn. Also posted a few bizarre tweets about the Sandy Hook shootings that should keep the Giants, Jets and Patriots from drafting him.
Michael Sam, DE/LB, Missouri
Sam garnered more attention than any player at last February's NFL Combine after coming out as gay the week before. He could be the first openly gay NFL player.
De'Anthony Thomas, RB, Oregon
Arguably the fastest man in college football the past two seasons.
Aaron Lynch, DE, South Florida
A freshman All-American at Notre Dame who then transferred back home to the Tampa area and failed, at least at the collegiate level, to fulfill his potential.
Jordan Lynch, QB, Northern Illinois
The dual-threat signal-caller finished third in last year's Heisman balloting and seventh the year before, but concerns about his height and what position he'd play in the NFL have dropped him off some experts' boards.
Seantrel Henderson, OL, Miami
Considered the nation's top overall high school recruit in 2010, Henderson was suspended three times at Miami for marijuana use and also tested positive for it at the NFL Combine. Would love to play for either of last February's Super Bowl participants.