If No Stimulus Deal Before Election, Mnuchin Says It Will Be Passed 'Quickly' After Trump Wins in November
While chances are dwindling of a stimulus deal before the election, Treasury Secretary Steve Mnuchin remains hopeful the White House and Democrats can come together. And if they can't, he said a package will be passed after President Donald Trump wins in November.
Mnuchin and Speaker Nancy Pelosi have had numerous conversations about a package but have yet to come to a full agreement on comprehensive relief. The latest discussion on Wednesday left them both with "homework," according to Mnuchin, and talks are expected to continue on Thursday as Senate Republicans prepare for a vote on a targeted bill.
Mnuchin told Fox Business' Lou Dobbs on Wednesday that the White House's "objective" is to put together a fair deal for the "American worker and American business" because Trump "wants us to get this done." That deal, he said, should include another round of the Paycheck Protection Program, stimulus checks, aid to small workers, schools, health care, testing and vaccines.
The White House and Democratic Party leaders have been in talks about another stimulus package for months and frustrations are mounting within Congress and across the country at their lack of ability to compromise. Mnuchin put the blame on Democrats, telling Dobbs that he suspected the looming election was motivating the stalemate.
"I suspect they don't want to give the president a win three weeks before the election but they are holding up relief to hard-working Americans," Mnuchin said.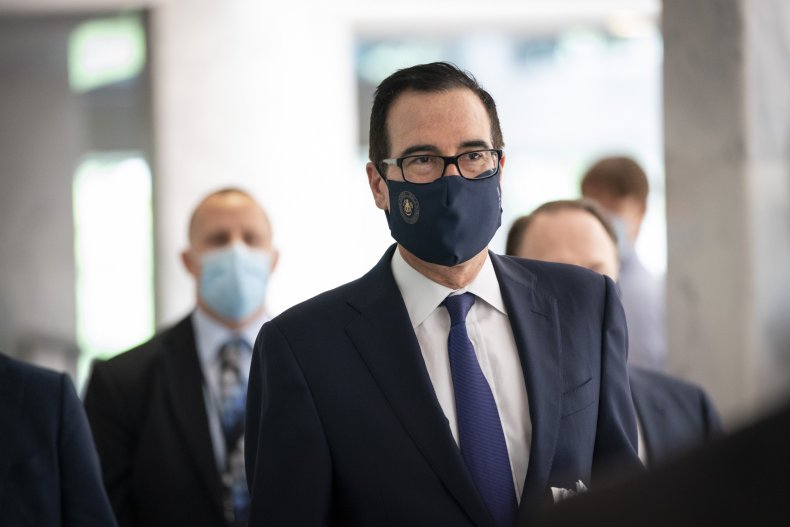 Pelosi, however, put blame on the other side of the negotiating table. Both parties involved want to get a deal done, she told MSNBC's Lawrence O'Donnell on Wednesday, but Republicans won't provide adequate funding to "crush" the new coronavirus.
Trump is "determined" to get a deal done, according to Mnuchin, and if it doesn't happen before the election, the treasury secretary said, "when the president wins the election, we'll get it passed very quickly afterward."
With less than three weeks until Election Day, Trump trails former Vice President Joe Biden by more than nine percentage points, a wider spread than he faced against former Democratic nominee Hillary Clinton. Even if Trump wins the election, Republicans could be faced with the same stalemate situation they're currently in if they don't keep control of the Senate and win a majority in the House.
And if Trump wins but Democrats take control of the Senate and keep the House, Republicans could be in a weaker negotiating position come the inauguration.
One of the biggest issues blocking a package from coming together is the issue of state and local aid. Democrats want more than $430 billion, a number that Republicans say is going to be used as a "bailout" for Democratic legislators' poor management.
Pelosi hit Mnuchin for telling Dobbs that money allocated to states can't be used for pension funds because "this isn't about that." Allocating significant funding to states is an effort to compensate them for money they spent on the pandemic and lost revenue, Pelosi explained.
"They haven't taken this seriously and what's sad about it is we could come to an agreement, we need to come to an agreement," the speaker said.
Newsweek reached out to Treasury Secretary Steve Mnuchin for comment but did not receive a response in time for publication.