If Phone Sex Isn't Enough, Wear a Mask and Avoid Face-to-Face Positions, Medical Charity Advises
The thought of wearing a mask when things are heating up in the bedroom with your partner might seem like a total buzzkill, unless that's what you're into! But in the age of coronavirus, that's exactly the type of safe-sex measure that people should be taking, according to one health professional.
Dr. Michael Brady, Medical Director at U.K. charity Terrence Higgins Trust, offered up a few tips in a blog post published on Friday, about how to practice safe sex in the midst of the coronavirus pandemic. While phone sex and solo sessions are considered the safest options nowadays, Brady noted a few precautions that lovers should take if they just have to go all the way, like sticking with a regular partner and limiting the number of new people you invite to bed. Cutting off kissing can also go an incredibly long way, he advised.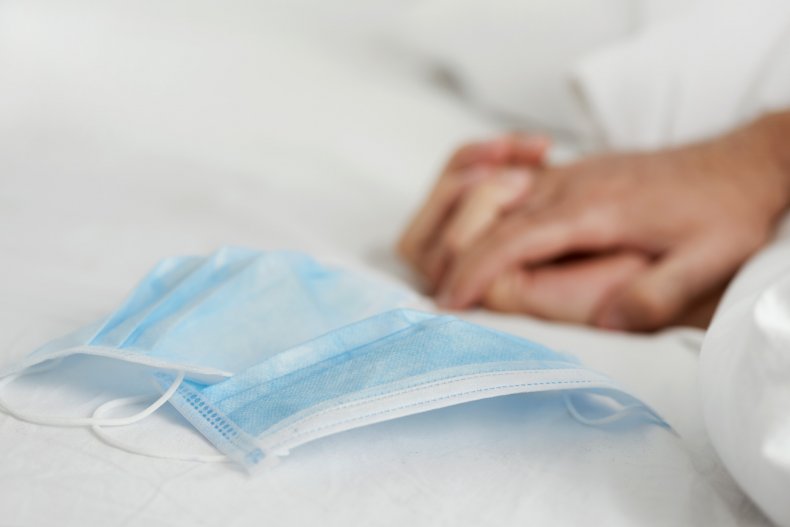 "Not kissing, wearing a face mask during sex and favouring [sic] positions where you're not face-to-face may also help and using condoms or dams for blow jobs and rimming will further reduce the risk," Brady wrote. "Washing your hands for more than 20 seconds (or using hand sanitizer) before and after sex will also reduce the risk."
Now you may be wondering, why is it necessary to consider the virus when preparing for a romantic romp with the one you most desire? Well, COVID-19 primarily spreads through particles in silva, mucus or the breath, making that steamy makeout session a hotbed for transmission. Contact with someone who has had the virus or been exposed to the virus also increases the chances of catching it, as well as contact with hard surfaces that someone with coronavirus has touched.
And then there's the semen.
Back in May, researchers in China discovered that coronavirus can be detected in semen after testing 38 male patients who had been treated for the virus at Shangqiu Municipal Hospital in January and February—when coronavirus was at its worst in the country. In testing their semen, doctors found positive results for coronavirus for six of the patients (that's roughly 16 percent), two of whom were in recovery, according to a report published in the medical journal JAMA Network Open.
Passing coronavirus on through semen isn't super-common, according to Brady, but it's still a possibility. "However, because of its presence in semen and faeces [sic], blow jobs and rimming may present an increased risk of infection and, obviously, physical contact during sex increases the risk of COVID-19," Brady wrote.
Just as it's important to talk about general sexual health with a new partner or the person you've been dealing with romantically, it's also crucial to talk about the risks of spreading coronavirus, the symptoms and whether or not either of you have been exposed or if someone in your household has.
"If you or your partner are feeling unwell, don't have sex. If you have any COVID-19 symptoms, it's important to isolate and get tested. There is no proof that having previously had COVID-19 protects you against getting the infection again," Brady advised.
Newsweek reached out to Brady for further comment, but did not hear back in time for publication.