If Putin Picks Puppet Ukraine Leader, Viktor Medvedchuk is Odds-on Favorite
U.S. officials have told Newsweek that Ukraine's capital Kyiv could fall in a matter of days, signaling that Russian President Vladimir Putin's alleged plan is well underway.
If Putin takes complete control of Ukraine in the near future, as is widely predicted, he's likely to want a leader who will implement that plan.
As it stands, Russian-born Ukrainian oligarch Viktor Medvedchuk looks to be Putin's likely choice to serve as the country's new head of state.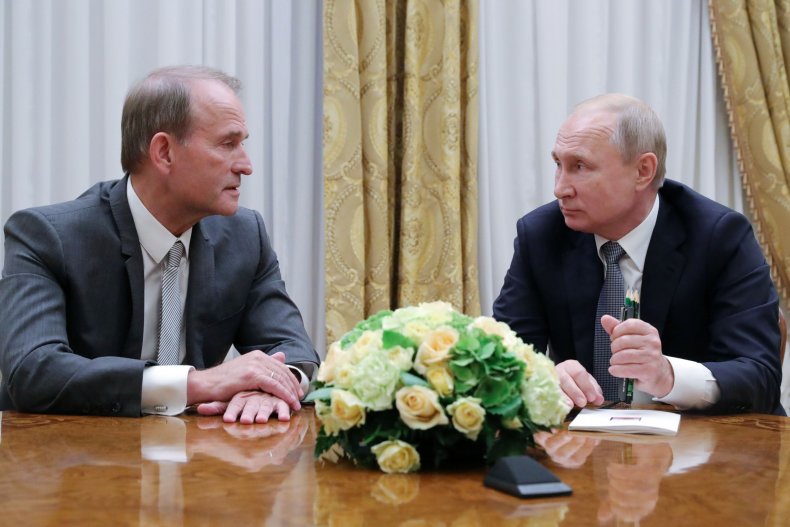 Medvedchuk, a man so close to Putin that he chose the Russian president to be godfather to his daughter, has long been a supporter of pro-Russian separatist forces in eastern Ukraine. As chairman of Ukraine's "Opposition Platform - For Life" party, Medvedchuk has been a key player in pro-Russian political movements.
While Medvedchuk has been confined to his compound north of Kyiv on house arrest for suspicion of treason after facing accusations of backing separatist forces, the Russian invasion could see him return to the public light, as Putin falsely accuses Ukraine of committing "genocide" against ethnic Russians.
"I would think if Putin were picking, that (Medvedchuk) would be his choice, and presumably Putin would be picking," Jaro Bilocerkowycz, an expert on Ukraine and Russia with the University of Dayton, told Newsweek. "Even if he wasn't the number one, he might be the actual number one, even if they put some other figurehead there."
Bilocerkowycz said Medvedchuk's pro-Russia positions combined with his anti-European Union and anti-West stances make him an attractive candidate for a Russian government looking to curb NATO influence. In addition, the deep personal connection he has with Putin will likely be given serious weight as Moscow makes its decision.
Beyond his deep connections to Russia, Bilocerkowycz noted that Medvedchuk's involvement in petroleum projects and his established relationships with Russian business leaders would allow him to further tie Ukraine's economy to Russia's, an additional plus for Putin. Medvedchuk's business operations could also further Russia's narrative.
"(Medvedchuk) had asserted control over a significant number of media resources, and so, I think, that's a bit of an added value for the Kremlin," Andrew Lohsen, a fellow in the Europe, Russia, and Eurasia Program at the Center for Strategic and International Studies (CSIS), told Newsweek.
"It's an impossible task to try to create the image of himself as a rightful leader of Ukraine," he added, "but of course he would have a significant advantage in trying to undermine support for Ukrainian sovereignty from the inside."
Medvedchuk is believed to have owned at least three television stations that were shut down last year by current Ukrainian President Volodymyr Zelenskyy. Given Russia's proclivity for administering its narratives through media propaganda, Lohsen said Medvedchuk's media experience could prove invaluable should he be placed as head of a Russian puppet government.
What Zelenskyy's fate would be if Putin installs Medvedchuk as head of state remains uncertain. However, Lohsen said he could face severe repercussions from the Russian government, as it looks to paint him as a tyrannical figure who has perpetrated genocide against ethnic Russians.
In an effort to protect the Zelenskyy administration, Lohsen said the U.S. government should consider actions it can take now to curb the potential influence of a Medvedchuk regime.
"I think it is noteworthy to follow the question of whether (Medvedchuk) should be subject to additional sanctions from the West," Lohsen told Newsweek.
"If this appears to be an outcome the Russian government is planning," he added, "then I think again what we should be seeing is the U.S. government sharing information in advance to let Russia know that we're aware of its plans."