If Republicans Purge Liz Cheney, They're Purging Many of Us Voters Along With Her | Opinion
"I've had it... I've lost confidence."
That's House Minority Leader Kevin McCarthy (R-CA) talking about one of his fellow Congressional Republicans.
He wasn't speaking of Rep. Marjorie Taylor Green (R-GA), the freshman lawmaker who spread QAnon conspiracy theories, signaled support for executing Democrats, and openly flirted with launching a racist Congressional caucus to protect "Anglo-Saxon political traditions."
Nor was McCarthy referencing Rep. Matt Gaetz (R-FL), the hard partying Congressman under investigation for alleged sex trafficking.
McCarthy saved these words for Rep. Liz Cheney (R-WY), a dutiful, third-term Congresswoman and mother of five who, as Chairwoman of the House Republican Conference, is the lone female in House Republican leadership.
Cheney is a stalwart conservative who voted with President Trump 93 percent of the time, earns an A+ rating from the pro-life Susan B. Anthony List, and is ranked by GovTrack as "most politically right" compared to other members of House Republican leadership. But McCarthy and a chorus of House Republican cannot be bothered with such facts.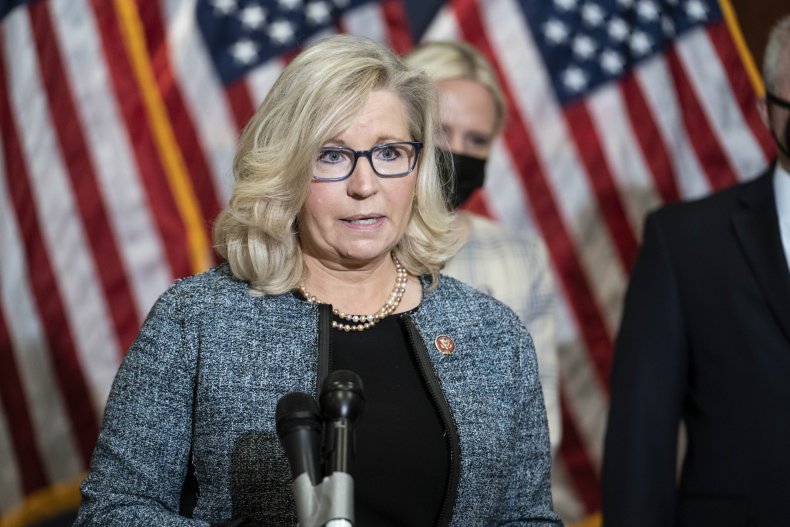 Cheney committed the cardinal sin of holding President Trump accountable for the violent insurrection at the U.S. Capitol on January 6th, a position that McCarthy briefly held himself, before changing course in fearful obedience to the former President.
In January, Cheney joined nine other House Republicans in voting to impeach Trump for his role in the January 6th attack, a move she called a "vote of conscience." Lest voters think this move reveals Cheney as some sort of secret moderate, her record shows she has continued to vote with House Republicans 95 percent of the time this year.
Still, some House Republicans remain set on purging the lawmaker from her leadership post in the middle of the year, even as they rail against "the extreme left's cancel culture" and stress "party unity" without the slightest hint of self-awareness. Punchbowl News rightly describes it as "unlike anything in modern House GOP internal politics."
Their preferred pick to succeed Cheney: Rep. Elise Stefanik (R-NY), a Congresswoman whose recent unyielding devotion to Trump belies a spotty conservative record.
Stefanik earns a failing 43 percent lifetime rating from the American Conservative Union and a similarly lackluster 48 percent lifetime score from Heritage Action for America, compared to Cheney's scores of 78 and 80 percent respectively. Stefanik also voted against the Tax Cuts and Jobs Act, Trump's signature legislative accomplishment, while Cheney helped secure its passage.
But Stefanik redeemed herself with Trump in late 2019 when she helped lead the former President's defense in his first impeachment trial. Trump tweeted approvingly that "a new Republican star is born." With that, the Harvard grad and former George W. Bush administration aide's transition from pragmatic Republican institutionalist to populist MAGA adherent was complete.
Now, Stefanik, who runs a political action committee dedicated to elevating Republican women, is ready to shiv one of her PAC's own endorsed candidates for failing to indulge the former President's sore-loser claims of a stolen election.
At stake in the House Republican Conference's intra-party squabble is the extent to which issues, substance, and policy actually matter. Or will the day be carried by personality tests, conspiracy theories, and a religious zeal for a politician who changed party affiliations as often as he changed wives and lost Republicans the Presidency, the House, and the Senate in four years?
On every policy issue, Cheney is an unquestionably more conservative choice to lead House Republicans. Her approach to the former President could turn out to be politically savvy too; blind allegiance to a man who lost his election by a whopping 7 million votes is not exactly a surefire way for Republicans to retake the majority. But Cheney refuses to mislead about the election results, while Stefanik already has. Therein lies the difference.
A Republican Party that does not have room for a principled conservative like Liz Cheney does not have room for many of us. In scheming to overthrow her, House Republicans are sending a clear message that support for the former President's policies is not enough. Meeting the new and ever-changing definition of a true Republican requires one to accept and parrot Trump's every claim, the truth and the rule of law notwithstanding.
Liz Cheney saw this litmus test and courageously said "No." If she is allowed to be ejected from her leadership role for this stand, she might not go alone. In purging Cheney, Republicans just may be purging their would-be voters too.
Jonathan Frank is a former Republican Congressional aide and freelance writer. His work has been published in National Review, The Washington Examiner, The Federalist, TownHall, The Tennessean, and others.
The views in this article are the author's own.