If Rob Gronkowski Isn't Enjoying Himself, Then I Guess We're All Doomed to Sadness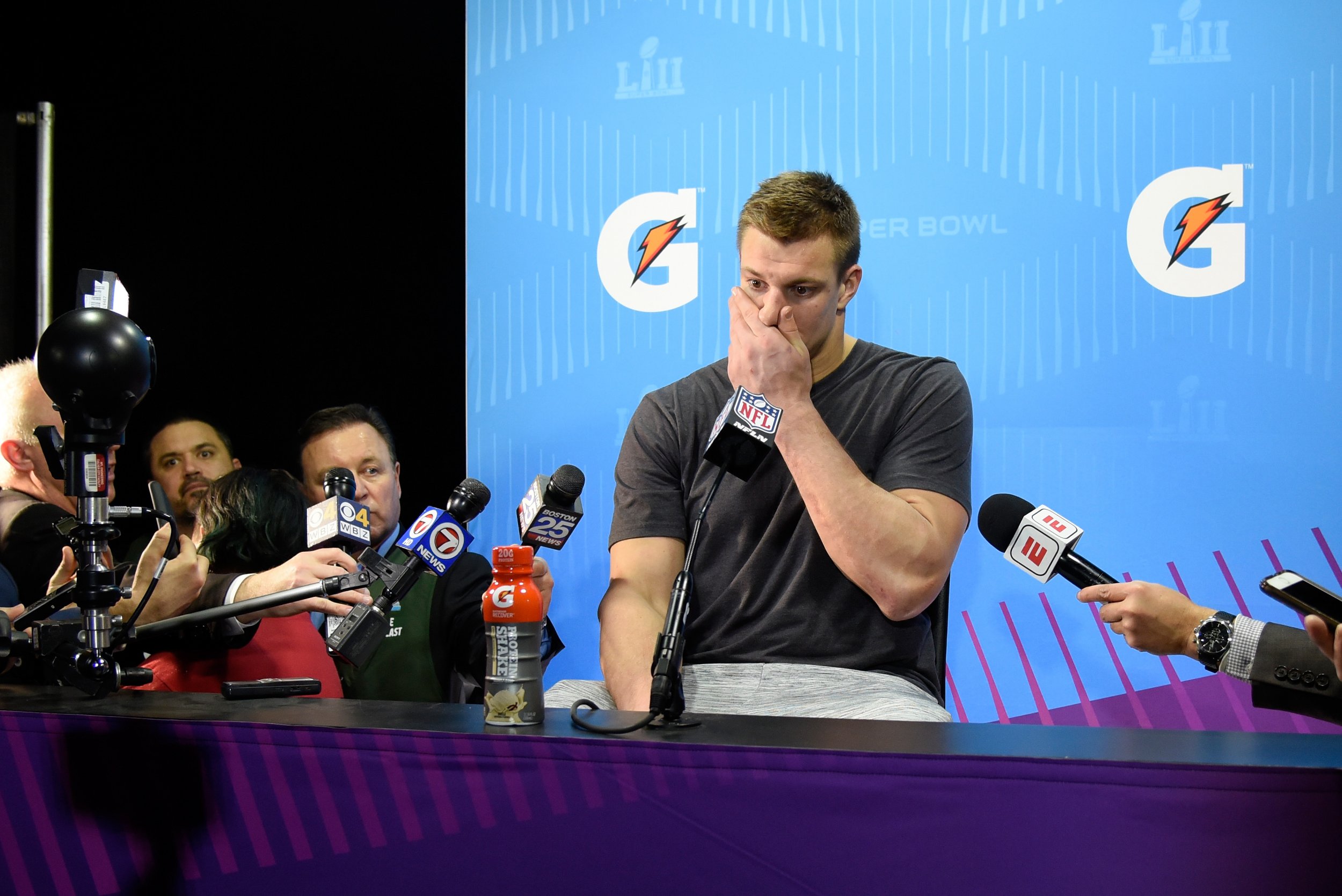 Picture a golden retriever—tongue agape, eyes agoggle, joints like rubber bands, tail fluttering like a newspaper in a hurricane. Now picture that pup irretrievably sad. Imagine the tennis balls ungathered, the treats uneaten, the ethereal carelessness suddenly weighty and earthen.
In some ways, that feeling is what it's like to learn New England Patriots tight end Rob Gronkowski—a man often called Gronk, a nickname that is onomatopoetic with his essence, if essence could make a sound—is reportedly not having a good time anymore.
"He didn't enjoy himself in 2017," NBC Sports' Tom E. Curran said on Boston Sports Tonight this week. "He did not have a good time, despite the fact his body was in a better situation than it's been in a long time—ever maybe—despite the fact that he's one of the most dominant players at any skill position. It's starting to wear on him. Physically. Mentally."
As noted on Twitter by two very smart writers—The Ringer's Robert Mays and Esquire's Charles P. Pierce—if Gronk isn't having fun, there's precious little hope that any of us will find joy.
First, let's clarify the beginning of this post: Rob Gronkowski is, of course, not a dog but rather a human being, which means he experiences the requisite sadnesses, fears and complicated feelings that accompany personhood. But my God, if any person seemed to get pure enjoyment out of being an NFL star, it was Gronk.
He seemed like a man of perpetual happiness. He seemed so...unburdened, especially so in his free time.
The stories of Gronk's propensity for levity are many—let's recall just a few. He and his like-minded brothers used to lube up with dishwashing soap and slide, bare-chested across a long tile floor like linebacker-shaped hockey pucks. He lost the Super Bowl in 2012 and promptly popped his shirt off and started dancing. In 2015 he graced the same stage as party rapper Flo Rida during a beautiful era known as the "Summer of Gronk." Two years later he (shirtlessly) rejoined Flo Rida while racking up a $100,000 bar tab that featured 100 bottles of champagne. In 2016, he hosted a party cruise featuring (you guessed it) Flo Rida. He once said he would pay $69,000 to wear the number 69 (nice) and recently urged the Very Online Teens not to eat the dang Tide Pods.
But all that aside, even on the field—and perhaps I'm projecting here—he seemed to have a damn good time. Gronk is a giant among Liliputians, galloping up and down the field, grabbing yards by the fistful while swatting defenders like summertime gnats. He scores touchdowns and spikes the football like he's teaching it a lesson. Hell, he'll even let a teammate climb his back and ride him like a pony.
Sure, his New England compatriots Tom Brady and Bill Belichick are single-minded football robots designed for maximum efficiency—and pleasure is nothing if not inefficient—but Gronkowski always felt like their antidote. But now, rumor has it, things have gotten so bad that the 28-year-old at the top of his game is considering walking away from football forever.
It all begs the question: If Gronkowski is not having fun, where does that leave any of us? It you're inclined to spiral, it makes you wonder about happiness and sadness and the human condition and where can we possibly find joy these days. It makes you wonder if you're wasting your time chasing fleeting bumps of serotonin. (Inner monologue: If Gronk isn't having a great time, where does that leave me, click-clacking at my keyboard, posting blogs to a glitchy website?)
I guess what I'm saying is: Somebody get Gronk to a Flo Rida concert, STAT.